Politicians Have Spent Another Day In The Field Trying To Appear Normal Before The Election
Healthcare spending, tax plans, and the Notre Dame cathedral fire dominated the agenda today, but no-one came up with a proper explanation for the way prime ministers sit in front of the TV.
What you need to know:
- Labor leader Bill Shorten has pledged $200 million for free pathology tests
- The Coalition is still talking tax, with treasurer Josh Frydenberg doing the media rounds attacking Labor's plans
- Shorten was in South Australia, while Scott Morrison remained in Victoria
- Both leaders expressed their sadness over the Notre Dame cathedral fire in Paris, but the prime minister rejected the idea of making a fund to provide financial support
- The Liberal Chisholm candidate Gladys Liu has dismissed recent reporting on a 2016 interview she gave, in which LGBTI issues were referred to as "ridiculous rubbish", as "fake news". Liu maintains she was expressing the Chinese community's views and not her own
- Yesterday former prime minister Tony Abbott was asked about his leadership ambitions and didn't rule anything out
Hello and welcome to another day on the campaign trail. This is what the prime minister was up to last night:
Just like every other Australian on Monday night. Sat right in front of the enormous TV.
The prime minister's sister-in-law apparently introduced him to the show and he and his wife are now fans, The Australian reported.
Who's his favourite character?
"I think (Jon Snow's) cool. And he had a really good dog. He had the coolest dog."
And his reaction to the famous Red Wedding scene?
"Everyone's chin was on the floor and we just went 'oh dear, that's a bit messy'."
Fascinating. (Game of Thrones is going to be on every week of the election campaign so expect much, much more of this type of thing.)
BTW — what is it with Australian prime ministers and their odd sitting position when watching TV? Do they always have to sit cross-legged right near the screen? Is it the rules? Does the constitution mention this somewhere? Someone please explain.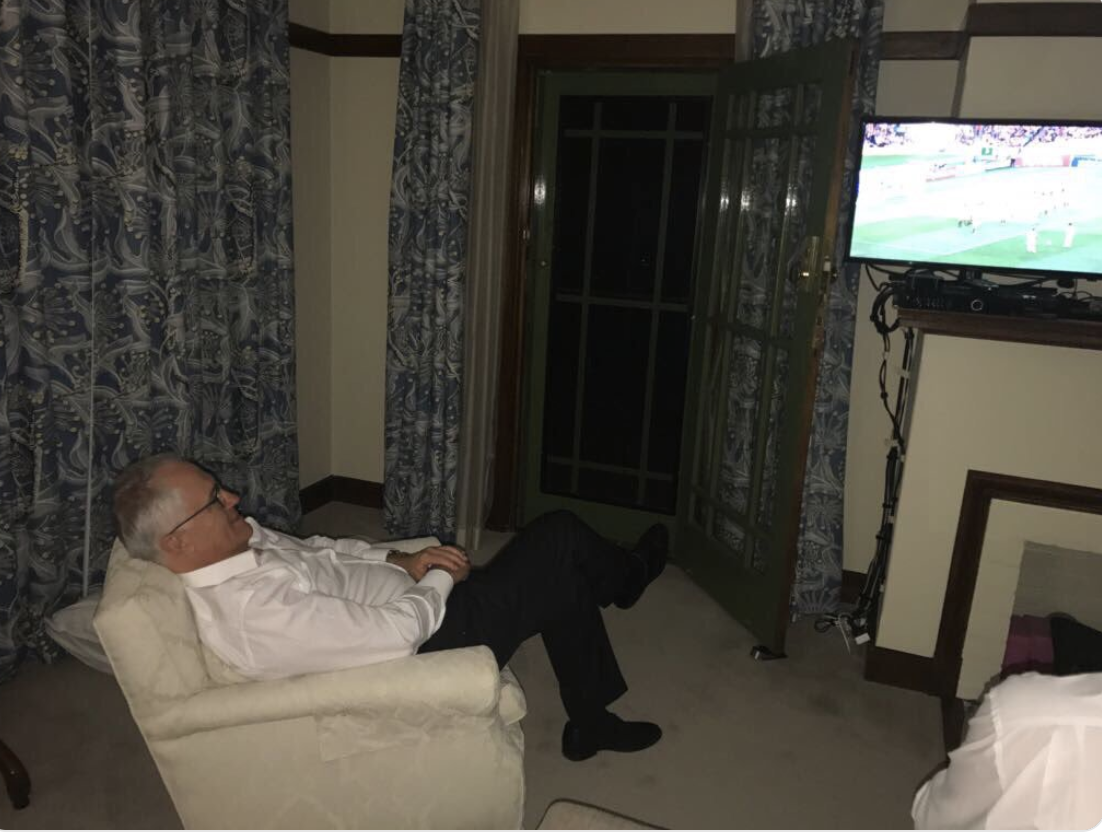 Anyway, on to serious matters. The main news from Labor this morning is Bill Shorten's pledge to invest $200 million towards free pathology tests.
"Bulk billing for blood tests is at breaking point — cancer patients will either have to pay, or there will be a reduction in services," Shorten said.
"That's why Labor will invest $200 million to protect pathology and keep it free for vulnerable Australians."
The investment is aimed at keeping bulk billing for cancer patients and older Australians.
However, he was asked at a press conference why he was only focussing on health spending and when could voters hear about the party's emission reduction target.
The messaging remains the same as last week, namely the claims that Labor's tax plans will leave voters worse off and the Coalition will oversee a return to surplus.
Frydenberg was asked about previous comments made by the Liberal candidate for Chisholm, Gladys Liu, which have resurfaced in recent days.
The controversy centres around an interview she gave to The Guardian in 2016 in which she was discussing her role in the campaign for Julia Banks, who has vacated the seat.
She spoke about what she perceived to be the Chinese community's reaction to issues such as the Safe Schools program, same-sex marriage and trans issues.
"The Chinese people come to Australia because they want good education for their children, they want good environment, they want good things for their next generation, not to be destroyed — they use the word destroyed — by these sort of concepts of same-sex, transgender, and intergender, crossgender and all this rubbish. To them this is just ridiculous rubbish," she told the Guardian.
Asked about the remarks, Liu has described the reporting as "fake news", claiming she was discussing what she had heard in the community and that they were not her views.
On Tuesday morning Frydenberg told the ABC: "Those comments don't reflect my views or Scott Morrison or the party's views."
He added he would not disendorse Liu over the comments. Morrison told journalists he did not think Liu was phobic.
Liu reportedly cancelled an interview with Sky News on Tuesday. In a later statement she rejected any suggestion the controversial comments were her own views.
Then the former Liberal MP Julia Banks was reported to have called her comments "completely abhorrent".
Banks quit the Liberal party last year following the leadership spill and is standing as an independent in the seat of Flinders.
Commenting on Liu's remarks and the role she played in campaigning on social media during the 2016 election campaign in Chisholm, Banks is quoted by the Nine newspapers as saying: "Her comments are made by her and had nothing to do with my campaign and my WeChat campaign was not managed by Gladys Liu.
"She was going off on her personal tangents and those posts were certainly not endorsed by me.
"My WeChat material was by me and my team and it was just a direct copy of my Facebook posts."
On Monday afternoon Kerryn Phelps, who is hoping to retain the seat of Wentworth, said she had referred "racist, anti-Semitic and homophobic" emails targeting her to the police.
The Liberal candidate, Dave Sharma, has also referred the emails to police, the ABC reported.
The emails were sent out on Sunday from at least 12 different addresses, the broadcaster said.
Former deputy prime minister Barnaby Joyce wants Phelps to drop out of the race over reports she continued to treat patients as a GP. Phelps' team has said there is no Section 44 issue.
Last night's Four Corners reported on the Sharrouf children reuniting with their grandmother. The orphaned children were taken to Syria by their mother Tara Nettleton, the wife of ISIS fighter Khaled Sharrouf.
Morrison was asked the issue and said he would not be drawn on any final decision over whether to bring the children back to Australia.
Speaking in Adelaide, Shorten said the children should not be a "political football".
"These children shouldn't be held responsible for what their parents did," he said.
Both leaders were quick to respond to the news of the massive fire at the Notre Dame cathedral in Paris.
Former prime minister Malcolm Turnbull suggested the leaders should agree to establish a fund to support the cathedral's restoration.
Morrison later rejected this idea.
The Bad Show (Q&A) was on and it went just about as badly as you'd expect.
Elsewhere, former prime minister Tony Abbott did not rule out returning to the party leadership, saying his colleagues would need to put him forward.
"It will be up to the party room. If they want me they will need to invite me. But I am not expecting that," the Guardian quoted Abbott as saying.
"I am not going to shoulder anyone aside for the top job, because for me it has never been about that."
Speaking in Victoria, Morrison said he thought Abbott was responding to a "very hypothetical" question.
While in Victoria, the prime minister found time to play some pool.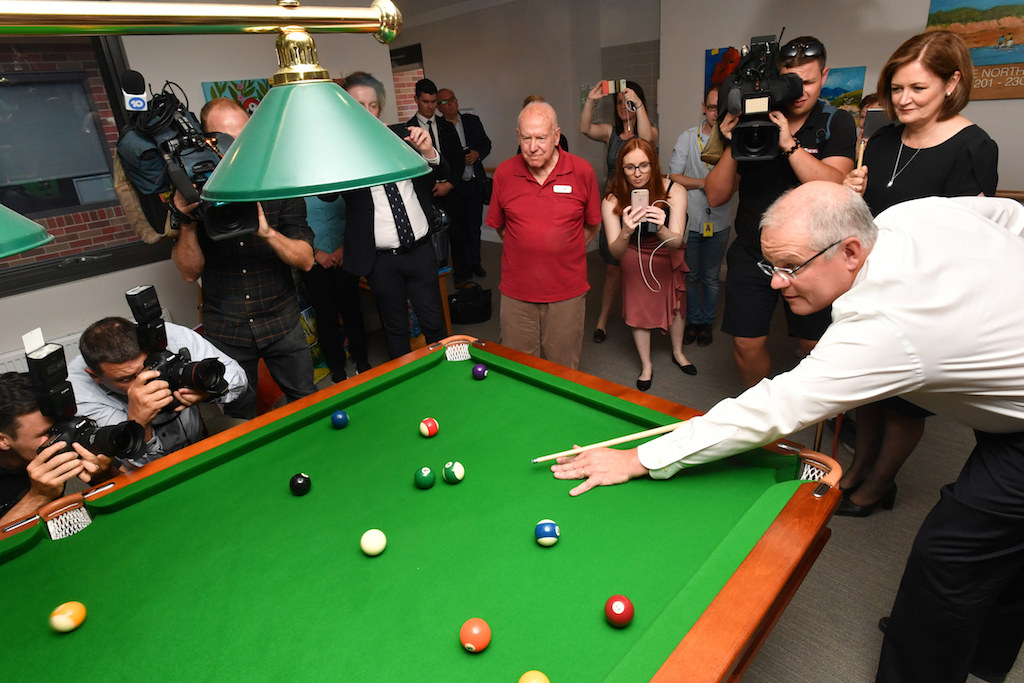 And have a go at lawn bowls.
Shorten meanwhile enjoyed some oysters in Adelaide.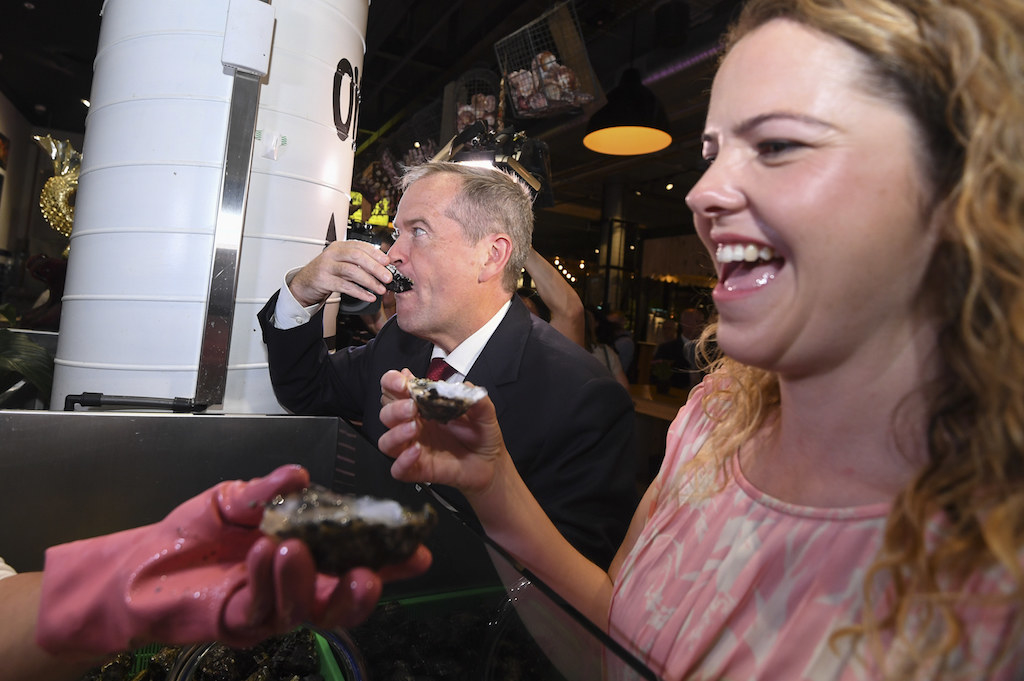 He also bought some cheese.
The ABC's election analyst Antony Green played to the gallery with this tweet.
And then reminded everyone that this is relevant to any candidate.
We also learnt that the first leaders' debate will be held on Monday April 29 in Perth.
Although I doubt the NT News are going to get their wish here...
I think everyone will be hoping to avoid questioning like this. 32 more days to go everyone!