In News That Will Not Shock You: Tax And Peter Dutton Are Dominating Election Headlines
Friday saw the two main parties argue over Labor's tax policies and Dutton face criticism over his comments about his opponent Ali France.
What you need to know:
- Friday was the first full day of election campaigning
- Tax was the main talking point, with the Coalition releasing Treasury costings that it claims show electing Labor will cost $387 billion in extra taxes
- Labor disputed that claim and Treasury secretary Philip Gaetjens later said the department was asked to cost policies that made no reference to the opposition
- Peter Dutton was criticised after he accused his Labor opponent in the seat of Dickson of "using her disability as an excuse" for not moving to the electorate. He later said he was reflecting views raised to him by constituents
- Both major party leaders began their days in Sydney with a blitz on morning TV
- The election is on May 18 election. You have until next Thursday to make sure you are enrolled.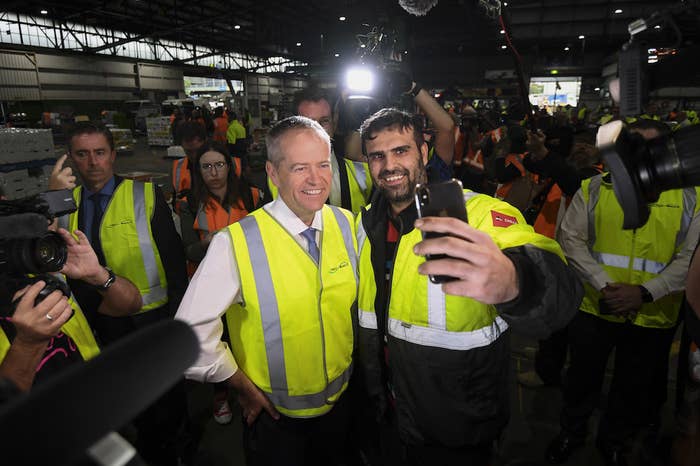 Welcome to the first full day of campaigning ahead of the federal election on Sat. May 18.
The day so far has been dominated by arguments over tax after the Coalition released Treasury costings it claims show Labor's tax plan will cost an extra $387 billion over the next decade.
The majority of that figure is due to the fact Labor has signalled it will not back stages two and three of the Coalition's proposal to cut income tax.
The costing also includes Labor's policy to end handouts for franking credit refunds, end negative gearing on existing properties, and change the capital gains tax.
"Whatever Labor promises is funded on the back of $387 billion of new taxes on your income, your house, your savings and your super," treasurer Josh Frydenberg said.
Shadow treasurer Chris Bowen called the figures "dodgy" and said someone had "some explaining to do".
The Treasury secretary then sent this letter to Bowen on Friday in response to Labor's concerns.
"In the specific case to which you have referred, Treasury received requests from the Treasurer's Office outlining a number of policies to be costed with details and specifications also provided. The specifications provided made no reference to the Opposition," Philip Gaetjens said.
"The relevant officials costed these proposals and provided this analysis to the Treasurer's Office prior to the commencement of the caretaker period. In providing specific costings to the Government at its request, Treasury advised that they were all costed on a standalone basis but with interactions between the individual proposals not taken into account. For this reason we did not provide a total."
On Thursday night Morrison called some bingo numbers at an RSL club. You wouldn't think this would be too controversial, but...
...the media pack following the prime minister was not invited and was instead sent videos by his staff; videos that also appeared on his Instagram page.
Oh and we learnt this.
Peter Dutton accused his Labor opponent in the seat of Dickson of "using her disability as an excuse" for not moving to the electorate.
Ali France had her leg amputated after being hit by a car. She said she had looked for a home in the electorate with wheelchair access and would buy a home and renovate it if she won, the Australian reported.
In response, Dutton told the newspaper: "A lot of people have raised this with me. I think they are quite angry that Ms France is using her disability as an excuse for not moving into our electorate.
"Ali has been telling people that even if she won the election she won't move into our electorate. She has now changed that position but I don't think it is credible.
"If you are serious about representing an area, you live in that area and using her disability as an excuse for not living in our area is really making residents angry."
At a press conference in Sydney on Friday morning, Morrison said he thought Dutton's comments had been taken out of context.
Bill Shorten called Dutton's comments "disgusting".
Greens senator Jordon Steele-John told Dutton to "get in the bin".
France also gave a press conference and said she was "exceptionally disappointed" by Dutton's comments.
Later The Australian reported Dutton's spokesperson had said the home affairs minister was reflecting views of his constituents.
"Minister Dutton was reflecting the views raised with him by his constituents. These are the issues that people have raised," the statement said.
"Minister Dutton was repeating the views and concerns about the Labor candidate, raised with him by constituents — that is that she doesn't live in the electorate and has told people locally that even if she wins the seat she won't move into the electorate.
"Dickson constituents believe Ms France's refusal to live in the electorate, even if she won the seat, is more about her enjoying the inner city lifestyle, as opposed to her inability to find a house anywhere in the electorate."
Labor's big announcement of the day was $125 million in cancer research funding.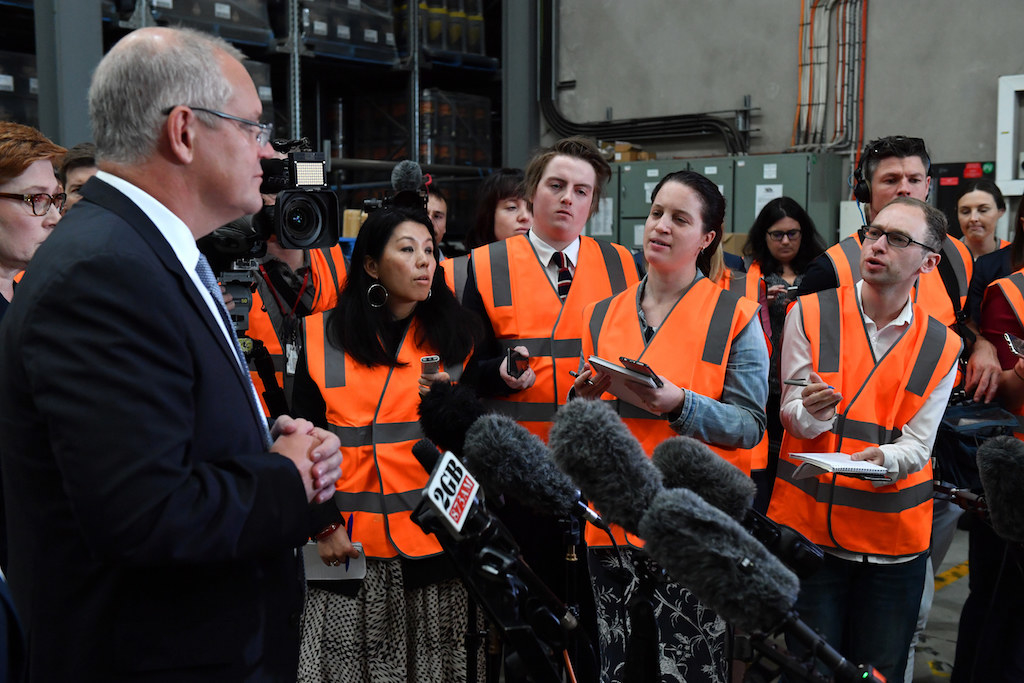 Morrison was also asked about Israel Folau's anti-gay comments on social media. Rugby Australia is set to terminate Folau's contract.
The prime minister told the ABC: "I thought they were terribly insensitive comments and obviously that was a matter for the ARU and they've taken that decision. It is important that people act with love, care and compassion to their fellow citizens and to speak sensitively to their fellow Australians."
Here's what former deputy prime minister and former Nationals leader Barnaby Joyce thinks about the matter:
And what are the former prime ministers up to?
Well Tony Abbott was speaking to Sky News in Manly this morning.
On climate change, a key issue in this election, Abbott declared:
"I've always said climate change is real, mankind makes a contribution, and we should take sensible action to deal with it. But I've always also said that what we shouldn't do is turn our economy upside down in what turns out to be a futile gesture.
"The fact is we are just 1.3% of global emissions, yes we should do our bit but we could crash our economy tomorrow and the world's emissions would keep going up and up and up because China and India — they want to get rich, and it is more important to them to give their people a better standard of living than it is to suddenly get obsessive about emissions."
He later also spoke to SBS...
His successor, Malcolm Turnbull, meanwhile finally sent out a "good luck" tweet to Dave Sharma, who is contesting the seat of Wentworth again after losing to Kerryn Phelps.
Turnbull was heavily criticised for not doing enough to support Sharma during the by-election last year — a by-election called after Turnbull quit politics when he was dumped as Liberal leader.
The former PM spent a lot of time in New York after being forced out of office.
What's he up to this campaign? According to the Sydney Morning Herald — he's off to New York again.
Here's Kevin Rudd's take on the campaign so far.
And the silliness? Oh, yup, still going strong.
We've got five weeks of this folks.