What you need to know:
- Scott Morrison has accused Bill Shorten of a "desperate, cheap shot" after clarifying he did not believe gay people will go to hell
- Paul Keating issued a scathing attack on home affairs minister Petter Dutton
- A new Labor advert has been released targeting the Coalition's inaction on climate change
- The main party leaders are criss-crossing the country in a desperate bid to sway any undecided voters
- Around 2.6 million Australians have now voted ahead of Saturday's election
Hands up if you wish the election campaign would just finish already. I mean, come on, that's enough now surely.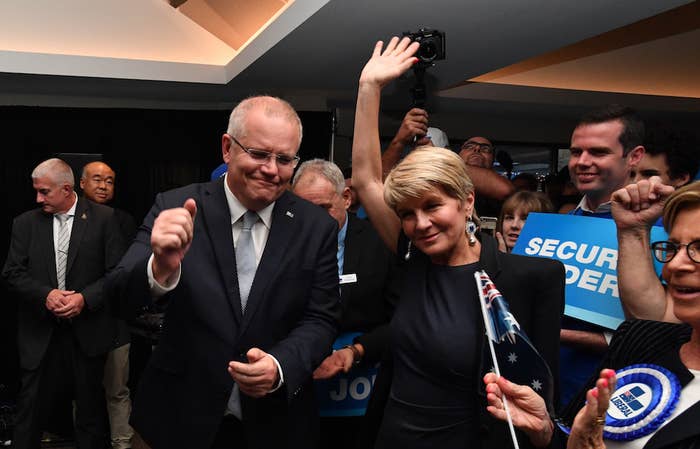 Alas, we still have four more days of campaigning before the big day and things are going to get more frantic, more desperate, more nasty, and much more incomprehensible.
So let's grab a drink, take some deep breaths and see what's been happening on the campaign trail.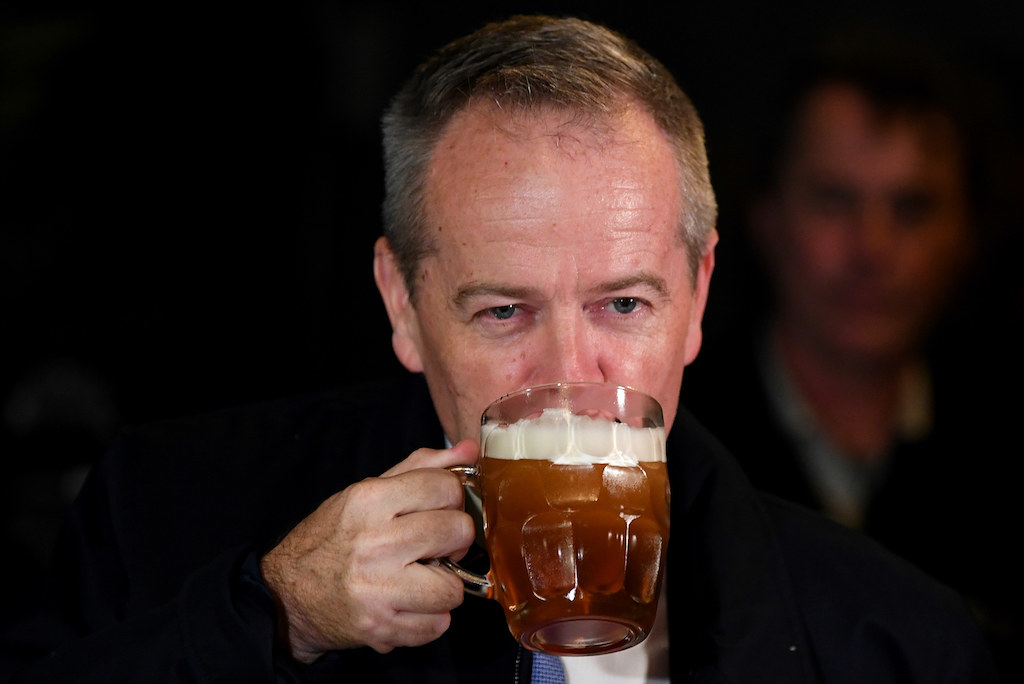 As the main party leaders criss-cross the country in a mad dash to try and sway any remaining undecided voters, millions of Australians have already made up their minds.
The early fireworks on Day 34 of the campaign were launched, once again, by former Labor prime minister Paul Keating who urged voters in Dickson to "drive a political stake" through Peter Dutton's "dark political heart".
Keating, speaking to the ABC, described the home affairs minister as the most "mean-spirited" person in Australian politics in 50 years.
The former PM also said he wished Clive Palmer would stay in Fiji. The United Australia Party has said Palmer is visiting the Pacific island to be with an ill friend.
Keating predicted Bill Shorten will be "the Winx" of Election 2019, praising the Labor front bench, saying the last time the party had been as good was in Bob Hawke's first ministry in 1983.
"Shorten will be the competent leader of a really important and solid team," he said.
Yesterday, former Liberal prime minister John Howard hit the election campaign with former Liberal prime minister Tony Abbott.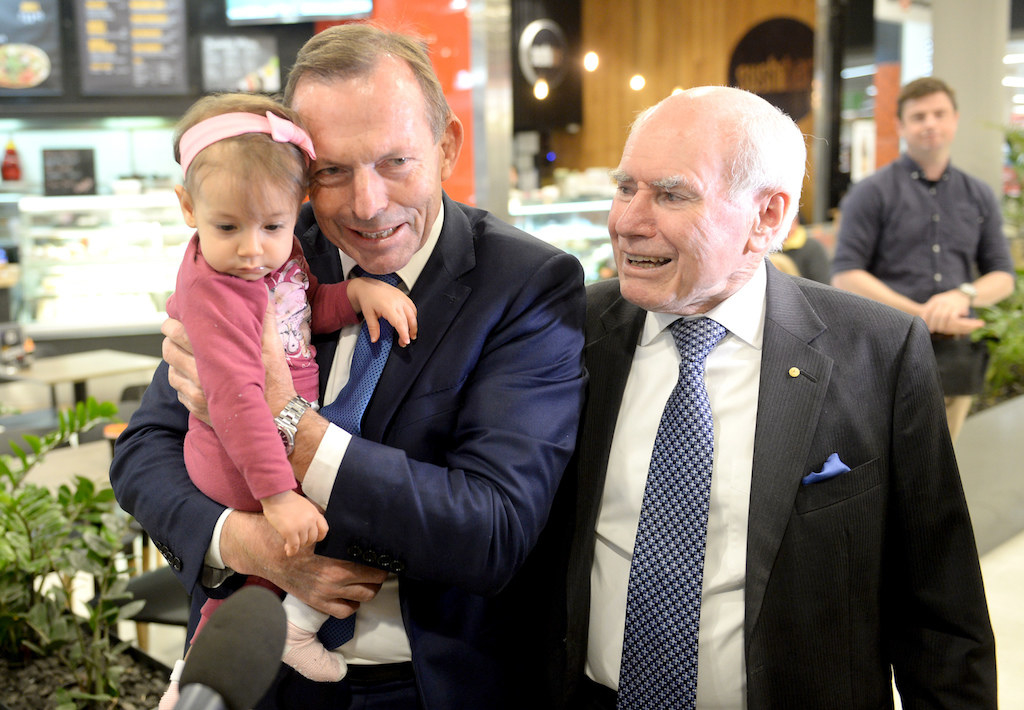 During a doorstop, Howard said voters were concerned that Shorten was after their savings.
"They're not the big end of town. I mean, that is an insult to every successful small businessman who has worked hard, accumulated a bit and wants to leave it to his kids. I mean that's what this country is all about," he said.
Responding to the intervention, Keating declared: "Howard will say anything at any time to support any argument."
Keating also said there had been no great political ideas for a quarter of a century and he'd been speaking "in code" when he recently called the security chiefs "nutters".
Not long after, Labor leader Bill Shorten was asked about the comments and said the meanest commentary this election had been the proposition gay people are going to hell.
Shorten's response was an attack aimed at prime minister Scott Morrison, who yesterday did not answer a question on the matter when declaring he "supports the law of the country", having been an opponent to marriage equality.
Morrison later released a statement clarifying he does not believe gay people go to hell and accused Shorten of making a "desperate, cheap shot" to distract attention from housing policy. A totally normal election.
Meanwhile, Dutton replied to Keating over Twitter (where else?).
Things are taking an increasingly nasty turn as election day approaches and this clip of Liberal MP Steve Irons confronting Labor supporters did the rounds last night.
Responding to questions about how many times he voted to cut penalty rates, Irons responded by saying: "I tell you what, I didn't vote for pedophiles, sex offenders and rapists like the Labor party did."
Irons' reply was reportedly a reference to Labor's national security legislation.
In a statement after, Irons said he would "not stand by and allow Labor-Union thugs to intimidate women, and I will certainly not allow anyone to verbally abuse my wife", AAP reported.
Labor is planning on referring flyers in Cowan about MP Anne Aly to the Australian Electoral Commission after condemning them as racist. The flyers claims she wants to ban any criticism of Islam and refer to her by her Egyptian name.
And the Nine newspapers reported that former Liberal MP and now independent candidate Julia Banks is planning legal action against the conservative activist group Advance Australia over flyers in Flinders.
Greens candidate David Paull stood down on Tuesday following a report in The Australian over Port Arthur massacre conspiracy theories posted online.
Climate change is one of, if not the, defining issue of this election. Here's Labor's latest advert attacking the Coalition's lack of action and the chaos within the government.
And here's Tony Abbott being Tony Abbott.
Scott Morrison's last-minute pitch to first home buyers with the announcement of a new deposit scheme is continuing to attract attention.
It has been reported that the plan, which reduces deposits to 5% for certain first-time buyers, did not go through Cabinet before being announced during the Liberal party election campaign launch on Sunday.
The proposal was immediately matched by Labor.
Questions are now being raised over the impact it will have on house prices and lending restrictions.
Yesterday was Scott Morrison's birthday and he was presented with this lovely cake while out campaigning.
And this one.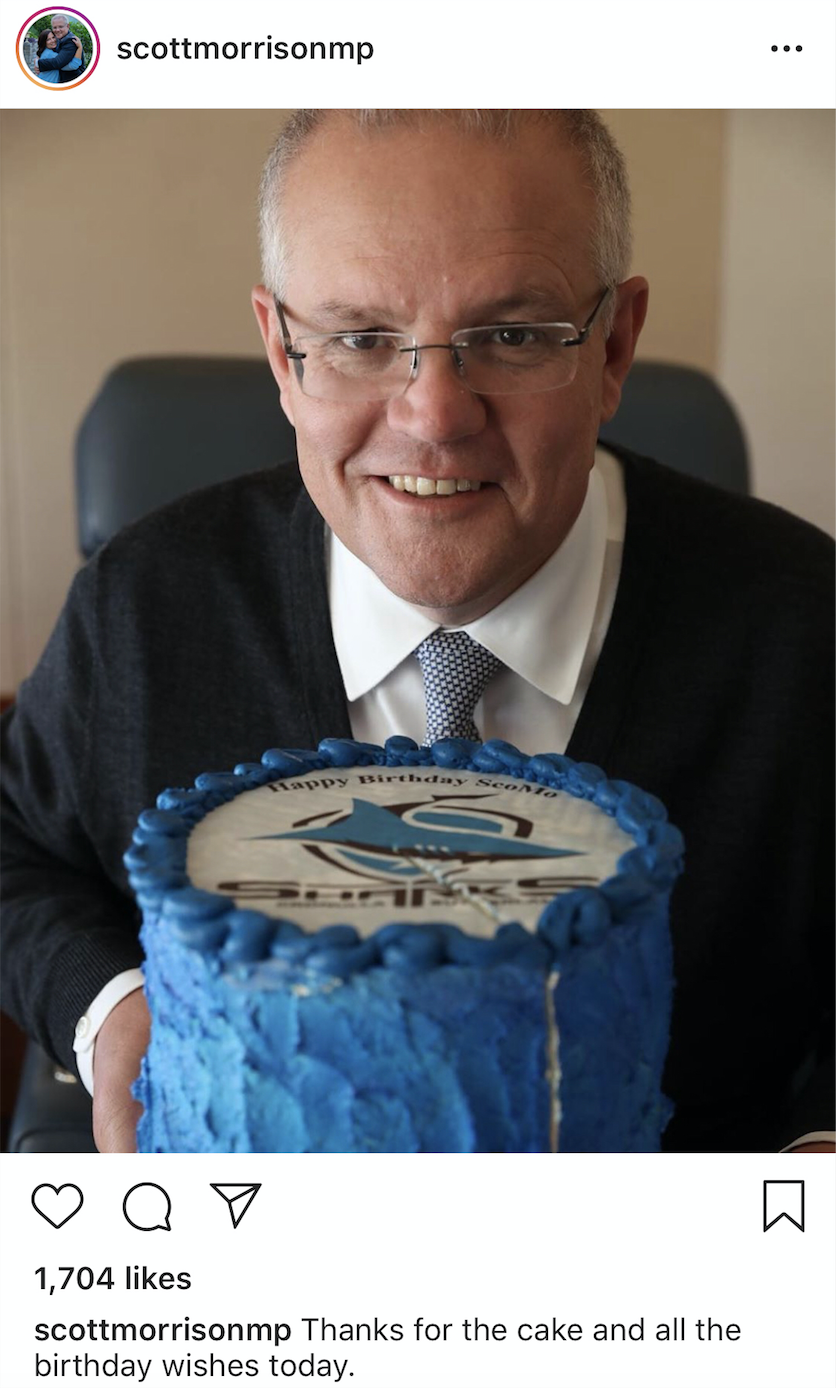 Former Labor prime minister Julia Gillard emailed party supporters on Tuesday urging them to get involved in the campaign.
The Clive Palmer advertising blitz continues with double-page adverts dominating the major newspapers today.
And political carpool karaoke is back.
Check back later this afternoon to find out what else the nation's politicians have been up to today as they make final last-minute pitches to win your vote.