This is the moment a man was rescued from his Land Rover in rising flood water in Mytholmroyd, West Yorkshire.
The footage was uploaded to the Mytholmroyd Facebook page on Saturday by Jen Dodds, who said her father-in-law recorded the incident.
The 10-minute video shows rescue teams attempting to reach the stricken vehicle before extracting the male driver through the sunroof.
A crowd which had gathered to watch the incident is heard cheering as the man is helped away to safety.
The Land Rover had been stuck on Burnley Road, which runs parallel to the River Calder, and was reported to be floating backwards, the Daily Mail said.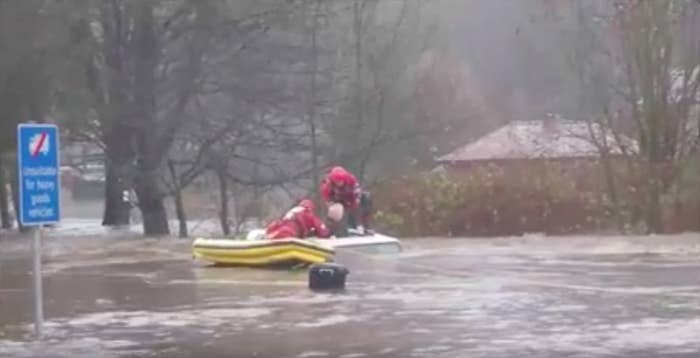 Eyewitness Stuart Asquith, 51, claimed the driver had been reluctant to leave his vehicle.
"He was sat there for 10 to 15 minutes with the water getting higher and higher until the mountain rescue guys in the kayaks had no choice but to pull him out. His Land Rover was virtually submerged," Asquith said, The Telegraph reported.
"He owes them his life, but he seems more concerned with his Land Rover. He told someone to go and get his keys after he was on dry land."
A paramedic said the driver had subsequently been taken to hospital, the Daily Mail reported.
The Land Rover is said to have been been left in a car park in Mytholmroyd.
BuzzFeed News has contacted Dodds for more information on the incident.