A Strip Club Visit, A Resignation, A Very Weird Debate: Here's What's Happening In Election 2019
The federal election campaign has decided to give Game of Thrones a run for its money in terms of drama.
What you need to know:
- One Nation candidate Steve Dickson has resigned over footage of him making derogatory remarks and groping a dancer at a US strip club
- One Nation leader Pauline Hanson said she would not condone her candidates "dealing with women in this fashion" after the footage was aired by Nine's A Current Affair
- Dickson's resignation came at the same time as the deputy prime minister and Nationals leader Michael McCormack was saying a preference deal with One Nation "just makes sense"
- The independent candidate in Curtin, Louise Stewart, has apologised for releasing fake polling data
- Labor leader Bill Shorten won the first leaders' debate in Perth last night, but not everyone loved the format
Hello again. I really hope you enjoyed watching Game of Thrones / MasterChef / the Taylor Swift video / having a healthy life offline because we're right back at it again with the election madness today. Strap in.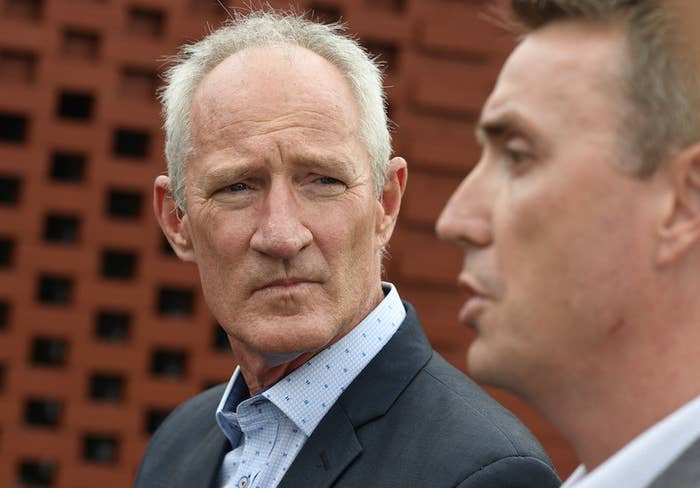 Before 7am it was confirmed that One Nation Senate candidate Steve Dickson had resigned over footage of him in a US strip club.
The footage from inside a club in Washington DC was aired by Nine's A Current Affair and showed Dickson making disparaging comments about women and groping a dancer.
In the video, Dickson calls one of the dancers a "bitch" and in an exchange with another dancer asks the woman to "slide your hand on my ****".
"I think white women f*** a whole lot better, they know what they're doing. Asian chicks don't," he was recorded saying. "I've done more Asian than I know what to do with."
The footage was recorded during Al Jazeera's undercover investigation into One Nation's attempts to gain donations from America's National Rifle Association (NRA) and leaked to A Current Affair.
However, Al Jazeera condemned the "unauthorised use of its material" and said it had not used the footage itself.
Dickson released a statement on Tuesday saying he sincerely apologised for his behaviour and that it did not reflect the person he is. "It shows a drunk person who was not in control of his actions."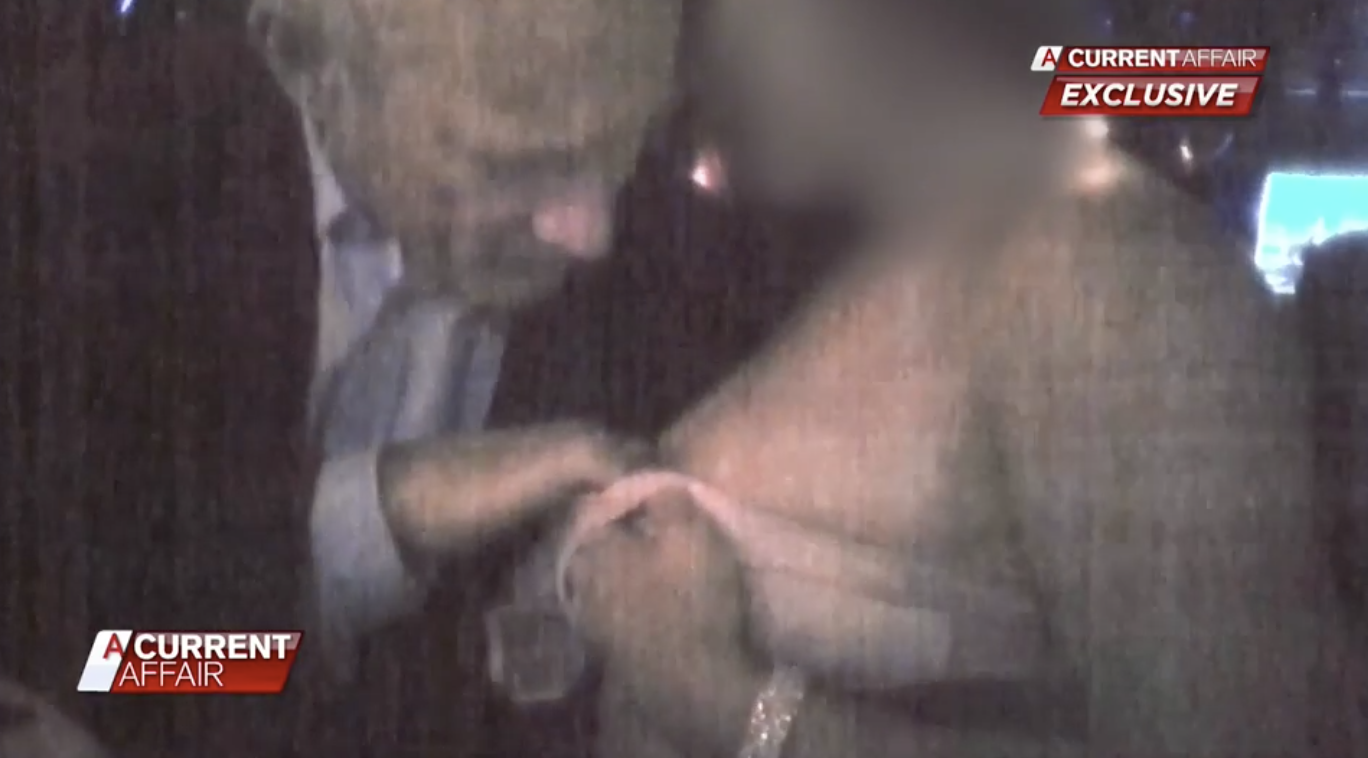 "I am deeply remorseful for my disrespectful comments towards women. I found the footage difficult to watch and actions under intoxication and in that environment, are not a true reflection of myself," he said.
He added that he would not be conducting any media interviews and asked for privacy "as I will no longer be of pubic [sic] interest".
Party leader Pauline Hanson staged an early morning press conference to confirm she had accepted Dickson's offer of resignation saying she would not condone her candidates "dealing with women in this fashion".
Given last night's footage, it wasn't exactly the best timing for deputy prime minister and Nationals leader Michael McCormack to declare that a preference deal with One Nation "just makes sense". Expect BigMac to be asked about this quite a bit in the coming days.
At the National Press Club on Tuesday afternoon, McMormack declared: "You have to do what it takes to get votes and to win at an election."
"The fact is that the National Party policies, properly closer aligned with One Nation, than they ever were with the Greens or Labor. Fact of the matter," he said.
"I appreciate that some members of One Nation have done some rather interesting things lately, and said some things that are quite unpalatable. I understand that. But we're not One Nation. We are the Nationals. We are in Coalition with the Liberal Party."
Elsewhere, Julia Banks had some problems with her how to vote cards, with The Australian reporting she failed to include who printed them.
Louise Stewart, the independent candidate in Curtin (Liberal Julie Bishop's old seat), has apologised for releasing fake polling data that made its way onto the front page of the West Australian.
It was revealed this week that the data, which suggested a large swing against the Liberals, was not conducted by RechTel as claimed — leading to questions over where the fake polling came from and who commissioned it.
Speaking to 6PR radio Stewart said her campaign team sent the poll to the newspaper and she took "total responsibility".
"The poll was provided to us by a third party, so clearly the poll should never have been sent to the West," she said.
"Clearly we've made a mistake in doing that, so first of all I want to apologise for any confusion that has created — certainly there was never any intention to mislead or confuse anyone in the Curtin electorate. But clearly we trusted someone here that we shouldn't have and we are taking the matter very seriously."
When she found out the poll was not correct, Stewart said she rang Alex Turnbull, the son of former prime minister Malcolm Turnbull.
Stewart said the poll came from an entity called Independents Inc, which she thought was linked to Turnbull, as he had been widely publicised as helping independent candidates in the federal election.
She said Turnbull claimed to have no knowledge of the poll but was investigating where it came from. Stewart intimated the Liberal party may have been involved, but provided no evidence to back up the claim.
Finance minister Mathias Cormann called any suggestion of a link between the data and the Liberals "completely insane".
In terms of spending pledges today, Labor was talking up boosting solar power in schools and the government was promising millions for more CCTV cameras.
The big news overnight was the first leaders' debate. Here's Bill Shorten calling Scott Morrison "digger" and sarcastically talking about the prime minister "spending his time in the motor pages". Totally normal stuff.
If you missed it, don't worry, some of us suffered through it for you and can report: There were no real new policy announcements; Bill Shorten was put on the spot over Labor costings again; and Scott Morrison was keen to ask the questions.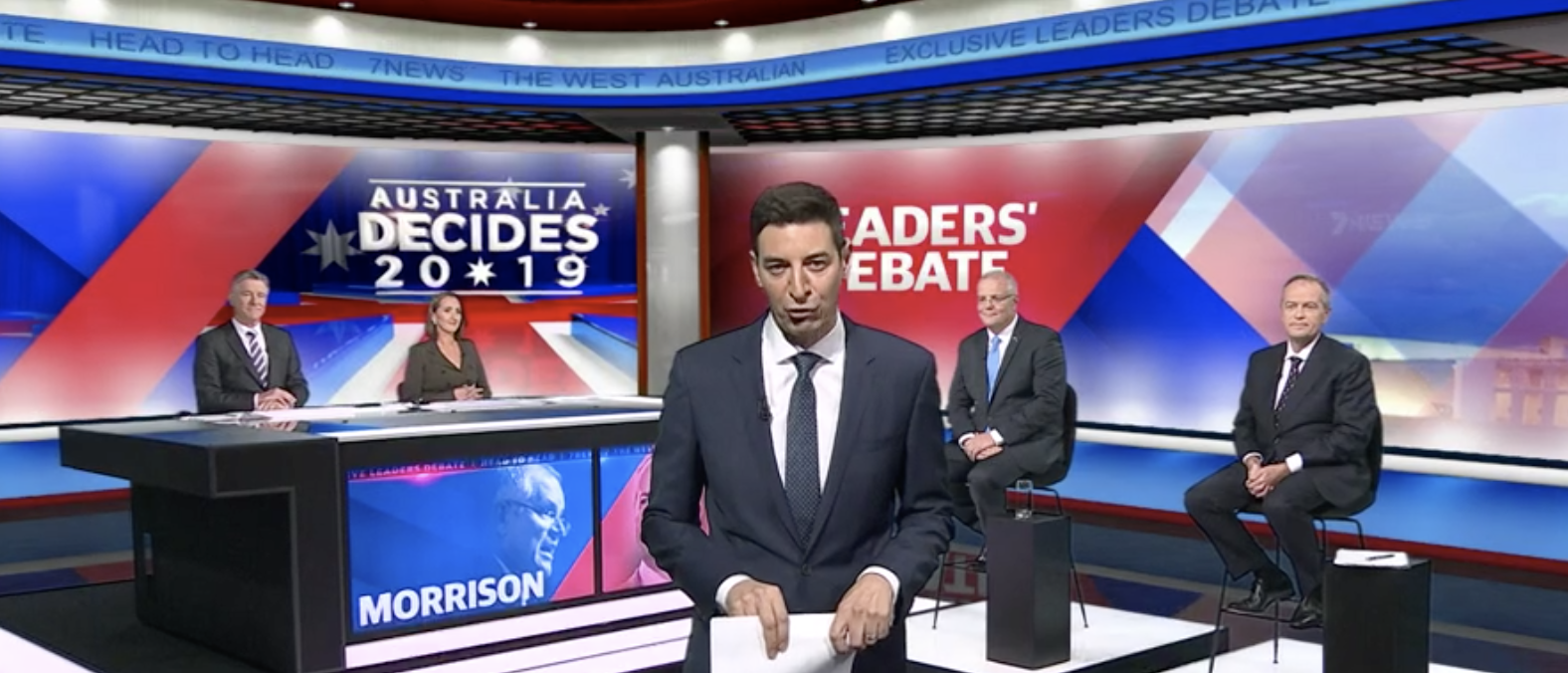 But really, what everyone watching was talking about was the weird format of the debate.
Shorten comprehensively won the debate, in the studio audience's eyes at least.
The body language experts saw it differently though.
But really:
And don't worry, if you missed the debate — there's going to be another one on Sky News on Friday evening and the ABC is currently trying to get Shorten to accept another.
Elsewhere on TV last night (away from the dragons and cooking), Q&A was on and there were some sensible questions probing Labor's tax plans and changes to Super. This was shadow treasurer Chris Bowen's reply:
And franking credits:
However, this being "The Bad Show", there was also this moment when The Australian's Greg Sheridan declared: "I'm not suggesting the Greens are terrorists. I'm suggesting they hate our society and are insane."
But everything is fine because the prime minister likes Bob the Builder.
In other news — a lot of people are already voting. Over 120,000 votes were cast on Monday, showing that many people have clearly already made up their minds. Which makes the prospect of another three weeks of manic campaigning even more fun! See you all again tomorrow!