Here's Everything We Know So Far About Far-Right Activist Neil Erikson's Alleged Meetings With The Liberal Party
Far-right activist Neil Erikson refers to himself as "the biggest troll in Australia". He recently set his sights on the Liberal party.
Everything you need to know:
- Far-right activist Neil Erikson claimed to have met with members of the Liberal party, including federal MPs Andrew Hastie and Ian Goodenough

- Hastie initially called a question about the alleged meeting "defamatory" before Goodenough said they had met at a rally in Perth. Hastie then stated he was confident he had not encountered Erikson
- Erikson alleged he attended a "secret Liberal meeting" on the Gold Coast where branch-stacking was discussed. After naming David Goodwin as being at the meeting, Goodwin was suspended by the Queensland LNP. Goodwin has strenuously rejected Erikson's claims
- Erikson, known for his racist and confrontational "stunts", claimed he was directed to confront former Labor senator Sam Dastyari in a pub
- Since making his most recent claims, Erikson's videos and blog posts have been deleted. He has said he made the allegations after his Facebook page was taken down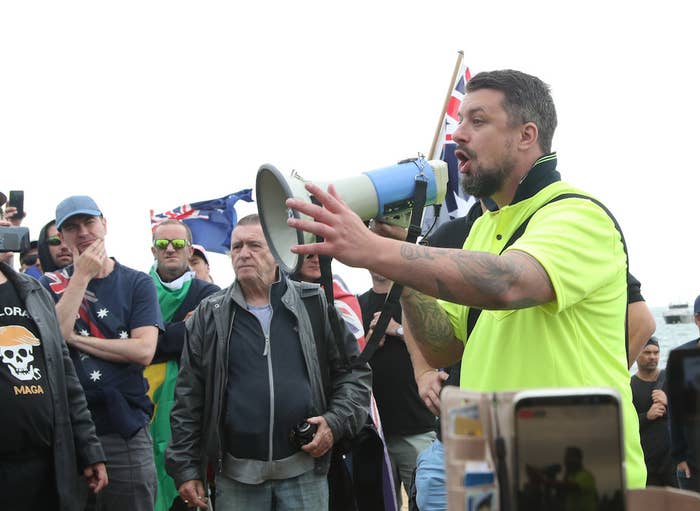 Alleged meetings between far-right activist Neil Erikson and members of the Liberal party have generated headlines and very awkward questions for the government over the past week.
The saga has resulted in the suspension of a Queensland conservative and Erikson suddenly deleting all his videos and blog posts after claiming there were more revelations to come.
This is how it all played out
During a 45 minute-long video on "alt-media" website The Unshackled last month, Erikson made a series of claims about alleged meetings he'd had with members of the Liberal party.
Erikson controversially said he was directed to confront former Labor senator Sam Dastyari in a pub in 2017, said he'd been paid to fly across the country to generate content and push the Liberal vote in the Victorian state election, and claimed he had a "secret meeting" with federal Liberal MPs Andrew Hastie and Ian Goodenough in Perth.
Erikson is one of Australia's most prominent far-right activists. He was a founding member of the United Patriots Front and was convicted in 2017 of inciting serious contempt of Muslims after staging a mock beheading to protest against the building of a mosque in Bendigo, Victoria.
He also refers to himself as "the biggest troll in Australia".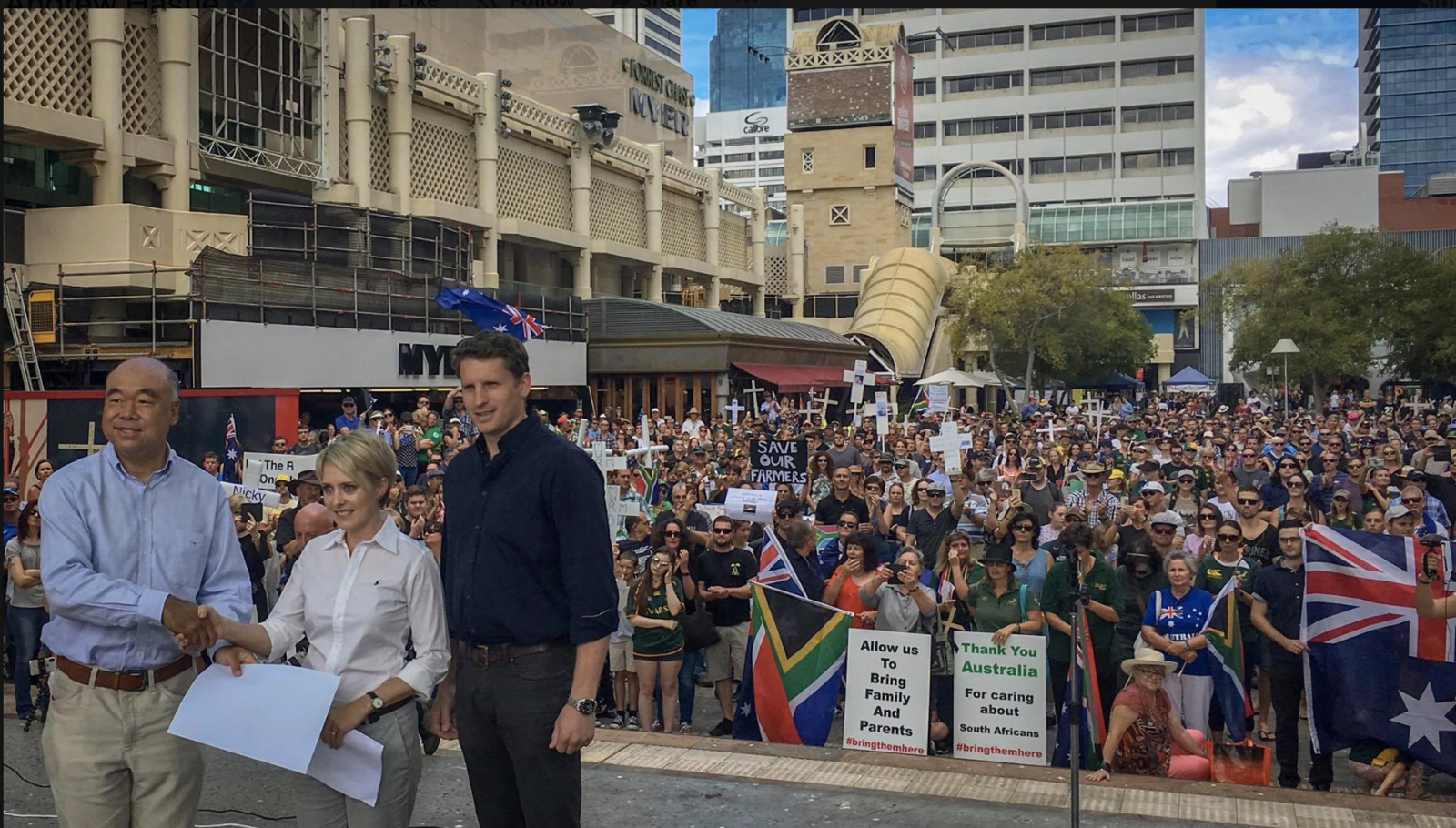 His recent claims about the Liberals quickly spread on social media and last week Hastie, while standing next to the prime minister, was asked about it. Hastie refused to answer and called the question "defamatory". However, just hours later Goodenough told The Guardian he and Hastie had met Erikson at a rally for white South African farmers in April 2018.

That prompted Hastie to release a statement declaring he was "confident" that he had not encountered Erikson at the rally. "I have never sought to nor agreed to meet with Mr Erikson. I find his views abhorrent and his views should not be given a platform," he said.
Goodenough later clarified his position and claimed a guy "dressed as a rapper" approached him from the crowd but he did not know at the time who Erikson was. Goodenough said it was a "brief encounter" and not a meeting.
Loss of Facebook account
Erikson told BuzzFeed News he had made the recent allegations because of a grievance he had with the Liberal party, which he claimed to have worked with for a few years.

Following the Christchurch terror attack, he and other members of the far-right had their Facebook pages removed — something Erikson blames on prime minister Scott Morrison. He believes the decision was actually taken to stop momentum gathering behind the right-wing minor parties, namely Fraser Anning's Conservative National Party and One Nation, in next week's federal election.
Facebook's chief operating officer Sheryl Sandberg said in a statement on March 30 the pages had been banned as part of a crackdown on hate speech and support for white nationalism in the wake of the Christchurch terror attack.
"We are also using our existing artificial intelligence tools to identify and remove a range of hate groups in Australia and New Zealand, including the Lads Society, the United Patriots Front, the Antipodean Resistance, and National Front New Zealand," she said. "These groups will be banned from our services, and we will also remove praise and support of these groups when we become aware of it."

In the aftermath of Hastie and Goodenough's statements, Erikson has continued to hint at the alleged meeting in a series of short YouTube videos.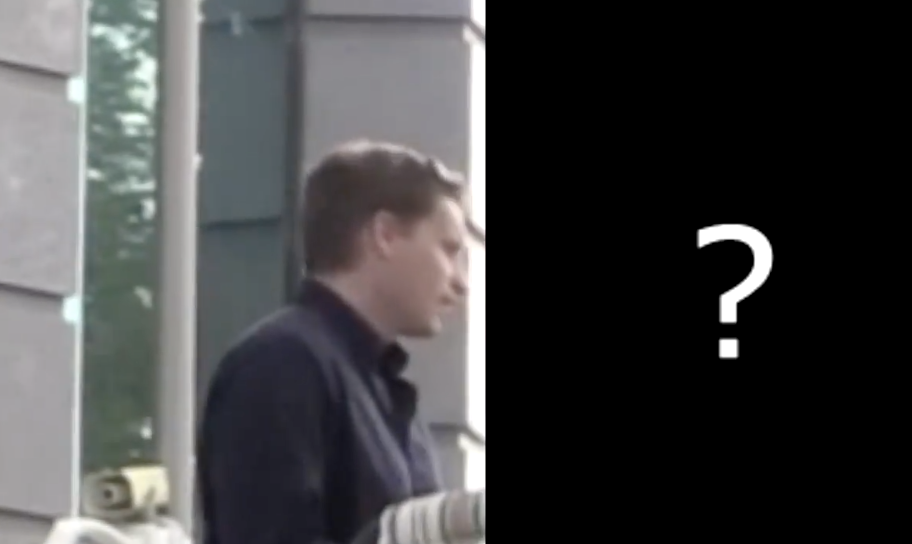 Erikson, known for his racist and confrontational "stunts", claimed to BuzzFeed News he'd been working with the Liberals "since early 2017".

Since the weekend Erikson's recent YouTube videos, blogs posts on his website, and his account on Gab (a social media platform used by prominent members of the far-right) have all been deleted. He did not answer BuzzFeed News questions as to why, but has previously threatened to release more information if his Facebook page isn't reinstated by this week.
Asked about Erikson's numerous claims, a Coalition campaign spokesman told BuzzFeed News on Tuesday: "These matters have all been addressed on the public record. The views of Mr Erikson are well-known and odious and we should avoid giving them any oxygen."

Gold Coast meeting
Another claim by Erikson that generated headlines in the last week was the allegation he was flown to attend a "secret Liberal meeting" on the Gold Coast in June 2018.
He told BuzzFeed News the meeting was invite-only and Liberal National member David Goodwin and a "Victorian Liberal guy", later reported by The Guardian to be party delegate Elliot Watson, were present.
Goodwin was a former LNP Senate candidate. He was suspended in 2017 for calling on Malcolm Turnbull to be dumped as prime minister. He was also behind the Liberals and Nationals for Marriage campaign, urging people to vote "no" in the postal survey.

"The meeting started off with friendly chatter and then a projector was used to display what they said was sensitive Liberal party data, statistics and party structure," Erikson told BuzzFeed News over email.
He alleges that a branch-stacking strategy was discussed, a "war inside the Liberal party between 2 factions" was mentioned, and that the help of those at the meeting was required.
Erikson claimed to BuzzFeed News he was asked at the meeting to address his criminal conviction for religious vilification, which he said he did.
Following a video from Erikson repeating the allegations, Goodwin was suspended by the LNP, the Courier Mail revealed on Saturday.
"The LNP takes any allegation of branch-stacking and abuse of process extremely seriously," the LNP said to BuzzFeed News in a statement.

"Following media reports that included allegations that a member of the LNP has engaged in this type of behaviour the Party has moved to suspend that person's membership. This matter has now been referred to the Party's Disputes Committee for investigation."
However, Goodwin has strenuously rejected Erikson's allegations. He told BuzzFeed News branch-staking was not discussed at the meeting, he did not know Erikson would be in attendance, and said the purpose of the gathering was a "discussion on family values and political involvement".
He said he spoke to Erikson at the meeting about his Bendigo stunt, saying he was shocked because it was "dangerously irresponsible".
Scott Moerland, a candidate for senator Fraser Anning's Conservative National Party and another former member of the United Patriots Front, also released a video last week, in which he claimed he attended a "Liberal party branch-stacking meeting" with Erikson on the Gold Coast.
"There are numerous people I know personally who will attest to this," Moerland said. "This whole meeting was secretive and no photos were allowed."
He also said a projector was used to present "sensitive" Liberal information on pre-selection votes and claimed Erikson's criminal conviction was mentioned at the meeting.
Goodwin told BuzzFeed News it was possible someone may have spoken to Erikson about it, but he did not.
Elliot Watson's wife, councillor Cynthia Watson, told BuzzFeed News he would not be making a statement.
The LNP said the meeting was not an official party function.
The Courier Mail included the 11-minute video from Erikson talking about the meeting, which has since been deleted from YouTube, and reported he had posted a picture of a plane ticket to the Gold Coast on his website.

An email dated May 21 referencing the meeting and some of the people attending. was also posted, the newspaper said.
All of this has since been deleted from Erikson's website.
More claims and deletions
Before the deletion of his Gab account, Erikson reportedly made yet more claims.
Former Labor senator Sam Dastyari, who Erikson confronted at a Melbourne pub in 2017 and called a "terrorist" and "monkey", told the far-right activist on Twitter to "put up or shut up".

BuzzFeed News has contacted Dastyari for comment. The Victorian Liberal party also referred BuzzFeed News to the Coalition's statement about Erikson.
The original interview that sparked all the allegations remains on The Unshackled website.
Asked about why it was removed from YouTube, a spokesperson told BuzzFeed News: "YouTube's Community Guidelines prohibit content promoting violence or hatred, and we routinely remove comments and videos flagged by our community that violate those policies. We also terminate the accounts of users who repeatedly violate our Guidelines."
The interview is still up as a podcast on Apple's iTunes.
Erikson has repeatedly staged high profile stunts and protests. On April 12 this year he was detained by Victorian police after interrupting Friday prayers in Melbourne's Federation Square and shouting "Muhammad was a false prophet", "Muhammad was a terrorist" and "vote Fraser Anning".
The Coalition's opponents have jumped on all of Erikson's allegations, with Labor leader Bill Shorten claiming the Liberal party is "riddled with right wing extremists".
The Victorian Labor party has said the Liberal party "must come clean" on any links to extremists.
Erikson, who revels in calling himself the country's biggest troll, has not responded for comment since his YouTube channel disappeared on Saturday and reappeared a day later with all the recent claims removed. In a previous correspondence with BuzzFeed News he gave Morrison until the end of this week to restore his Facebook page before he released "everything".
It could either be another hollow threat from a known troll, or there could be more awkward questions for the Liberal party on the eve of the election.