The Election Has Been Called. Here's Everything You Need To Know
We've got five weeks of this, so strap in people.
What you need to know:
- The election has been called for Sat. May 18
- Australians eligible to vote have until 8pm on April 18 to enrol
- Prime minister Scott Morrison used his initial pitch to talk about the economy, taxes and border security
- Labor leader Bill Shorten spoke about wages, cost of living, climate change and healthcare
- May 18 will see the House of Representatives and half the Senate elected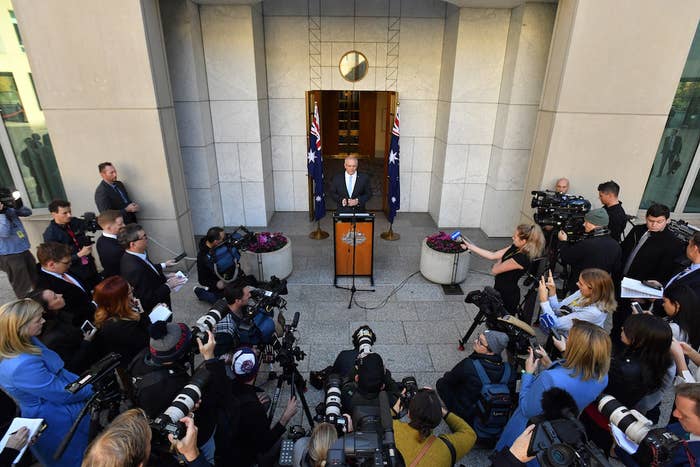 So now we know — Australians will head to the polls on Sat. May 18.
After weeks of speculation, prime minister Scott Morrison flew into Canberra overnight and spent eight minutes with the governor-general this morning requesting that writs be issued for an election.
At just after 8am, Morrison fronted the media at Parliament House and confirmed the election will be held in just over five weeks, on May 18.
At 8:29am the 45th Parliament was prorogued and at 8:30am it was dissolved.
The government is now in caretaker mode and Senate Estimates, which were due to continue on Thursday, were cancelled.
Those eligible to vote have exactly one week to make sure they are enrolled. You can do so here.
So what did the party leaders get up to today, and what can we expect for the next five weeks?
Well, we can expect a lot of what former prime minister Malcolm Turnbull earlier this week called "peak crazy" campaigning and media coverage. It's going to get very passionate, very silly, and it will seem like a very long time.
There will be a very brief pause though during the Easter public holidays and Anzac Day.
Both Morrison and Labor leader Bill Shorten used their first press conferences on Monday to set out what platforms their respective parties would be running on.
Morrison made it clear the economy was front and centre of his election pitch.
"We live in the best country in the world. But to secure your future, the road ahead depends on a strong economy. And that's why there is so much at stake at this election," he said.
"Despite global economic headwinds, Australia's economy is strong. We are delivering the first budget surplus in more than a decade."
He pledged to create 1.25 million jobs over the next five years and said his government would keep the country's borders secure. He said the Coalition would be able to guarantee increased funding for essential services such as schools, hospitals and roads.
Morrison set out to paint the election as straight choice for voters between the Coalition and Labor's management of the economy. "Now is not the time to turn back," he declared.
He also attempted to convince voters that the revolving door of party leaders had stopped. "It is a choice between me as prime minister and Bill Shorten as prime minister," he said. "You vote for me, you'll get me. You vote for Bill Shorten and you'll get Bill Shorten."
Shorten, meanwhile, held a press conference in the yard of a family home in the Melbourne electorate of Deakin.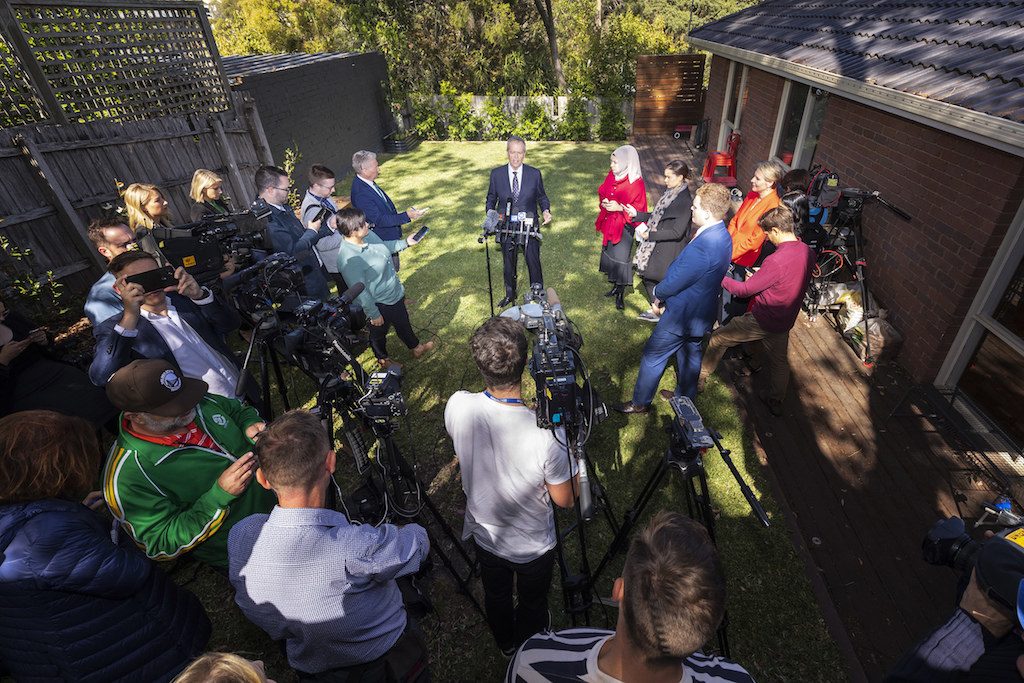 "Today, the case to vote Labor is we will deliver more jobs, better health and education," Shorten said.
"Take real action on climate change and renewable energy and help push energy prices down. We'll get on top of cost of living burdens and we'll get wages moving again in this country.
"We can manage the economy in the interests of working and middle class people. My team is united."
The Labor leader said politics was about "family and health" and repeated previous pledges towards healthcare and cancer treatment.
"This election is very straightforward, it is about being stuck in the past or a bright future and a positive view of what Australians can do together," Shorten said.
The other party leaders were also quick to respond to the announcement of the election.
Greens leader Richard Di Natale called the 2019 vote the "climate change election".
"Over the next 37 days, we'll be outlining our comprehensive plan to turn Australia into a renewable energy superpower, move to 100% renewables by 2030 and create more than 180,000 jobs across the economy in the process," he said.
Nationals leader Michael McCormack said: "The Nationals know the potential of regional Australia, and that's why we fight for your fair share. Our team has a vision for a stronger regional Australia.
"We're delivering relief for household pressures, more jobs and better wages, quality healthcare and educational choices, roads and transport that works and safer local communities."
One Nation leader Pauline Hanson said: "The government has taken up a lot of policies and issues I have expressed. I want to continue that and it is very importantly that we do extremely well at this election and get more people elected to the Senate around the country."
So what has the reaction been so far?
The location of Shorten's campaign launch did not go unnoticed and seems to point towards part of Labor's strategy.
Labor though were unhappy at the timing of this morning's announcement and the cancellation of estimates.
And it didn't take long for the mudslinging to begin from both sides.
Plus, this being AusPol there was obviously plenty of silliness.
(Turns out there's quite a lot happening on May 18...)
What happens next?
Well, a hell of a lot of campaigning from everyone.
Immediately after their press conferences, Morrison and Shorten set off to make their cases to the country, with the former heading from Canberra to Sydney.
The location of the main parties' campaign headquarters is a clear indication of where priorities will lie — the Coalition's is in Brisbane, Labor's in the Western Sydney heartland of Parramatta.