Another Day, Another Bunch Of Weird And Gross Old Posts From People Running For Election
A Liberal candidate was disendorsed over his anti-Muslim comments, another resigned over anti-gay remarks, and a Labor candidate apologised over rape jokes.
Here's everything you need to know:
- The Liberals' Isaacs candidate Jeremy Hearn was disendorsed over his anti-Muslim comments
- The Liberals' Wills candidate Peter Killin resigned over his homophobic comments about member Tim Wilson
- Liberal member Andrew Hastie is facing questions over whether he met with far-right activist Neil Erikson in Perth last year
- Labor candidate Luke Creasey apologised for sharing rape jokes online
- Labor had to issue a clarification after leader Bill Shorten said he had never met NT Senate candidate Wayne Kurnorth, who recently resigned, before footage of them together emerged
Hello there! Welcome to another day on the campaign trail. Before we start and with absolutely no context — here are Alan Jones and Peta Credlin "dancing" to samba music.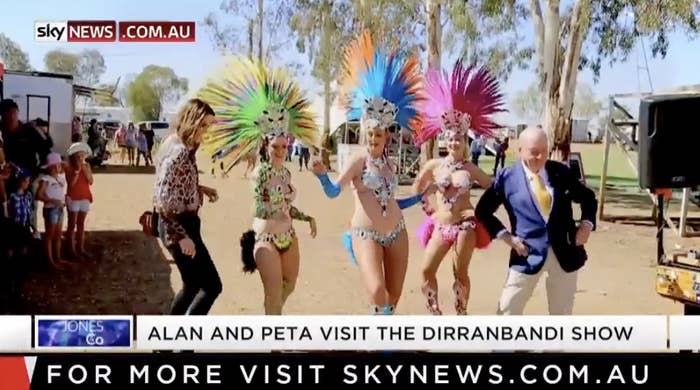 Here's the full video of the pair dancing. Enjoy. Or don't.
Anyway, on to the proper news — Labor leader Bill Shorten has today declared the Liberal party is "riddled with right-wing extremists".
He was speaking in relation to the news the Liberals' Isaacs candidate Jeremy Hearn was disendorsed over his anti-Muslim comments.
The Herald Sun broke the story on Hearn's previous online comments, which included saying Muslims wanted to "replace the Australian government and legal system with sharia" and were lying about their true intentions.
Hearn issued an apology last night, saying his comments were "entirely wrong".
But that wasn't enough and on Sky News this morning, Liberal Alan Tudge said: "His views have no place in the Liberal party and consequently the Victoria division is taking action this morning."
Shorten was also referencing the questions Liberal member for Canning Andrew Hastie is facing over whether he met with far-right activist Neil Erikson at a rally in Perth last year.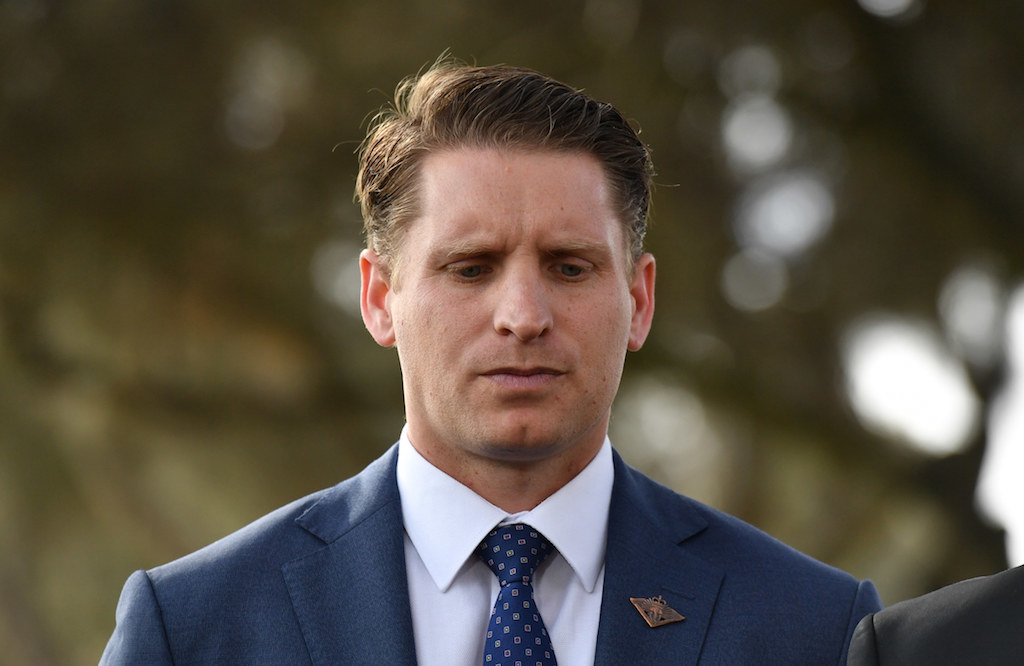 His colleague Ian Goodenough told The Guardian that he and Hastie had a "brief meeting" with Erikson at a Perth rally in support of white South African farmers.
However, Hastie released a statement contradicting this, declaring: "In Perth last year, I attended a rally — along with thousands of other West Australians — in support of South African farmers fleeing from the threat of violence.
"I have never sought to nor agreed to meet with Mr Erikson. I'm confident that I did not encounter him on the day. I find his views abhorrent and his views should not be given a platform."
Hastie described claims of the meeting made by Erikson online last month as "false and defamatory" and thanked Google for reportedly removing the video, the Herald Sun reported. He earlier refused to answer a question on the claims at a press conference yesterday, calling them "defamatory".
Goodenough later sought to clarify his earlier remarks by claiming it was a brief encounter in a crowd, that Erikson had been "dressed like a rapper", and that Goodenough did not know who he was at the time.
Scott Morrison replied to Shorten's remarks by saying: "That's absolute nonsense. The thing I notice about Bill, as he keeps dropping his notes on this campaign, is the more desperate he gets, the more outrageous the claims. The only thing that people want to hear from him at the moment, Bill, is tell us the price, Bill. Tell us the price."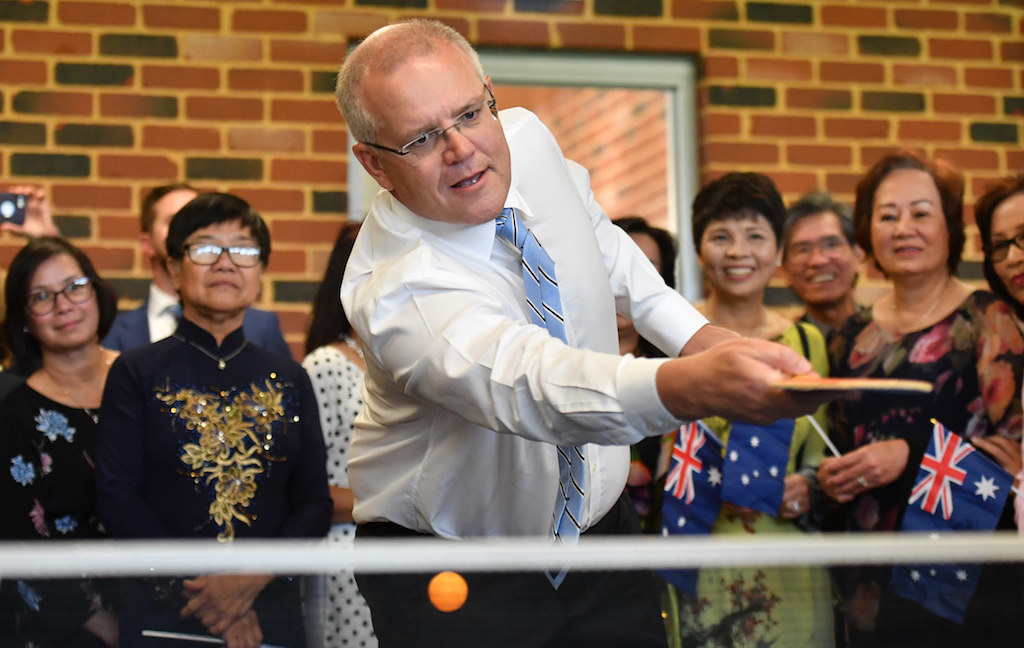 Then on Wednesday afternoon the Liberal candidate for Wills, Peter Killin, resigned over his homophobic remarks about fellow Liberal Tim Wilson.
The Herald Sun reported Killin said in online posts last year that Liberal Christians needed to "infiltrate" and change the party from within.
Talking about Wilson's pre-selection for the 2016 election, which was won by just two votes, Killin said he regretted not taking part.
"So, if you and I were there to participate in preselection the result = no homosexual MP."
The Herald Sun also reported that he made a submission to the Ruddock Religious Freedom Review and endorsed a blog post by Presbyterian pastor Campbell Markham from 2011, which described the "homosexual lifestyle" as "distressingly dangerous" and "having appalling health risks".
Labor candidate Luke Creasey in Melbourne has apologised after The Australian reported he had shared rape jokes on Facebook.
In a statement on Wednesday afternoon he said: "It's been brought to my attention that some posts I shared on social media several years ago when I was in my early 20s have been circulated.
"What I said was stupid, immature and in no way reflects the views I hold today. I apologise for these posts which have been removed.
"My focus remains on making sure we elect a Shorten Labor Government and restore funding to our schools and hospitals."
And the party had to issue a clarification after Shorten claimed never to have met NT Senate candidate Wayne Kurnorth, who recently resigned over sharing an anti-Semitic conspiracy theory, before footage of them meeting emerged.
One Nation is making headlines again for all the wrong reasons, with the Cairns Post reporting on a series of lewd photos and comments on Facebook made by Leichhardt candidate Ross Macdonald.
There was a lot going on.
One Nation leader Pauline Hanson last night spoke to A Current Affair, the program that aired the footage of former candidate Steve Dickson in a US strip club. "I cop all this shit all the time and I'm sick of it," she said.
"I just feel I keep getting kicked in the guts, time and time again. And it all happens right before an election," she said.
Hanson said she had been let down dreadfully by former members of her party.
She said she was continuing with her career in politics because she believed in making a change for people.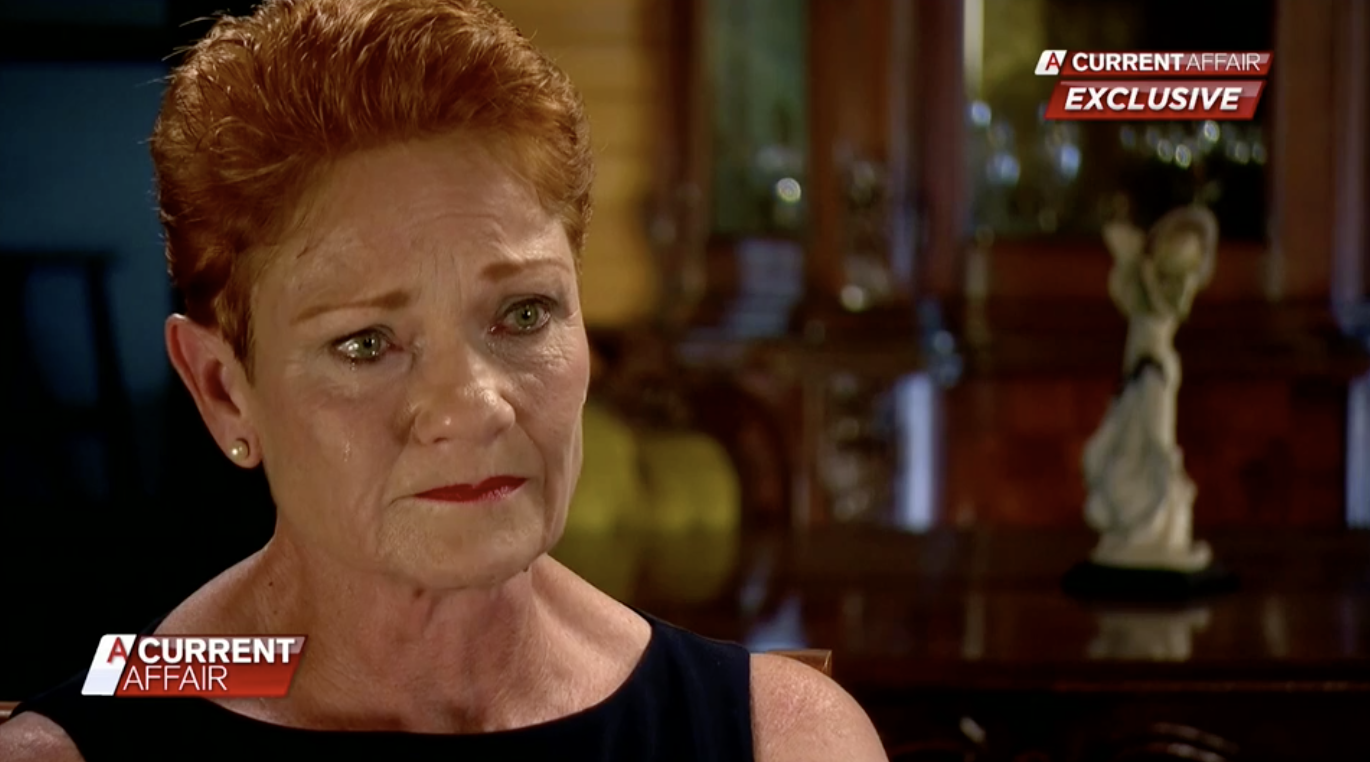 Elsewhere, Liberal candidate Warren Mundine had a bit of trouble with his bus.
Liberal candidate Gladys Liu had a bit of trouble remembering her job.
Liberal candidate Sachin Joshi previously had this to say on the gender pay gap.
And Clive Palmer's United Australia Party is apparently on track to win government.
Deputy prime minister and Nationals leader Michael McCormack reckons he doesn't get as much as much cut-through as his predecessors because he doesn't say "silly stuff". This is also what he thinks:
Well done everyone for making it through the day, but especially well done Angus.
If you still want more, Shorten is on 7.30 tonight with Leigh Sales.