1.
Some say the English lower leagues lack the excitement of Europe's top leagues.
2.
The excitement actually sometimes gets too much for some people.
4.
Visiting the club megastore is the highlight of everyone's pre-match ritual.
5.
But just hope you never have to visit this snack stall.
6.
Maybe all the in-date snacks had been stolen...
7.
If you play your cards right, you might get a free pie.
8.
These fans definitely deserve a free pie.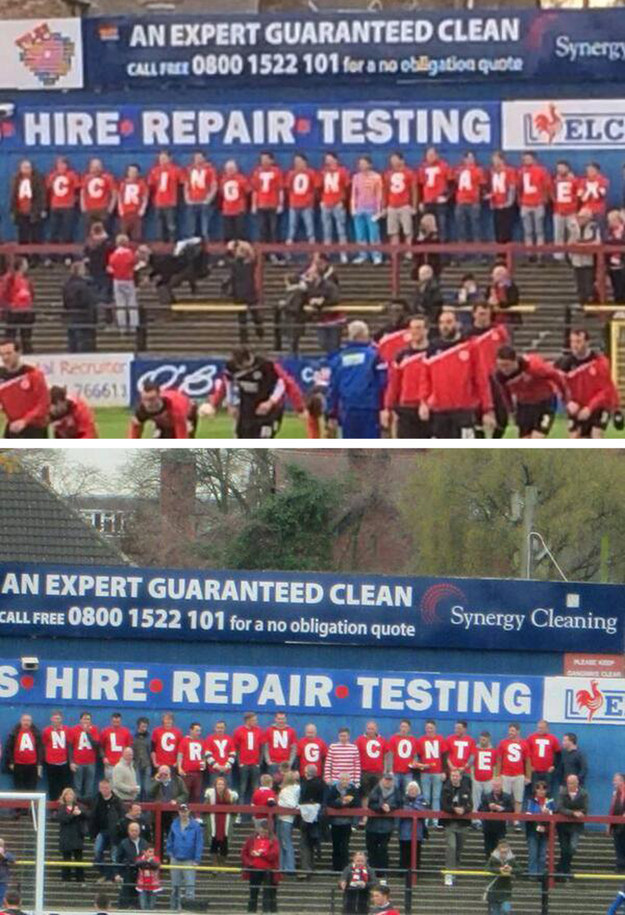 9.
Not sure about these ones though...
10.
This one deserves a medal.
12.
You see some weird stuff in the doldrums of football.

13.
And some pretty incredible stuff.
14.
But mainly weird stuff.
15.
Pretty much just avoid the toilets.
16.
Honestly.
17.
Unless you want to have a sit down.
18.
Or mix some cement.
19.
Or be scarred for life.
20.
Lower league clubs are a bit more relaxed with their approach to social media.
21.
But not as relaxed as non-league clubs.
22.
The team talks are something else.
23.
24.
But if you impress the boss, you'll get your reward.
25.
Most importantly, the clubs are close to fans.
26.
Some sides will do anything to get a game on for the fans.
27.
Even if the fan is a horse.
Like BuzzFeed Football on Facebook for news, features, quizzes, and games.