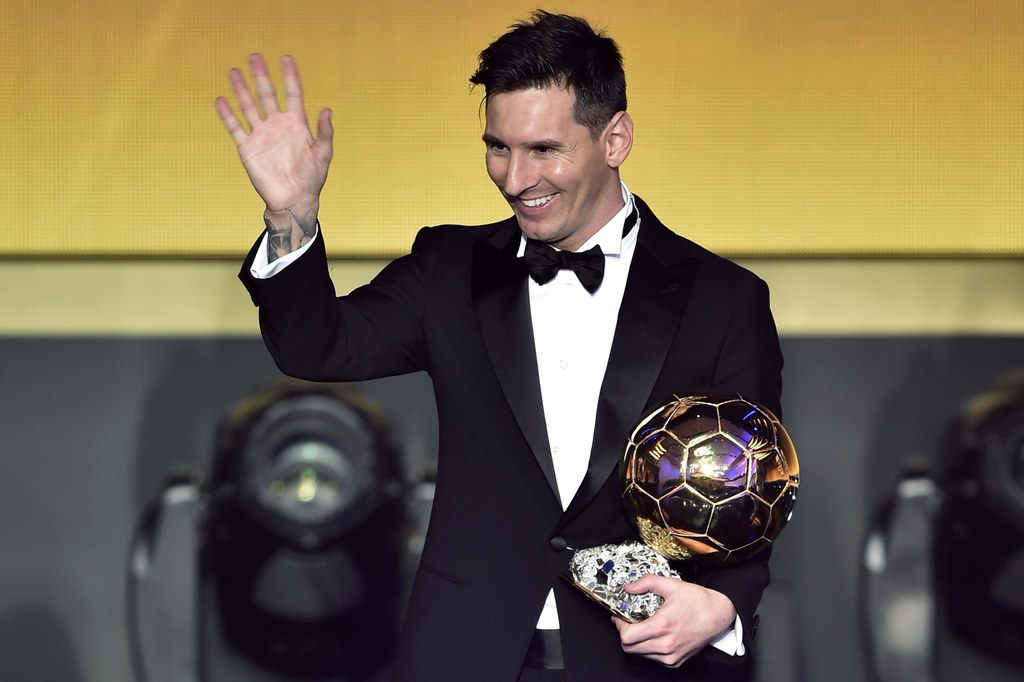 Argentine footballer Lionel Messi has won the Ballon d'Or for a record fifth time.
Messi last won the award – handed out each year to the world's best footballer – in 2012, but was usurped in 2013 and 2014 by rival Cristiano Ronaldo.
This year the Barcelona forward has once again been crowned as the best player in the world, fending off competition from Barca teammate, Neymar Jr, and Real Madrid's Ronaldo, who completed the three-man shortlist for 2015 alongside Messi.
He was given the award in front of members of the football community in a glamorous ceremony in Zurich, Switzerland.
"It's incredible to win a fifth – more than anything I ever dreamed of as a kid," said Messi upon collecting the award.
"I want to thank those who voted for me, plus my teammates. Without them this wouldn't be possible."
Messi and Ronaldo are now the only two players to have won the competition who are still playing football in Europe's "big five" leagues (Premier League, La Liga, Serie A, Bundesliga and Ligue 1).
Ronaldo, who has won the award three times, is now 30, and with Messi two years his junior, it is unlikely anyone will overtake the Argentine forward's record haul for quite some time.
By winning the award for a fifth time, Messi has broken his own record, set in 2012, of winning the award for a fourth time.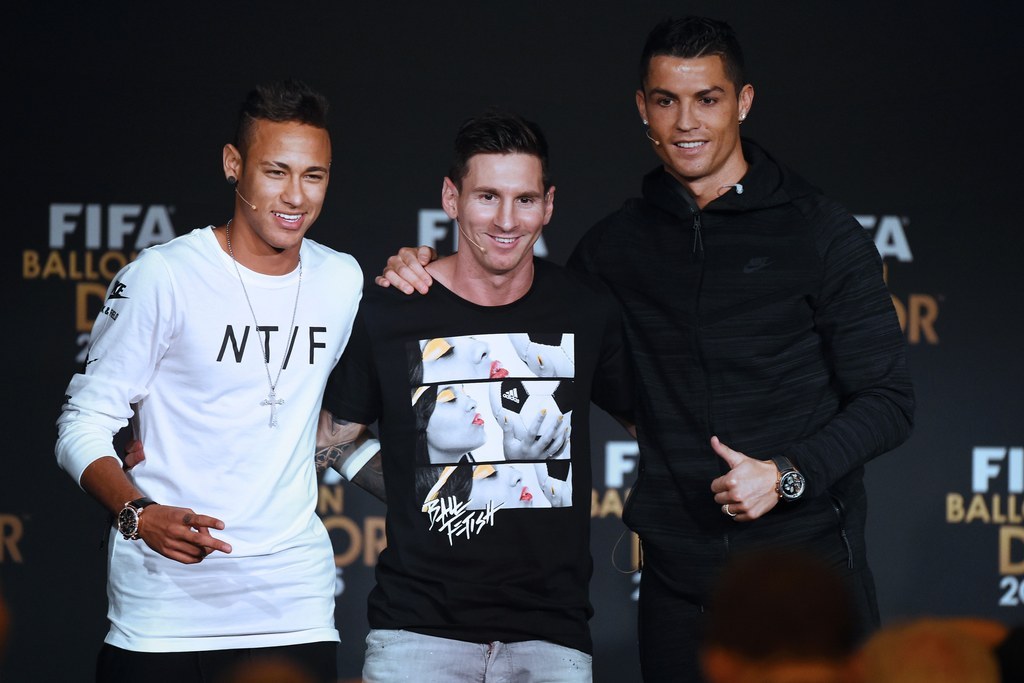 The 28-year-old's Ballon d'Or victory this year will surprise few fans, given that bookmakers were offering 1/33 odds on Messi to win.
Neymar Jr, who enjoyed a blistering 2015 alongside Messi at Barcelona, was 16/1 to win the award ahead of the ceremony, while Ronaldo was 33/1.
Having won the Champions League four times, La Liga seven times, and the Copa del Rey (the Spanish Cup) three times, the only major honours now eluding Messi are on the world stage. Despite being a veteran for Argentina with 108 caps, the World Cup and the Copa America are still on his wishlist.
"Obviously [I'd like to win] the World Cup," he said at a pre-ceremony press conference in Zurich.
"The World Cup is the peak of the game."
Messi came close to winning the World Cup with Argentina in 2014, but Germany defeated the South American side in the final. The 2018 World Cup in Russia could be his last chance to lift the Jules Rimet trophy.
But even without the World Cup, his honours list remains one of the longest in the history of world sport.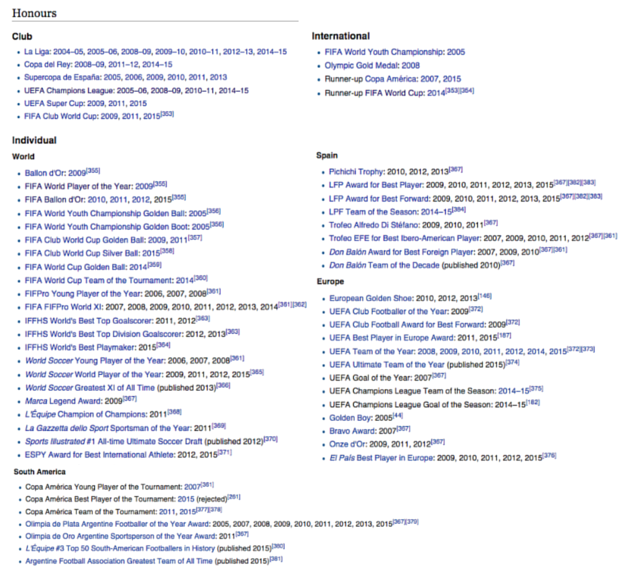 He is also the holder of a staggering number of football records, including:
* Most Ballon d'Ors (five).
* Most consecutive Ballon d'Ors (four).
* Youngest two-time, three-time, four-time Ballon d'Or winner (23, 24, 25 years old).
* Most Man of the Match awards in one FIFA World Cup: 4 (2014).
* Longest goalscoring run in a professional league in a single season: 33 goals in 21 consecutive matches in 2012–13.
* Only player to score consecutively against all teams in a professional league: 2012–13.
* Most UEFA Best Player in Europe Awards: 2 (2011, 2015).
* Top goalscorer in all club competitions in a season: 73 goals in 2011–12.
* Only player to be top goalscorer in five UEFA Champions League seasons: 2008–09, 2009–10, 2010–11, 2011–12, 2014–15.
* Most hat-tricks in the UEFA Champions League: 5.
* Youngest player to make 100 appearances in the UEFA Champions League: 28 years and 2 months in September 2015.
* Top all-time goalscorer in La Liga: 295 goals.
* Top all-time assist provider in La Liga: 116 assists.
* Top all-time Barcelona goalscorer in official competitions: 431 goals.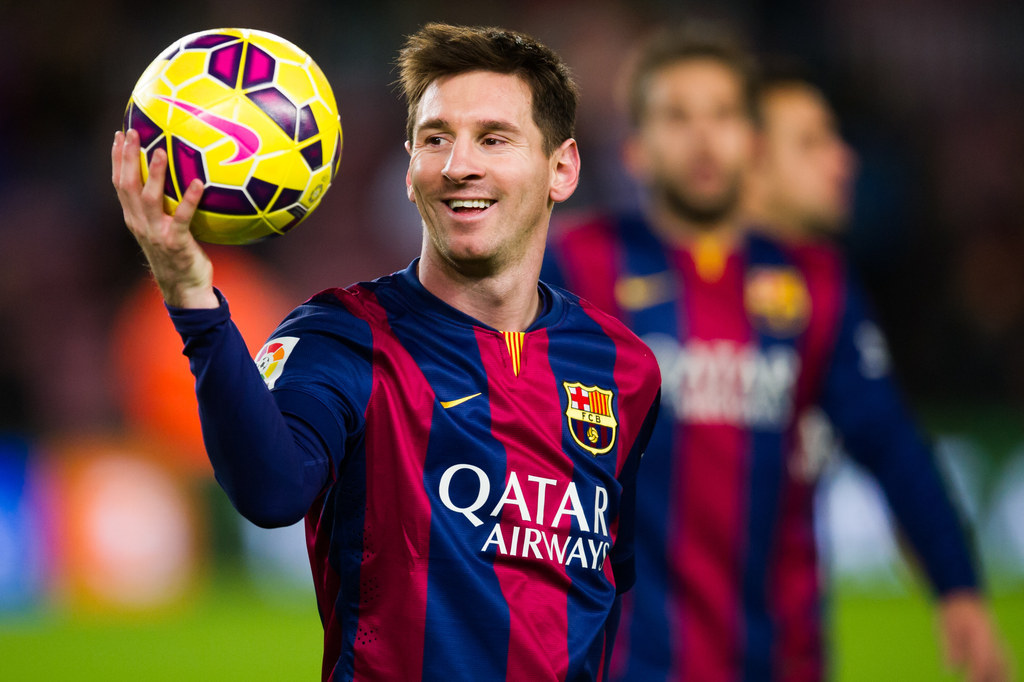 The rivalry between Messi and Ronaldo is often portrayed as one of the most significant rivalries in the history of football, alongside Maradona and Pele, but it appears there are no ill feelings between to the two.
When asked by press at the ceremony if there were any of Ronaldo's traits he was jealous of, Messi replied:
"I don't feel envy. That's a negative trait. I like Cristiano. I am the way I am. He is the way he is."
Ronaldo took the compliments one step further: "His (Messi's) left foot is really good. I'd like to have that," he said.
While Neymar quipped: "I'd like to have both feet."
The trio were asked some tough questions by press about the recent FIFA scandals, but only Cristiano Ronaldo addressed the questions head-on.
"These things happen, not just in football. The best thing is no corruption... in all life," said the runner-up.
Ronaldo also said ahead of the ceremony that he was not surprised Messi was the favourite to win:
"It is not surprising to me that Leo might have better chance than me, but I am here for a reason: the vote from coaches and captains.
"It would not be a surprise to me if Leo or Neymar win as on a collective level they won many trophies. But all three of us are here on our own merits."
Messi's acceptance speech was short, but referenced losing the award to Ronaldo in 2014, and described this year's victory as a special moment.
"It's a very special moment to be back here, winning another Ballon d'Or," he said.
"Especially after watching from the crowd as Cristiano won last year.
"It's incredible to win a fifth – more than anything I ever dreamed of as a kid.
"I want to thank those who voted for me, plus my teammates. Without them this wouldn't be possible.
"Football has always made me learn and grow. Thank you."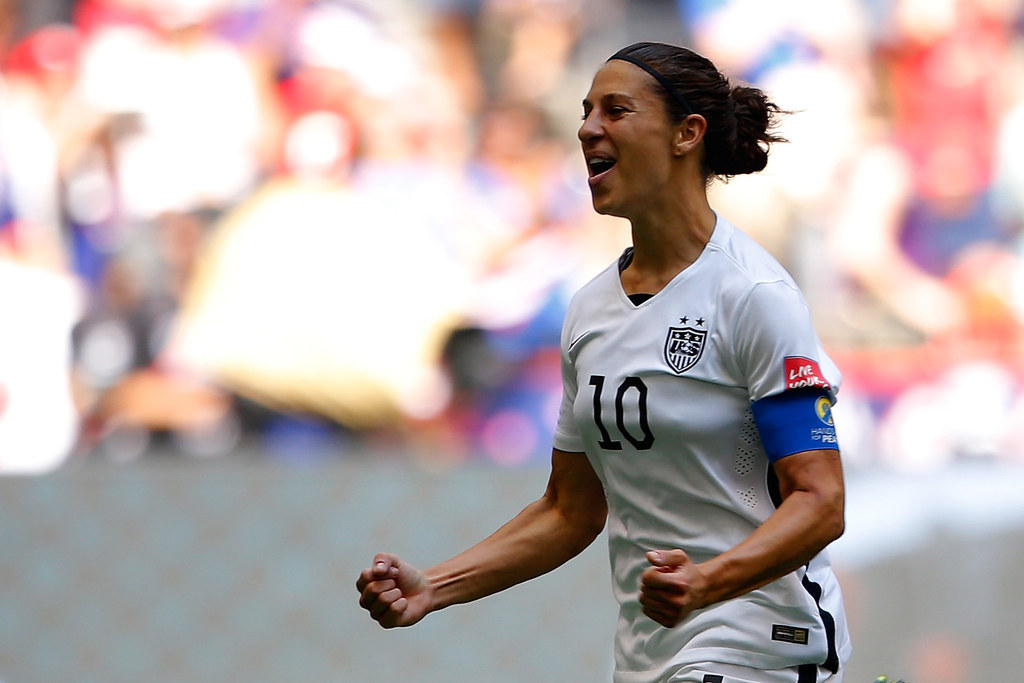 Winner of the Ballon d'Or Female Player of the Year was USA's Carli Lloyd, who won the the World Cup with the US in 2015.
A tearful Lloyd said: "It's an honour, this has always been a dream of mine."