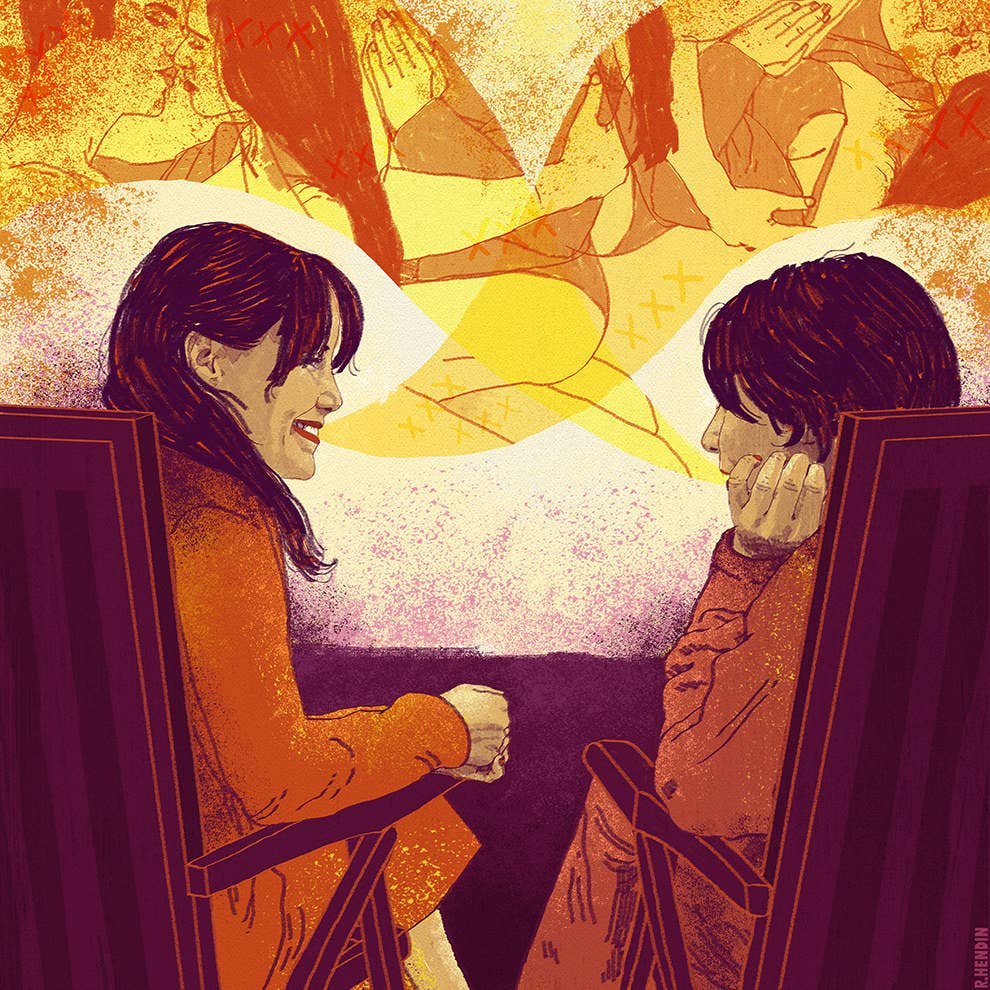 Earlier this year I was visiting a friend I hadn't seen in ages. On the third day of my trip, we began swapping downloads of our favourite TV shows – I gave her Broad City; she couldn't believe I was a Gilmore Girls virgin. That's when I asked if she might be interested in some porn.
To be precise, I said something along the lines of, "Well, um, I have this thing. It's like a porn thing by this filmmaker… I mean… It's porn."
I did the only sensible thing to do when you find fun, well-made content: I shared it.
I'd just discovered Erika Lust's XConfessions: collections of beautifully shot 10-ish-minute porn films inspired by anonymously submitted sex fantasies. You can buy them off Erika's website, and I had in my possession XConfessions Volume 2. Basking in its artistic afterglow, I did the only sensible thing to do when you find fun, well-made content: I shared it.
At that point, there were only a handful of women I'd successfully shared porn with, most of whom I'd met online or through my work in the sexuality rights movement. In most of my offline friend groups, porn tends to be a that's-what-she-said conversation between guys, with the women expected to play the chee-chee-toba-toba role every time something X-rated comes up.
I was extra hesitant with this friend because our families have been close for generations. Imagine if carefully preserved histories, beginning with our grandparents, came crashing down around a threesome. (Now do what you will with that image.)
Luckily, no such disaster occurred.
"I quite liked them," she told me the next day. She'd watched some of the videos.
We were within earshot of several acquaintances, but carried on chatting without any efforts to conceal what we were talking about. It didn't feel like something we needed to hide.
Except everyone around us totally lost their shit.
"You gave her what?"
"WHY would you do that?"
"Seriously?"
Before you disapprovingly tut that "well, you know what Indians are like", consider this: in our group of 10, we were two out of three Indians present. Almost everyone else was from a predominantly white, "progressive" country. And they were still shocked to discover two women openly exchanging notes about a cross-dressing porno.
"Wait, you watch that stuff?"
I can't believe I have to spell it out, but, yes: Women. Watch. Porn.
No, not some abstract women referenced in a sex-positive academic survey. I watch porn.
The women you study with, work with, and commute with watch porn.
The women on my Twitter feed watch porn. The women you study with, work with, and commute with watch porn. In 2015, 30% of PornHub's Indian viewers were women – and that's just one website.
Your mothers, daughters, and sisters are deleting browser histories and selecting the "porn" tag on PirateBay just as much as their male counterparts. Women have sexual desires, and we actively seek out sexual pleasure, irrespective of whether or not it comes with a penis attached.
And the more openly we share the possibility of this pleasure with each other, the less easy it becomes to dismiss its existence.

Despite tons of evidence to the contrary, most people still believe porn is a guy thing.
Worryingly, this belief has crept into legislation. All attempts to ban porn, including a Public Interest Litigation that's been under consideration by the Supreme Court of India since 2013, rely on the logic that men watch porn, porn shows women in "degrading" situations, and men go on to degrade women.
There are real harms surrounding porn and, as with all gender-based violence, most of them revolve around consent. Consent during filming, distribution, and even consent during sex itself. These violations must be rigorously addressed.
But we shouldn't make the mistake of confusing them with totally unsupported claims that watching porn directly leads to violence against women.

And if we don't attempt to ban the entire film industry every time Bollywood proudly flaunts its stalker-ish no-means-yes brand of consent, there's no reason we should see the entire medium of porn any differently.

Reason, however, does not play a central role in the proposed ban, which has been nobly filed by advocate Kamlesh Vaswani "for enforcement of the fundamental rights of [the] innocent, susceptible, vulnerable women and children of India". It operates on the assumption that the only people watching porn are pervy dudes out to harm our innocent, vulnerable ladies-log.
This logic gets really dangerous for women, really fast. The assumption that porn is consumed exclusively by men promotes a worldview that entirely erases women's sexual pleasure – including, most notably, self-pleasure. Even more alarmingly, it does so in the name of women's rights.
The would-be porn bans are fuelled by the idea that porn, like sex, is the property of men. That the only time us desi girls have seen "those types of things" is when some dude convinced us that Hot Indian Bhabhis are good foreplay.
Talk about the porn you love. About the porn you have no idea how to find. About the porn that might have been sitting on your best friend's hard drive all along.
But if you know that to be as untrue as I do, there's a quick and not-so-dirty remedy to prove them wrong: start talking.
Talk about the porn you love. About the porn you have no idea how to find. About the porn that might have been sitting on your best friend's hard drive all along.
I know it's not always easy. In my ideal world, every woman would sit down with her friends circle and swap sexy content. In reality, I rarely manage it myself.
Instead, I wonder: What are the boundaries? Is it OK to talk about this stuff at all? What if I'm the only one who likes that thing?

I'm working on a book about – surprise, surprise – pornography. I've discussed the subject with several people. I'm realising that how we talk about porn has a lot to do with how we came to it.
Several men have told me that their first porn-viewing experience was in a group of boys, one of whom had chanced upon on an illicit DVD or an empty cybercafé. It happened largely without shame. It's not like this has created a culture of fully honest and open sex conversations among men, but their pursuit of solo pleasure has always been acceptable.
Boys will be boys, right?
What it means for girls to be girls, on the other hand, has always had less to do with freedom and more to do with restraint.
What it means for girls to be girls has always had less to do with freedom and more to do with restraint.
Don't sit like that. Don't touch yourself. Don't go looking for trouble.

Luckily for those of us with the privilege of being online, the internet is full of touching and trouble. Unlike our male friends and family, we stumbled into or sought out porn alone, quietly. And we explored it on our own.
I've received a vast array of content from Indian women: Sexy fanfics of Hindi soap operas. Self-shot content from women bloggers. Diverse kink, ranging from standard foot fetishes to not-so-standard golden showers. From comics to videos to audio stories, my inbox is stuffed to the brim with content that would make Kamlesh Vaswani's head spin.
As it turns out, being left to our own devices has had the awesome, unintended effect of allowing women to make up the rules of desirability, ungoverned and alone, as we navigate the web. Based on what I've observed in conversations with friends and research for my book, women are more likely than men to be turned on by a range of things.
Group intros to porn have the effect of normalising boys' sexual desires, but they also set the bar for what "normal" desires are.
Indian women's sexual fantasies entail a diverse bunch of stuff, but the silence around our desires insidiously informs a wider conversation that deems sexual pleasure a fundamentally male pursuit. Or at the very least, something that women should pursue for or with men.
We maintain a stoic collective fantasy of straight, "vanilla" sexy-times, even though we're wanking to a vast array of content. We do it on our own, we do it with pleasure, and we do it largely unprotected (read: unrestricted) by men.
And maybe if we openly discuss and share these digital deeds, we can radically shift the terms of any porn debate that tries to "protect" us.

If we dig a little deeper, it becomes clear that porn bans are less about protecting women and more about protecting society from the forms of sexual pleasure it deems illegitimate.
Take the UK, where a 2014 list of banned sex acts in porn includes face-sitting but not its phallic counterpart, cumshots. The situation in India is not very different, though I imagine those proposing the ban would prefer to enter into a murder-suicide pact than say the word "cumshot" out loud.
What are we, Indian women, afraid to say out loud?
And what are we, Indian women, afraid to say out loud? Can we talk about masturbation without shame? Can we share links to sexy content with each other, be it erotica, photographs, or hardcore?
When I shared XConfessions with my friend, I took a bit of a gamble. And it totally paid off. The next day, when we received tons of flak for our "weird" stuff, not only did we keep discussing it openly, but we went on to have detailed conversations about how difficult it was to talk to most people about sexual pleasure. How even our international-educated, "liberal" friends were essentially living in the dark ages when it came to acknowledging the basic truth that women masturbate.
There is something profoundly powerful about resisting the logic that keeps us quiet about porn.
Before beginning this essay I texted my friend to ask her whether it was OK to write about the incident, because even though I haven't named her, it's fairly plausible that people will figure out who I mean.
She texted me back to say, "It is TOTALLY fine. It might make for strange [family] dinner table convo, but I believe talking about this should be normal."
I find this beautiful.
There is something profoundly powerful about resisting the logic that keeps us quiet about porn, and about doing so in spaces that no legislation can touch. Spaces where you and I, hamari Bhartiya naris, can turn around to each other and say, "Look, this got me off. What about you?"