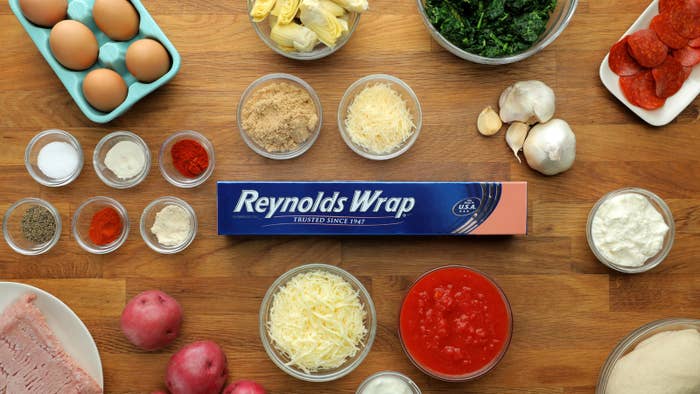 INGREDIENTS:
Hot Chicken Meatballs
1 pound ground chicken
1 teaspoon salt
½ teaspoon pepper
¼ cup vegetable oil
½ tablespoon cayenne
½ tablespoon brown sugar
½ teaspoon garlic powder
½ teaspoon paprika
Spinach Artichoke Potato Skins
3 red potatoes, cooked in the microwave until tender
1 cup frozen spinach, thawed and chopped
½ cup canned artichoke hearts, chopped
⅓ cup cream cheese
2 tablespoons sour cream
2 tablespoons shredded Parmesan
½ teaspoon garlic powder
½ teaspoon salt
Mini Calzones
1 ball pizza dough
¼ cup marinara sauce
½ cup shredded mozzarella
2 tablespoons ricotta
4 ounces pepperoni
1 egg, whisked
PREPARATION:
1. Preheat oven to 375ºF.
2. Line a large, rimmed baking sheet with Reynolds Wrap® Aluminum Foil. Then build 3
separate foil trays with raised sides.
3. Meatballs: In a bowl, mix together ground chicken with the salt and pepper. Roll chicken
into small meatballs, slightly smaller in size than a golf ball. Place meatballs on one third
of the tray.
4. Potato skins: Cut potatoes in half. Carefully scoop out most of the inner flesh, leaving a
little bit around the skin so that the potato forms a small bowl. Place potato skins on one
third of the tray. In a bowl, mix together spinach, artichoke hearts, cream cheese, sour
cream, Parmesan, garlic powder, and salt. Scoop mixture into the potato skins.
5. Calzones: On a floured cutting board, roll out the pizza dough into a thin rectangle. Use
a large cookie cutter to cut out 6 circles, approximately 4 inches in diameter. On each
circle, place ½ tablespoon marinara, 1 tablespoon shredded mozzarella, 1 teaspoon
ricotta, and a couple slices of pepperoni. Fold down over filling and pinch close to form a
half-moon shape. Use a fork to crimp the edges and seal the dough shut. Arrange
calzones on one third of the tray. Brush each calzone with whisked egg.
6. Bake tray for 15–20 minutes, until meatballs are cooked through. Calzones and potato
skins should be lightly browned.
7. While tray is in the oven, prepare hot chicken sauce. In a small pot, whisk together
vegetable oil, cayenne, brown sugar, paprika, and garlic powder. Heat mixture until
bubbling. When meatballs come out of the oven, generously brush each one with sauce.
Serve everything immediately!