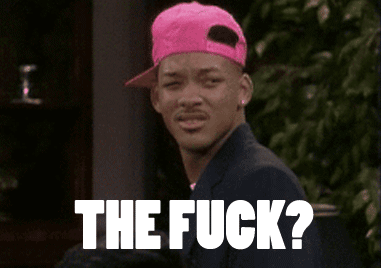 1. DELAYS?
2. I knew I should have checked TFL.
3. I think I might actually have a mental breakdown.
4. This woman in front of me better get her shit together FAST.
5. Wait, where's my Oyster Card?
6. Phew.
7. I feel like cattle being herded right now.
8. Right, now where shall I wait for the train?
9. They look like they know where the doors will open.
10. Train already, YAY.
11. This is why the Tube is SO much better than the bus.
12. I hate the bus.
13. Wait, why are the doors over there?
14. WHY DID I TRUST THESE PEOPLE?
15. Now I can't get on.
16. Gonna be late for work.
17. Again.
18. Maybe I can squeeze in there?
19. I can definitely squeeze in there.
20. Well that was just plain embarrassing.
21. Wait a minute, how is she getting on?
22. I just tried, THERE ISN'T ANY SPACE.
23. What the – ? How did – ? WHAT JUST HAPPENED?
24. I have never been more jealous of anyone in my entire life.
25. Next train in one minute. There is a god.
26. VIA BANK?
27. Fuck my life.
28. I am so close to the yellow line right now.
29. I feel so dangerous.
30. Please be an empty train, empty trains come here right?
31. Nope, packed train.
32. Yes I am aware I look like a twat who can't judge space but I am getting on this fucking train.
33. ON! WHOOP WHOOP!
34. On the downside, being bummed by creepy man.
35. That better be his phone.
36. I have a strong suspicion it's not his phone.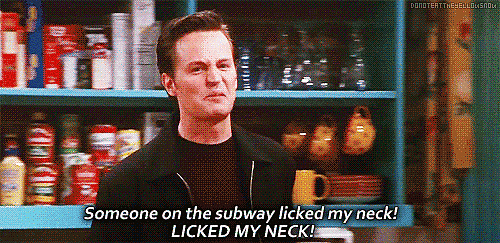 37. Now what's this joker doing?
38. Mate there's NO ROOM.
39. YOU ARE STUCK IN THE DOORS
40. YOUR ARMS ARE LITERALLY STUCK IN THE DOORS.
41. NO-ONE can be this desperate to get to work.
42. Someone better be dying.
43. Why aren't we moving yet?
44. Whose bag is obstructing the doors? I WILL FIND YOU.
45. Finally, we're moving.
46. Now we've stopped.
47. Travelled for all of 30 seconds. Fantastic.
48. Red signal?
49. I HATE YOU RED SIGNAL.
50. We blatantly won't be "on the move shortly".
51. Oh. We are actually moving.
52. How am I being bummed to death and this woman is still managing to read her Kindle?
53. Is that Hunger Games?
54. OH I LOVE THIS BIT
55. Why are you moving away?
56. LET ME READ YOUR BOOK WITH YOU.
57. Who farted?
58. Oh it was me.
59. Quick, look disgusted.
60. OMG there's tiger cubs being mothered by chimpanzees in the Metro.
61. NEED to get that Metro.
62. I wonder if if that guy is done with his Metro?
63. Can't ask him though. Must not talk to anyone on public transport ever.
64. Fuck. King's Cross.
65. No we cannot move down.
66. THERE IS NO ROOM.
67. LISTEN MATE IF I GET ANY CLOSER TO THIS MAN HIS PENIS WILL ACTUALLY BE INSIDE ME.
68. Feisty old lady is on the case.
69. YEAH YOU TELL HIM!
70. Well this is awkward. They've just had a fight and now they're squished next to each other.
71. There is so much regret in this carriage.
72. Euston. Where everyone fucks off and I get a seat.
73. YAY seat.
74. Shiny lovely seat for my poor, tired bum.
75. This feels soooo good.
76. Oh god OH GOD is she pregnant?
77. Or is she just fat?
78. She's fat.
79. She's pregnant?
80. CANNOT TELL.
81. THERE IS NO BADGE. WHY CAN'T PEOPLE JUST WEAR THE BADGE.
82. This is so unfair. I just got this seat.
83. I DESERVE THIS SEAT.
84. I WAS BUMMED AGAINST MY WILL.
85. She's is looking at me.
86. Quick, pretend to be asleep.
87. Oh I only have one stop left.
88. Quick, offer your seat.
89. God I'm such a good person.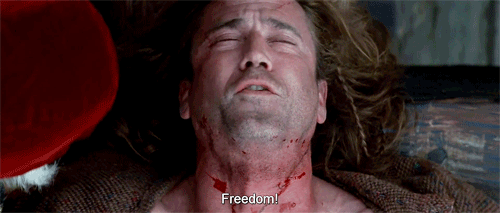 90. Can you people please let me get off before you get on?
91. There really is no hope for humanity.
92. FREEDOM!
93. Walk up on the LEFT and stand on the RIGHT.
94. IT'S NOT ROCKET SCIENCE.
95. Why is everyone so bloody slow?
96. YOU'RE IN MY WAY.
97. I AM MORE IMPORTANT THAN YOU.
98. DO NOT make eye contact with the smiley charity man dressed as a frog.
99. God he looks like a twat.
100. Fuck, he's seen me.
101. Sorry mate, only have coppers.
102. Yes I am a terrible human being.
103. I should have just taken the bus.