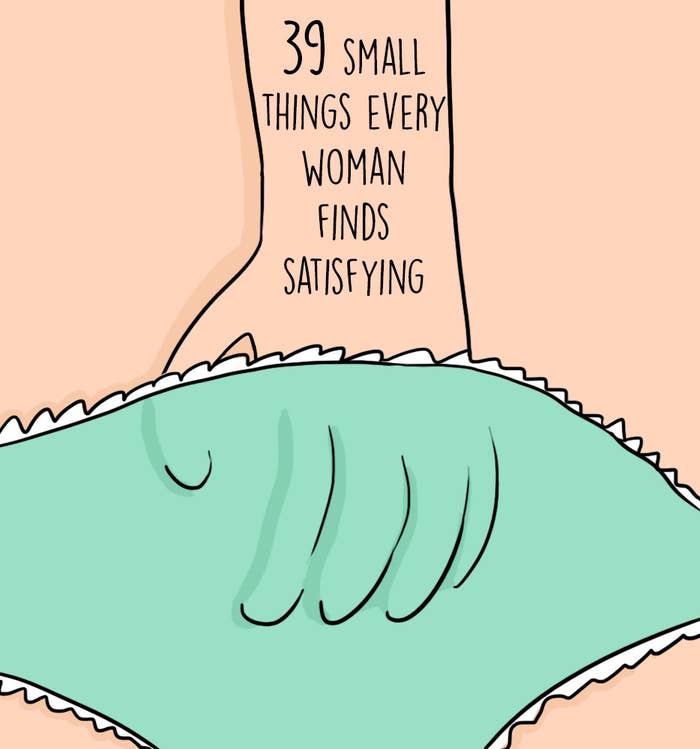 1. Discovering a dress has pockets.
2. Plucking out a really thick hair so deftly it comes out in one clean pull.
3. The smoothness of your legs after the first shave in ages.
4. And then rolling in fresh bedsheets afterwards, feeling the linen against your new dolphin legs.
5. The spikiness of your pubes poking through your knickers.
6. Stroking your pubes in general, twisting the hairs in your fingers.
7. Doing a massive poo and feeling like your stomach has become instantly flatter.
8. Discovering that a top or dress you love comes in seven other colours.
9. Taking off your bra at the end of the day.
10. Especially the bit where you unclip it and fling it halfway across the room.
11. Finding bras in the sale that are actually in your size.
12. Finding shoes that are really stylish AND super comfortable.
13. Wearing a tampon for hours and seeing not one drop of leakage in your knickers.
14. Finding a makeup or beauty dupe that's half the price of something expensive you normally buy.
15. Taking a fire selfie after fewer than 20 attempts.
16. Pulling greats wads of hair from your bumcrack in the shower.
17. Cleanly peeling off a giant bit of nail polish, especially if it's gel.
18. Your lipstick staying virtually intact all day.
19. Liking what someone's wearing, asking them where and when they got it, and discovering it's still available from a high street store.
20. Actually finding a tampon or pad in your bag when you need it.
21. Getting free beauty samples at a fancy department store.
22. Putting a cool pillow in between your legs when you sleep.
23. Lying on the sofa with your legs completely spreadeagled.
24. Taking out a hairband when your hair's been in a tight, high ponytail all day.
25. And then running your hands through your hair and gently massaging your scalp.
26. Getting your hair washed at the hairdresser.
27. And then feeling the incredible silkiness of your hair after a blow-dry.
28. Moisturising your entire body then slapping yourself on the arse or hip to hear that satisfying "clack" sound.
29. Rubbing in face cream and then smoothing over your eyebrows.
30. Holding on to your boob for comfort.
31. Or playing with them to assess their mighty jiggliness.
32. Finding a cute T-shirt that does not have "Tacos are my BFF LOL" on it or a cut-out back.
33. Buying clothes online or straight off the hanger and discovering they actually fit and you don't have to return them.
34. Changing into PJs or sweats after a long day in uncomfortable clothing.
35. Finding out a product you own can be used for multiple purposes.
36. Giving a recommendation of a beauty product you've tried to a friend or colleague.
37. Wanting to purchase something and the shop assistant saying: "You're lucky –
it's the last one left!"
38. A woman complimenting you and making your day.
39. Complimenting another woman and making her day.