The W Hotel in downtown Atlanta narrows twice near its summit, 28 gloriously reflective stories in the air, so that the roof of the building feels almost impossibly small. All that glass and concrete — the luminescent terrace infinity pool, the 300-plus rooms with Macassar wood and Dornbracht faucets — culminates in a demure square helipad that a giant gorilla might regard as a trampoline. Ryan Raddon, an average-sized man, stands at the edge of the helipad one misty evening in late September and instinctively positions himself for a selfie, his arm outstretched at a flattering 45 degrees as a sleek black helicopter whirs in view of his iPhone's camera. It has been raining intermittently all day, and gray, leaden clouds give the towering skyline a forbidding mystique.

Raddon, 44, who produces electronic dance music under the name Kaskade and has twice been voted America's Best DJ (2011 and 2013), is accompanied on the helipad by his wife, Naomi; a concierge; a journalist; and his videographer, a 26-year-old named Jet, who loops around the helicopter angling to capture the tableau. The pilot, a round man in rectangular glasses, idles patiently with a watchful eye on the hazy horizon. Raddon and crew are unhurried. Over the course of Kaskade's 250 touring days every year — which, in 2015, have helped make him the seventh-highest-paid DJ in the world with an estimated $18 million in revenue, according to Forbes — there are moments to scramble and moments to savor. This is the latter.
Kaskade is in town for TomorrowWorld, a growing EDM festival situated on an 8,000-acre horse farm called Chattahoochee Hills 30 miles outside of Atlanta. The event is a three-year-old American offshoot of Tomorrowland, a venerated three-day, fairy tale–themed bacchanal in Belgium that last year attracted over 360,000 attendants from 190 countries. Helicopter transport has become a standard offering at EDM festivals, the nature of which often precludes proximity to civilization, and it's the organizers of TomorrowWorld who have facilitated the rooftop pickup.
After the helipad moment has been preserved for posterity, the helicopter takes off with a grace that's almost alarming — sudden and frictionless — with Raddon in the backseat and Naomi riding shotgun. The clouds are so low that the aircraft seems to push up against them, like a bird trapped under a bedsheet. A thick gray mist smears the red and yellow lights of the cityscape below.
"The lights and cryo are gonna look great!" Raddon yells into his headset over the thrum of the rotor, referring to the special effects in his stage show. An Illinois native who now lives on L.A.'s Westside, he has an accent that's a peculiar alloy of Midwestern nasality and California surfspeak. And his face, well, he looks like a super-soldier developed at DARPA.
Raddon, who is wearing a light, black jacket, low-top black sneakers, and blue jeans with high cuffs that expose his ankles, could lament the dismal weather: It's the release day for his ninth album, Automatic, and he is, after all, en route to perform at a giant outdoor concert. But he's actually praying for rain. Back in his room at the W, he recalled a song from his voluminous catalog that was perfect for just such an occasion — it's called "Raining" — and cobbled together an edit for tonight's set using his laptop and the DJ software Ableton Live. "A downpour makes it more memorable," he says. "The kids will never forget the time they went to TomorrowWorld and got drenched."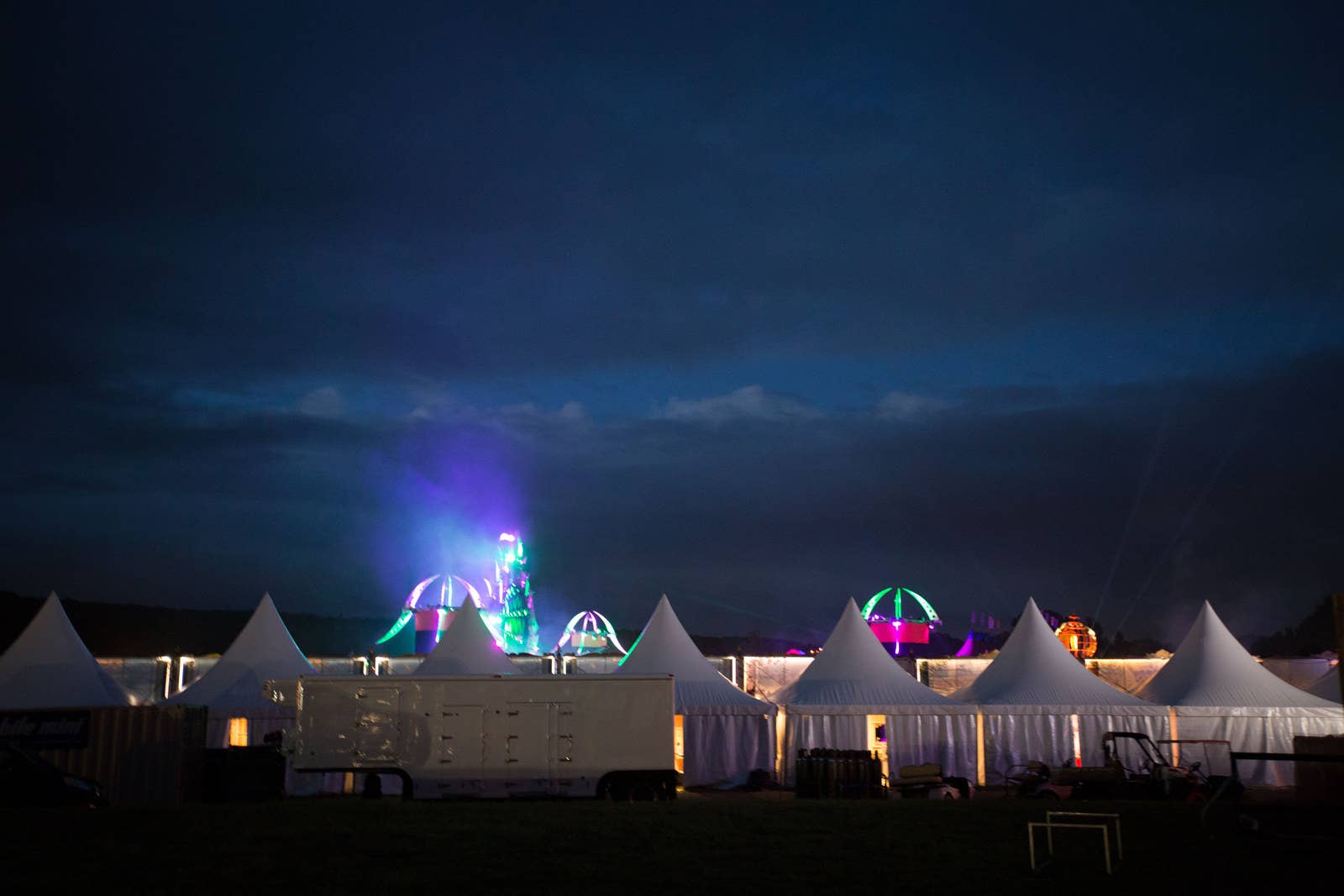 The Bachelor–worthy helicopter experiences aside, Raddon's life has little in common with the cartoon of the overexposed celebrity DJ. In an era when EDM stars can achieve levels of debauchery not seen in music since the '80s, Raddon is a devout Mormon and teetotaler who says he's never had a drink or touched a drug in his life. Unlike peers Diplo and Calvin Harris, he's never appeared in the tabloids on the arm of a pop star; instead, he's been married for more than 20 years to his college sweetheart, with whom he's raised three young daughters. And compared to baby-faced, post-SoundCloud superstars like Avicii and Martin Garrix, he's a walking relic who still remembers when dance DJs were anonymous service professionals. Ask Raddon if he worries that the EDM hysteria of the last few years is a bubble heading for a burst, and he'll simply say, "I don't really worry much about anything." You'll believe him.

Raddon was born and raised in Northbrook, Illinois, outside of Chicago, where house music was created from the ashes of disco in the late '70s and early '80s. As a teenager in the mid- to late '80s, he was enthralled by house and the band of outsiders — black, queer, pierced — who converged around the genre. He was the third of five children, in one of the few Mormon households in the county, and felt alienated from his peers. Unlike his siblings, he loved skateboarding and listening to New Order. And his school, Glenbrook North High — John Hughes' alma mater and the inspiration for The Breakfast Club — provided little relief.
"So many kids were getting together on the weekend and going to the football game and keggers, and all that masculine energy — beating each other up over a keg of beer — wasn't my thing," Raddon says. "I was the weird kid who took the train into the city and hung out with the kids who dyed their hair black. Maybe it was because of my religious beliefs, but I was much more comfortable hanging out with the misfits."
In Chicago, Medusa — a vibrant, progressive-leaning teen club founded by a disciple of the foundational house mecca The Warehouse — was a revelation. There, he found a crowd that was utterly heterogeneous and nonjudgmental. The only thing that united everyone was the music, occasionally provided by original Warehouse resident and house music pioneer Frankie Knuckles, which thumped along at upwards of 120 beats per minute until early in the morning.

At 19, Raddon spent two years in Japan on a mission in service of the Mormon church, a mandate for young believers (he still speaks some Japanese). When he returned, he moved to Salt Lake City to attend the University of Utah, where he found other Mormons but no dance music. He bought a pair of turntables and taught himself how to DJ, honing his skills at house parties and eventually club gigs. After college, he stuck around in Salt Lake, where he married Naomi — a spunky brunette who shared his love of snowboarding — and, briefly, was a partner in a dance music record store called Mechanized. In 2000, the couple moved to San Francisco, where Raddon got a job working in A&R for the independent dance label Om Records. Eventually, he introduced his boss to the music he'd been making on the side to complement his DJ gigs, and Om put out the first Kaskade LP, It's You, It's Me, in 2003.
In the dance world, Kaskade's music was unusual for its time, eschewing the computerized sounds of early-'90s techno or the hard edges of late-'90s big beat for something more melodic and song-based. His early work is dappled with loungy keyboard and soft acoustic guitar licks, topped with gauzy female vocals of the sort that had long been considered distractions by serious ravers but would eventually become a staple of EDM. Unlike most other electronic artists, Raddon fashioned himself as primarily a songwriter, figuring he could make club songs that sounded more like what the other guys were sampling.
"I was always drawn to club music that was more musical and lyric-based, but I noticed that there was a huge void in that area," Raddon says.
Outside of the music, Raddon's Mormonism demanded a chaste, family-centric lifestyle, which often put him at odds with others he encountered in the scene. Many career DJs and nightlife professionals must reckon with dance culture's long-running association with drugs, alcohol, and other pleasures of the flesh, but fewer do so as a matter of divine law.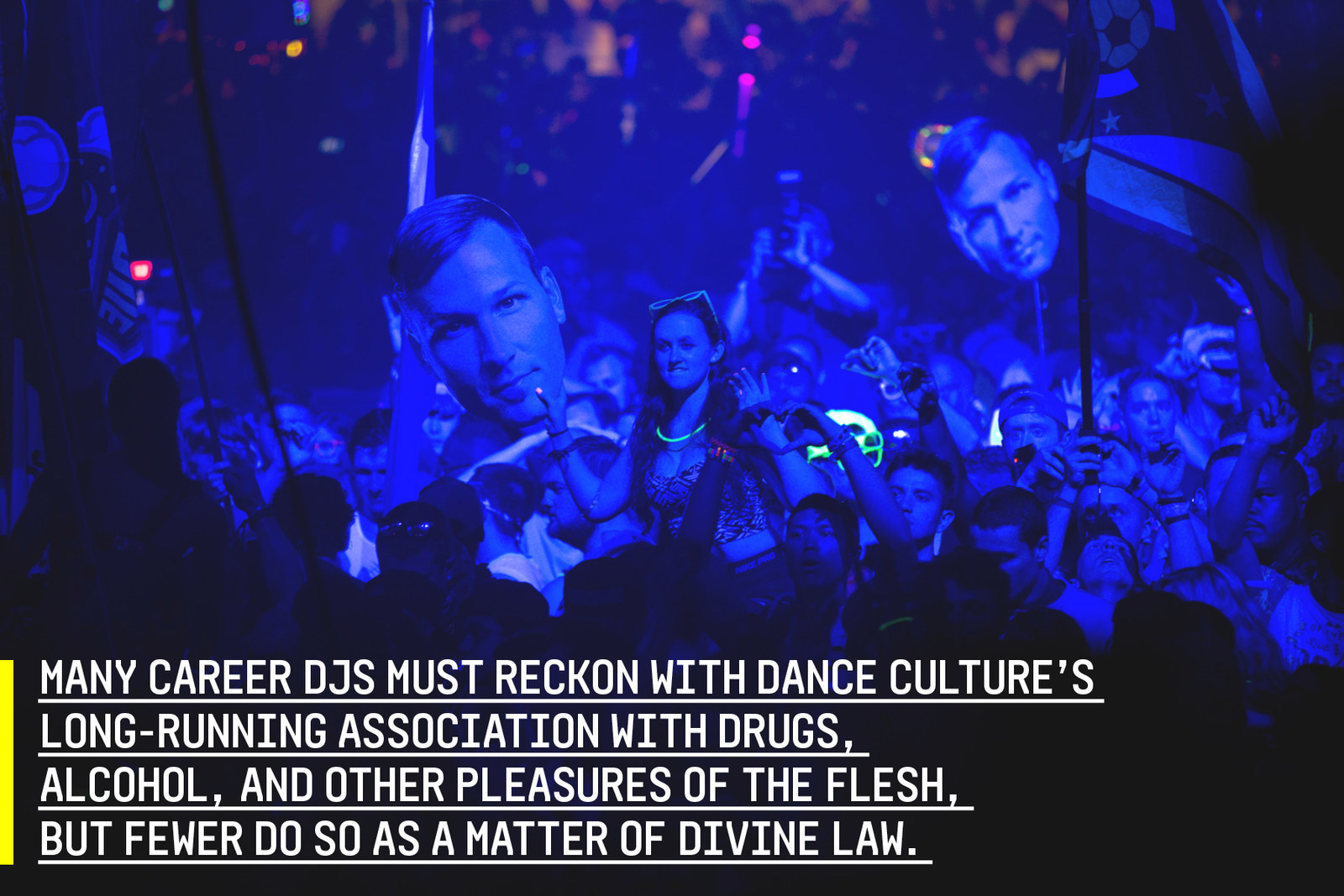 "Early on in my career, people would show up with a limousine and bags of drugs and hookers and be like, 'Ooh, let's party, man! Kaskade's the best! Let's freaking rock!'" Raddon says, using a favorite euphemism. He speaks calmly and with an unwavering presence of mind, sticking with a thought until it's completed. "There was pressure to kind of participate. And a perceived pressure, like, 'You could be more successful if you partied with these people… Hang out after the show and smoke a bowl,' or whatever. I just said, 'Sorry, I don't do any of that. Save it for the guy performing tomorrow night.'"

As he became more established, Raddon preempted temptation by surrounding himself with a team of similarly sober and family-oriented allies, including longtime manager Stephanie LaFera and creative director Loren Cronk (his old college roommate), who travel with him full-time. But his unusual position at both the forefront of and, at some level, apart from dance culture still weighs on him. Raddon believes that drug use among EDM fans is exaggerated — that, like early members of the church in which he was raised, devotees of electronic music have been unfairly maligned. But he's not naive about what can happen in the dark of the club. Of his audience members who choose to do drugs, he has said that he wishes they wouldn't, but that he's "not there to judge."
Raddon's 2013 single "Atmosphere," which features his first-ever lead vocal performance, brought this internal conflict to the surface: "All my life I've been a star, holding a light up in the dark / while I try to keep clear, of all the waves in your atmosphere."
"As much as I love a lot of this and what the culture surrounding the music has to offer, there are things inside of me that don't fit in with what's going on," Raddon says. "The conventional wisdom of rock star DJs banging hookers and blowing cocaine? That's not completely unfounded. There are some guys out there acting like total idiots. But there are also people who take electronic music and the business very seriously, and are very disciplined, and live modest lifestyles, and do very well. For me, I made up my mind a long time ago who I am and what I'm about."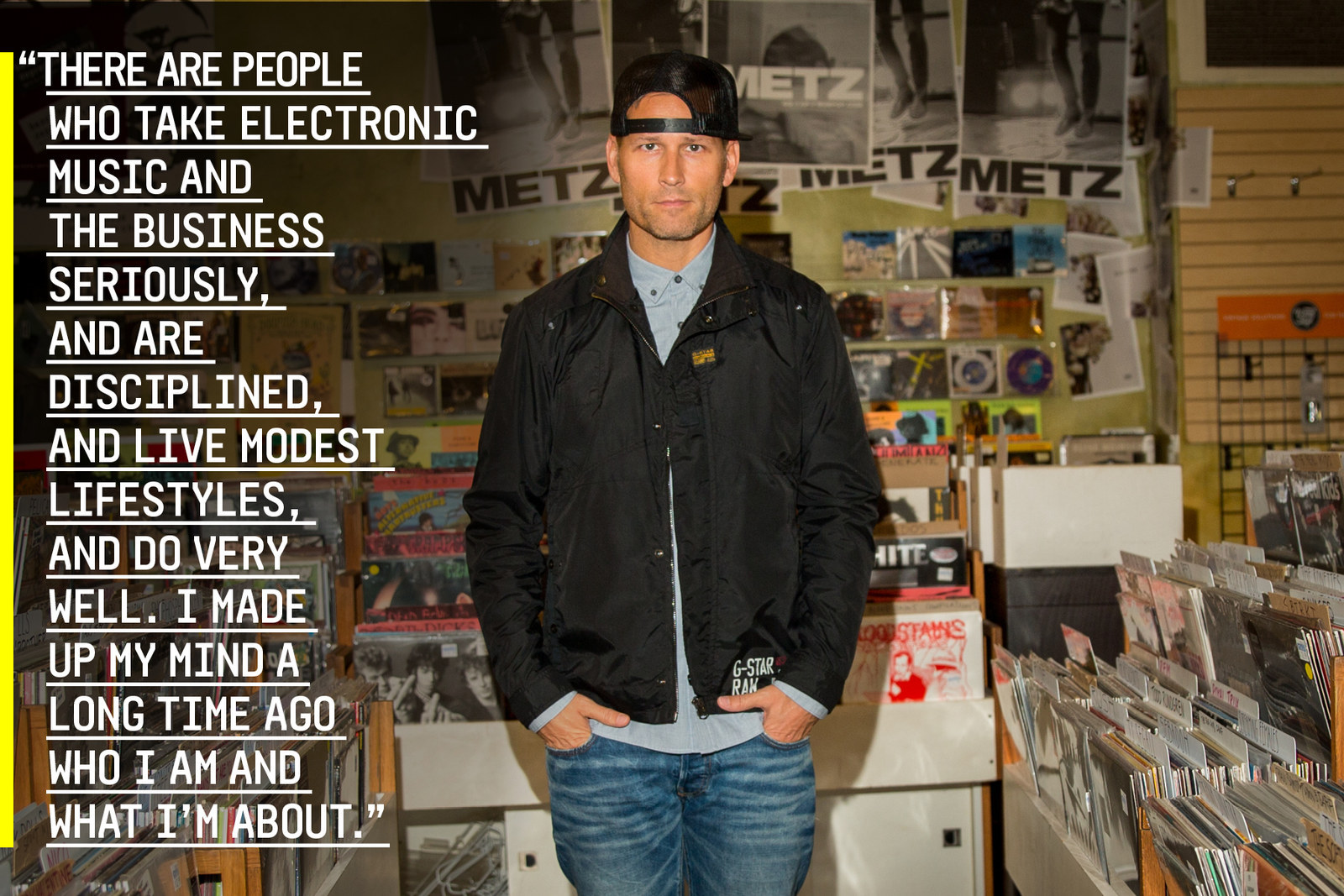 In Chattahoochee Hills, the helicopter lands on a plush mound of grass a couple hundred yards west of DreamVille, TomorrowWorld's name for its neon-lit campgrounds, where 40,000 fans have erected a pop-up tent city. A white van ferries us to the greenroom, a converted stable in the compound's surprisingly luxurious and cottage-like main barn complex.

Following the lead of Pasquale Rotella's Insomniac Events tentpoles Nocturnal Wonderland and Electric Daisy Carnival, modern EDM festivals are easily the best and most extravagantly produced music festivals in existence, owing more to Disney's theme parks than the field raves of yore. The TomorrowWorld fantasy is a riff on an enchanted forest, a place where revelers, known onsite as "People of Tomorrow," can shed their earthly identities and prance freely as the Tolkien heroes and heroines they believe themselves to be in their hearts.
Kaskade's fans are famously passionate and obsessive. At Coachella this year, he was the only electronic artist to perform on the main stage, where he drew a larger audience than Drake. In 2012, he became the first electronic artist to headline (and sell out) the Staples Center. And a year prior, after he went on Twitter to announce a surprise performance on Hollywood Boulevard for the premiere of an EDC documentary, more than 5,000 people turned up — causing a melee that had to be broken up by police in riot gear.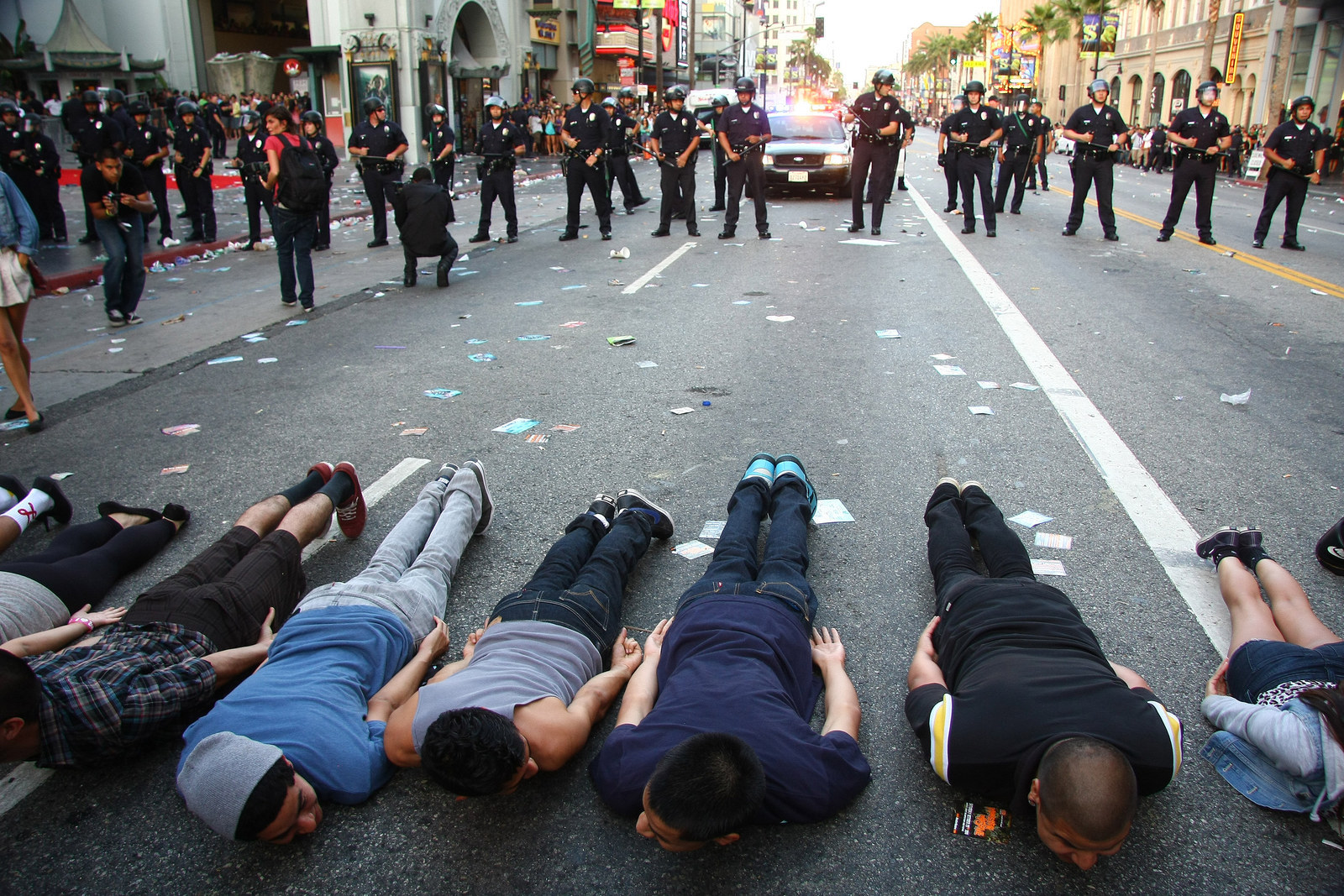 For religious pop stars, making music that is both massively appealing and scripturally sound is a complicated dance. Get too preachy, as Mase did on his ill-fated 2004 album Welcome Back (infamous lyric: "I'm livin' la vida, without the loca"), and nonbelievers will tune out. But when nominally secular music successfully channels religion's power to enrapture souls, as on Bob Marley's "One Love" or U2's "I Still Haven't Found What I'm Looking For," the results can be miraculous.
EDM is, in some ways, the perfect vehicle for songs of the latter category. Its fanbase is self-selectingly dogmatic, complete with a credo ("PLUR," or Peace, Love, Unity, and Respect) and an emphasis on the communal achievement of enlightenment or euphoria (by means either natural or, to Raddon's chagrin, chemical). Much of Kaskade's music, while carefully avoiding proselytization, offers what could be heard as a purer form of the ambiguously life-affirming dance hits that are pervasive at EDM festivals and, increasingly, pop radio. Songs like "4 AM" ("There's a way, there's a way… I know that someday we will surely find it"), "Be Still" ("Now that this love has overcome me / Now that this fire is burning bright / All of these words seem just beyond my reasoning"), and "Mercy" ("For the broken hearts / For the reckless souls / This is mercy, love / We are chosen ones") function as indictments of empty existence that deftly evoke the universal desire for something more.

"I think any experience can be spiritual," Raddon says. On his Instagram, the comments are often filled with prayer-hands emojis and the stories of fans whom his music helped through "rough times." "Put more broadly, I'd say dance music can be very uplifting. That's what I'm aiming to do at my shows. Uplift and kind of enlighten. Like, 'Oh wow. We can all kind of ride this thing together and end up in this place where we're much happier than we were before.'"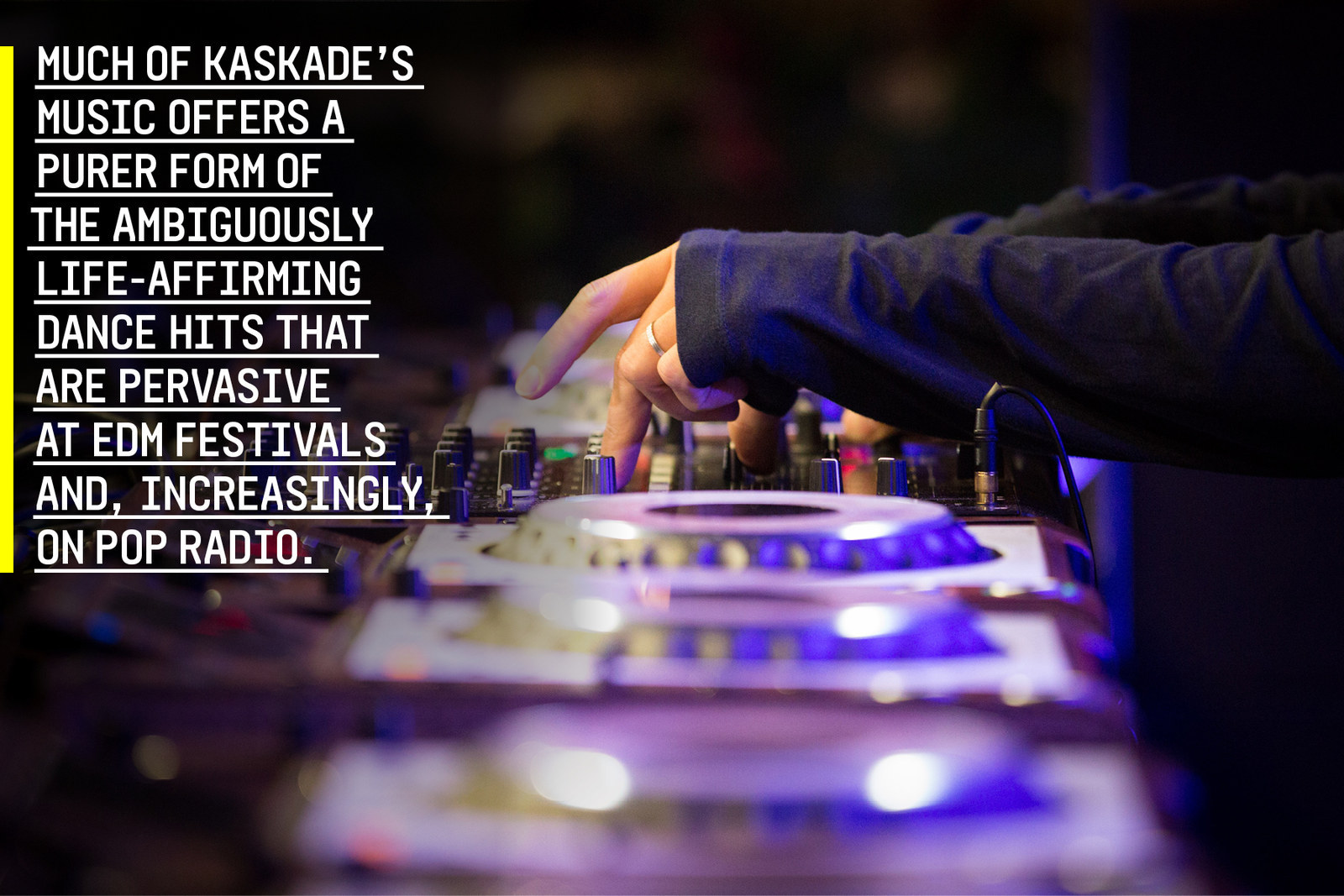 It didn't rain. In the greenroom, which had been made to look like a tree house in Neverland, Raddon sips on a Diet Coke — his one addiction — and makes last-minute set changes on his laptop. LaFera, his manager, is there, along with Loren Cronk; Naomi; Jet, the videographer; his tour manager; his personal photographer; and a few family friends. Back in Salt Lake, Cronk used to help him hoist crates of vinyl from his car to the club three nights a week, but now every song he can conceive of using during a show — in this case between 500 and 600 — fits on an SD card the size of a postage stamp. When Kaskade plays a solo gig, he structures his sets like elegant career retrospectives, weaving in and out of his back catalog between old gems and fan favorites. At a festival like this, though, where he'll perform on the main stage between former Swedish House Mafia DJ Steve Angello and the Dutch remix juggernaut Tiësto, he's a cog in an elaborate machine. The only imperative is to keep 50,000 or so writhing bodies from breaking their collective spell.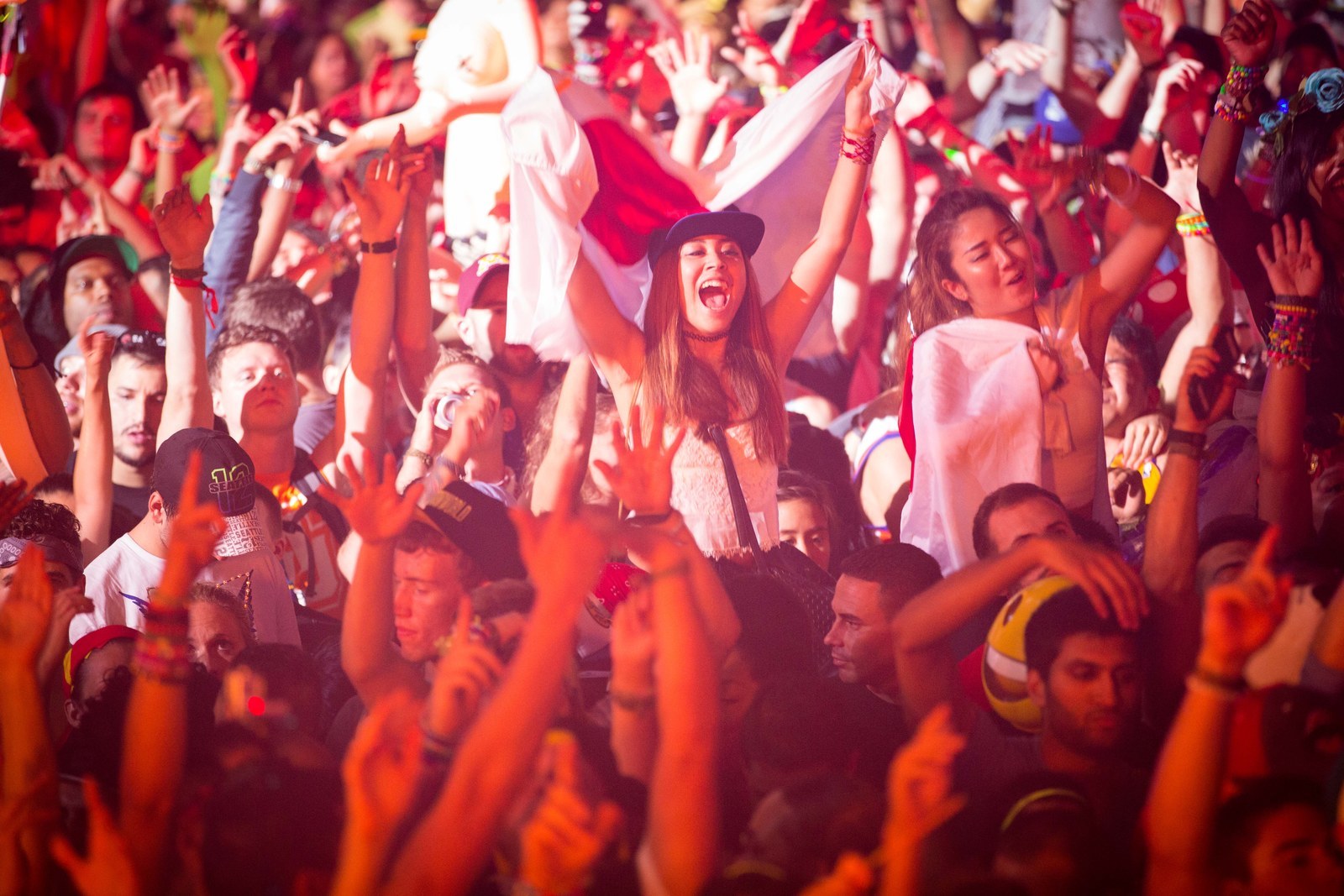 Raddon remembers when the crowds started to get truly massive, when electronic music, long simmering in the underground club circuit, erupted into the mainstream toward the end of the last decade, dousing titans of pop (Lady Gaga, Rihanna), R&B (Akon, Ne-Yo), and hip-hop (Kanye West, the Black Eyed Peas) in insoluble neon glaze. By 2009, festivals that typically hosted 20,000 or 30,000 ravers were regularly drawing over twice that many. And in Las Vegas, DJs in leather jackets and Armani jeans abruptly unseated Celine Dion and David Copperfield at the roiling core of America's entertainment industrial complex. Last year, Vegas's top five nightclubs earned a combined total of more than $350 million in revenue, according to Nightclub & Bar.
For Raddon, the effects of this shift were acutely personal. In 2010, he opened Steve Wynn's 50,000-square-foot Encore Beach Club in Las Vegas as its inaugural resident DJ, a lucrative post that meant he could reduce his grueling tour schedule and spend more time with his family. Today, Naomi joins him on tour about once a month ("I pick the good places," she says. "Hawaii? New York? OK, sure!"), and they fly out the kids whenever school allows.
"We sit around the kitchen table with our laptops and calendars open and call out potential dates," Raddon says. "It's like Battleship."
Meanwhile, increased competition for reputable EDM talent around the country sent even his standard performance fees through the roof. Raddon says the biggest clubs have paid up to $500,000 for him to appear.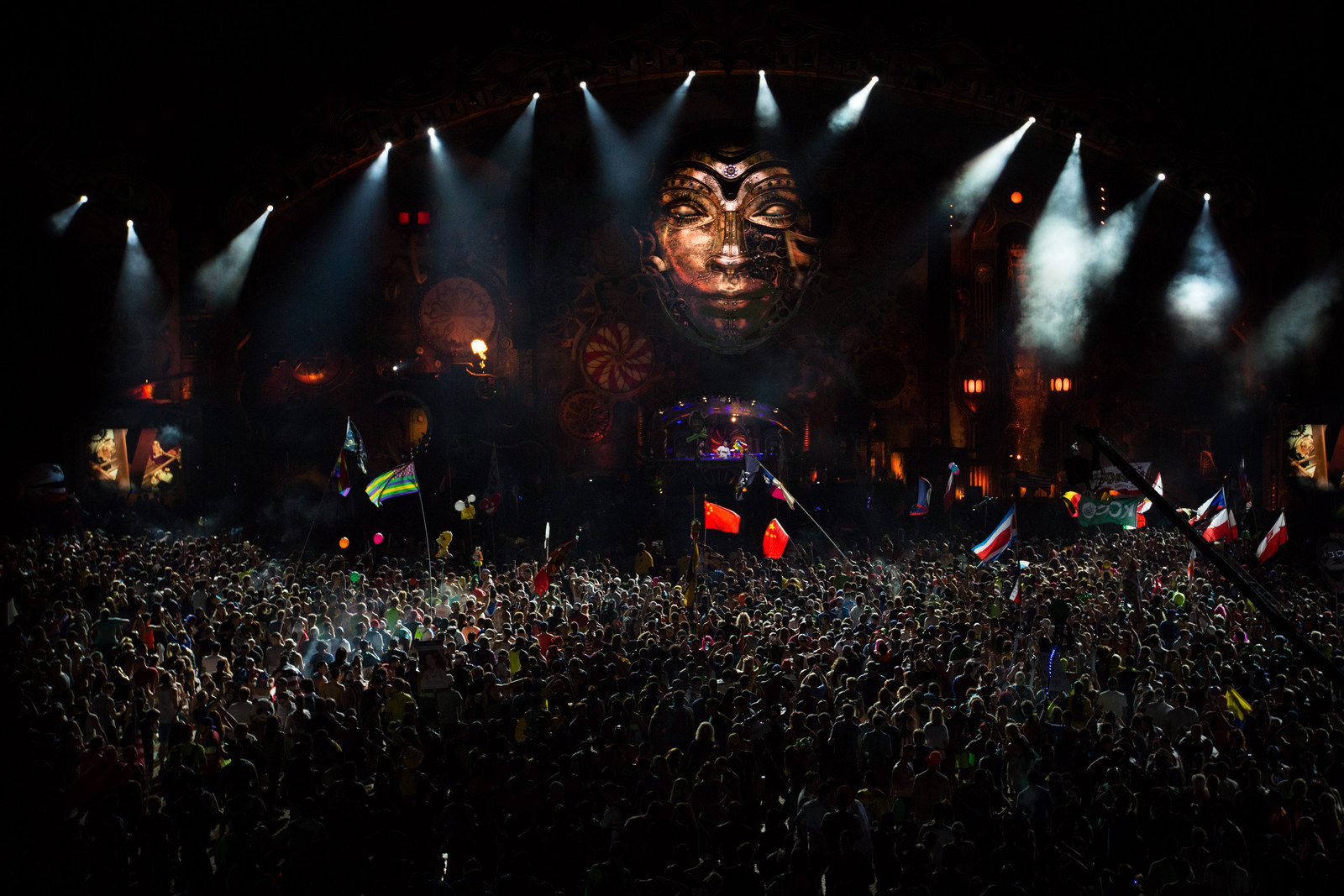 "I talk to the younger guys, like Zedd [26-year-old producer of "Clarity" and "Break Free" featuring Ariana Grande], and they think this is just the way it is," he says of the breezy lifestyle that has come to characterize the scene. "I'm like, 'Naahhh, man. I was playing three to five nights a week for 15 years — Christmas, birthdays, anniversaries, you name it. It was a very long time coming for it to get to this place.'"

It's not clear how much further EDM can go. Popular music tends to move in cycles, minting astronomical success stories and rueful burnouts in equal measure. If you locate the start of the modern EDM boom between 2009 and 2011, we're currently either four or six years into its maturation as a cultural force. Disco fever, for comparison's sake, was effectively dead after 10 years (1970–1979). Gangsta rap, which enthralled the parents of today's bass heads, was moribund after nine (1988–1996).
According to a report released in the spring by the International Music Summit, which tracks sales of everything from concert tickets to DJ equipment, the global EDM business is still growing, worth a lofty $6.9 billion in 2014. But the growth rate has slowed considerably. Last year's tally represented a relatively modest 12% year-over-year increase in revenue for the industry, compared to 37% year-over-year growth in 2013. The take for the genre's highest-earning stars is under the influence of similar gravity. Between 2012 and 2013, the world's top 10 DJs experienced a vertigo-inducing 108% jump in their collective annual income, according to Forbes. But in 2015 — with Vegas and festivals like EDC, Ultra, and Electric Zoo at or near saturation — earnings flatlined at just 2.5% growth.
"It's hit a plateau, for sure," says Raddon, when asked if EDM hysteria has seen its peak. "In Vegas, every single casino's got a club and a pool and multiple nights that they're trying to promote. A lot of them are still full, but I don't know how many people there are to go around."
When it comes to his own career, he's similarly frank. "Look, my music has to be at or near its peak in popularity," Raddon says. "I still feel like I'm right there," he crooks his right hand and raises it to eye level. "I haven't hit it yet, and there's still another 10, 15, 20% to go before things kind of level off. But whether that happens or not, I have no complaints. I was comfortable 15 years ago playing for $500 and a cheeseburger. I was completely satisfied at that point. It was 'Oh my gosh, I've made it! I can pay my rent doing what I love!' For me, it wasn't about fame and fortune. I got into it because I loved it. As a kid growing up in Chicago I got into house music, and it happened to be at the right place at the right time. I never imagined that it would become a worldwide phenomenon."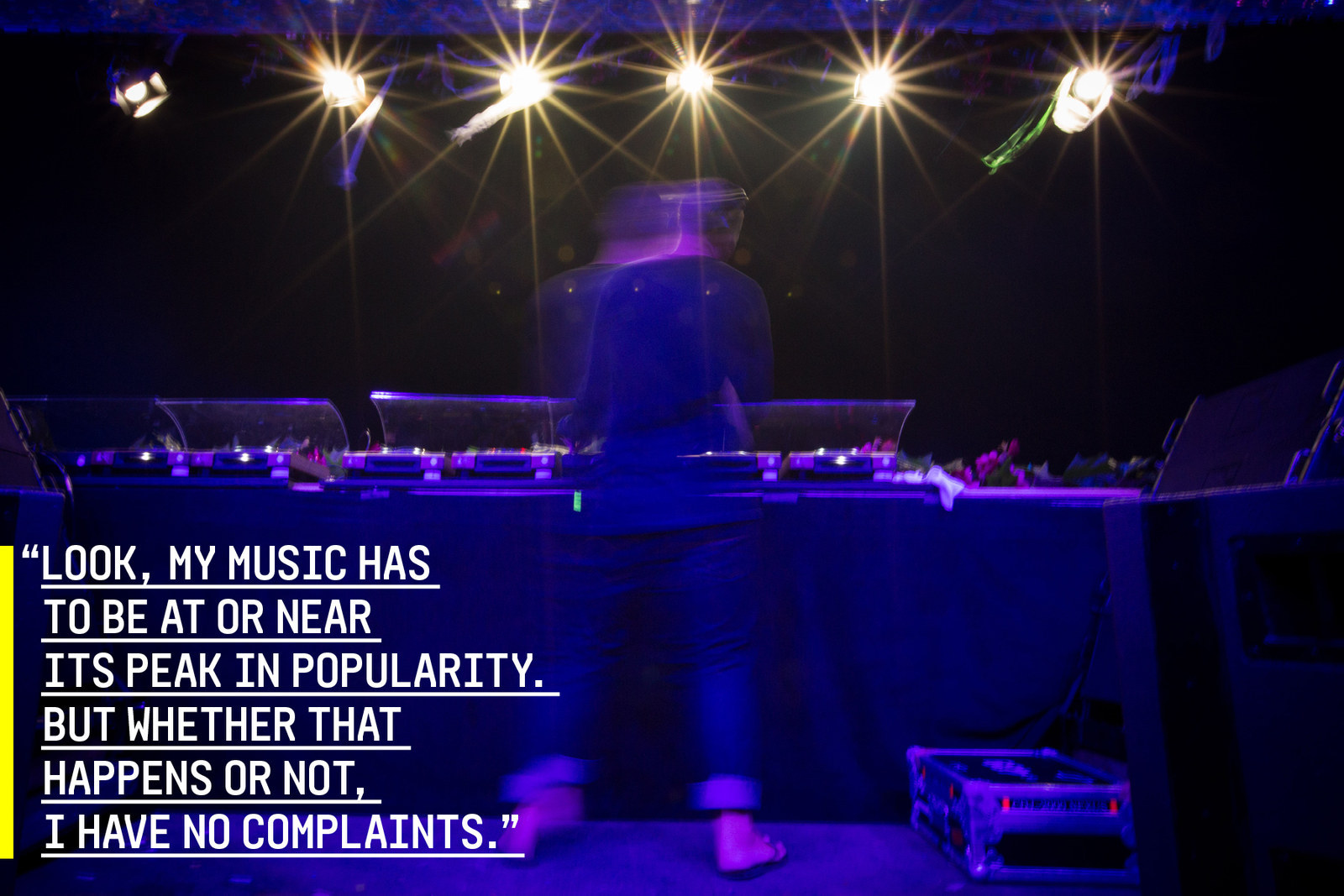 It's time for Raddon to hit the stage, and everyone shuffles out of the greenroom/tree house and toward a dirt road near the barn where two white vans are idling in wait. The night air is cool and faintly moist, and the group chatters anticipatorily like athletes en route to an away game. As the van takes off, the distant pulse of thundering bass — BOOM BOOM BOOM BOOM — draws nearer, pulling us into its orbit.

The TomorrowWorld main stage is a marvel of engineering, the pièce de résistance in the festival's painstakingly crafted alternate reality. This year it's a steampunk reverie, with an enormous rusted metal backdrop ornately carved into the shape of a baroque, three-pronged headboard. At the center, 30 feet in the air, is a giant circular hatch that slides open to reveal the luminous disembodied face of a female android, whose eyes are eerily functional, blinking and scanning the crowd with a distinctly curious expression that engenders more sympathy than fear.
Behind the stage, Raddon is silent but good-nervous. He's changed into flip-flops, a preshow ritual and blunt reminder of his unglamorous roots. His face is serene and irrationally youthful. He seems utterly focused, like an Olympic gymnast confronting the pommel horse. This is what 25 years of all-nighters have been about, the thousands of hours spent in airports and on tour buses (dreadful even when sober), the steady diet of calorically hazardous local delicacies in strange lands, the odd hours in the studio writing hundreds of nakedly earnest songs about love and belonging, the times — more than he'd like to think about — that he's missed his little girls' first days of school. Someone gives a signal and Raddon walks past a jungle gym of metal scaffolding, through a doorway, and onto the stage, trailed by his videographer and photographer.
He approaches the DJ deck, a digital monolith that his tour manager has preloaded with his SD card. Directly in front of him and expanding in all directions is a teeming congregation of 50,000 damp, ecstatic twentysomethings who have rebuked nagging email threads and landlords and student loans to come to this transient paradise in the middle of nowhere. Raddon looks out into the crowd, where several large cardboard cutouts of his smiling face are being held aloft by fans. Then he flicks a switch and takes them all to church.