After WEEKS of VERY conspicuous silence, Nicki Minaj responded to Remy Ma late last night with not one but three new songs.
"No Frauds" feat. Drake and Lil Wayne
"Changed It" feat. Lil Wayne
"No Frauds" is the most direct clapback to Remy's "shEther," with Nicki referring to Remy as a "basic bitch" and "Sheneneh."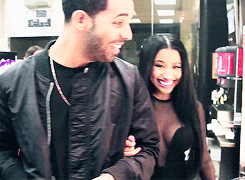 But on Instagram, Nicki said she was after more than a simple diss. "We don't do diss records, we drop HIT RECORDS & diss u ON them," she wrote, alluding to the way Drake achieved both with his 2015 Meek Mill diss "Back to Back."
Twitter, however, had mixed responses to the new tracks. A lot of people found the songs underwhelming after such a long wait.
But some people were totally here for it.
Amid all the back-and-forth, the song rocketed to the top of the iTunes chart and stayed there, suggesting that Nicki may have the last laugh after all.