On Sonam Kapoor's Fashion, Feminism, And All The Fucks She Doesn't Give
In Neerja, as in her real life, the actress unselfconsciously juggles girliness, womanhood and masculinity, creating a hyper-progressive blend on her whims alone.

Bollywood is known for its ability to make the unlikeliest of scenarios real. Gravity-defying car chases, weather-defying chiffon saris, logic-defying plots. And most recently, feminism-defying feminism.
"I don't think I'm a feminist," says Madhuri Dixit before proclaiming women should be strong, independent, and empowered. "I don't think I'm a feminist," says Katrina Kaif before insisting that women actors deserve attention for achievements unrelated to the men in their lives. "I'm often confused to be a feminist but I'm not," says Parineeti Chopra, a Beti Bachao Beti Padhao brand ambassador, before announcing that she believes in gender equality.
It comes down to not knowing what a word means, so I won't fault them for it too harshly. Semantics are important but sentiments more so. (Anyway, all of Bollywood's dictionaries are probably off serenading thesauruses in the Swiss Alps.) Besides, opinions aren't set in stone; Priyanka Chopra disavowed feminism in an interview last September, and had embraced it by December. Taylor Swift shrugged it off in 2012, and is its poster-girl for millions today. People change. It's OK to give them time to do it.
(In the unlikely event that you, reader, are a famous person about to make a statement on feminism, then let's do a quick recap: feminism is the belief that women and men should have equal rights. That's literally it.)
Stars' instincts to distance themselves from feminism emerges from a misunderstanding of it. Like millions of us muggles, they often buy into the narrative that feminism entails a disdain of all things conventionally feminine – feminism is burning bras, feminism is growing armpit hair, feminism is never wearing pink, feminism is hating men.
(Consider Priyanka Chopra's choice of words while describing the show Quantico before its launch last year: "I don't think it's feminist, but it's empowerment… It's got very strong female characters, and I don't think it's a bra-burning feminist show where you're like, we hate men.")
I know from my own experiences on Twitter that when you so much as mention women's rights and empowerment, hordes of strangers come out of the woodwork to invalidate you with slews of irrelevant questions built upon such false notions: If you're so feminist, why are you wearing lipstick? If you're so feminist, why do you wax your legs? If you're so feminist, why do you like pink? Why do you like men? Why do you wear heels? Why do you watch rom-coms? Why do you bake? Why do you give blowjobs? Why do you read Vogue?
And, unlike Parineeti Chopra, I don't even have 6 and a half million followers.
They're all asking: If you're so feminist, how come you're doing all that girly shit, bro?
If you're so feminist, how come you're not matching my expectations of what feminism looks like?

Through Bollywood's jumbled din around the word and movement, there's one voice that's rung clear for nearly a decade.

"I'm a feminist and I'm not embarrassed to say it at all," Kapoor laughed at an event earlier this month. "I've been saying it since I was 21-years-old, since I joined this industry."

Yep, you have.
In interviews from 2007, her debut year, Kapoor is already expressing a preference for roles that value "substance" over "skin". She's already encouraging girls to read books and get a complete education. She's already crediting her father's feminism for her confidence.
Kapoor traverses the "girliness" spectrum with no qualms about falling off it altogether.
In a 2010 interview, Kapoor professed her love for Jane Austen. "All her protagonists are independent, self respecting women! They are intelligent, read a lot and have a definite sense of self-entitlement," she said. "I am quite a feminist so I like hers and Sylvia Plath's writings a lot."
In a 2013 interview, she advocated awards for women: "We need to encourage them for they have done so much in the field of literature, the performing arts, environmental activism, science and innovation, social impact and entrepreneurship."
On a panel in 2015, she identified as a "complete feminist" and addressed Bollywood's wage gap. "If you think you deserve something, fight for it," she said. "Don't work for those people who you think are not paying you enough."
Even outside of interviews, Kapoor's genuine embrace of feminism is attested variously.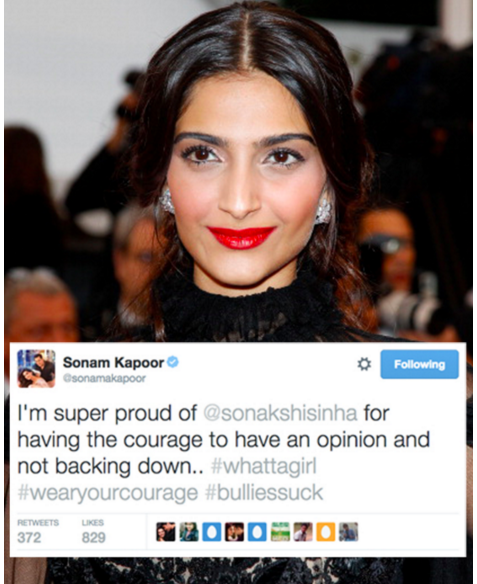 She's unanimously considered Bollywood's paragon of fashion. And in her style, too, Kapoor traverses the "girliness" spectrum with no qualms about falling off it altogether. She's routinely remixed conventions of feminine fashion with tropes of masculinity – strong shoulders, high necklines, full-on pantsuits – and careened at will between hyper-traditional and hyper-modern. Simultaneously, her frills are frillier than anyone else's, her pinks much brighter, her heels much higher. When she's girly, she's balls-out (ovaries-out?) girly as hell. She's subverted every damn convention of ladylikeness, while also embracing them unabashedly.
When I started this essay, I messaged Kapoor asking if she's conscious about the subversions hidden in her wardrobe. She replied saying she wears clothes she naturally loves. That's it.
And there lies the answer to every "if you're so feminist, how come you're so girly?" non-sequitur. By not caring at all about notions and stereotypes of feminism. By doing whatever she damn well pleases. By setting aside precisely zero fucks for how you feel about her frills, her heels, her lipstick, her empowerment.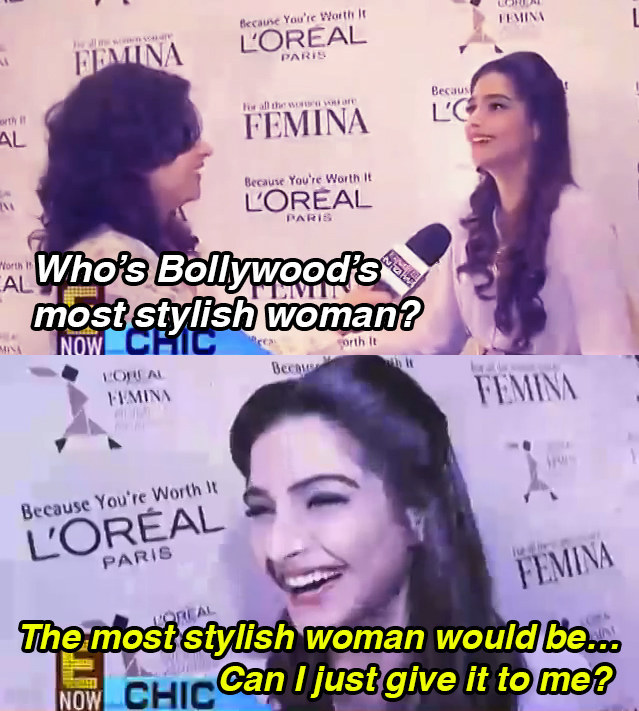 Kapoor's feminism doesn't stop there. She's a poster girl for female friendships, she stands up for contemporaries and competitors alike. She's candid about her issues with weight and beauty, and she's critical of Bollywood's unrealistic standards for both.
Time and time again, Kapoor has taken the definition of womanhood, feminism, and girliness into her own hands. She's remixed the three on her whims alone, giving no thought to the balance expected or demanded of her as a Bollywood star, an Indian woman, a high-profile daddy's daughter. Time and time again, she's demonstrated carefree feminism, feeling no need to participate in viral videos or Twitter campaigns about feminism, choosing instead to live it. Casually.
"I am the girliest girl possible but I am a complete feminist," she said last year. "And I will not burn my bra because I want support!"
Terrible pun, spot-on opinion.

With Neerja, contemporary Bollywood's staunchest feminist is starting to get her due as one.

Kapoor's depiction of Neerja Bhanot in Neerja is in line with the actress's own nuanced womanhood. Kapoor's Neerja is introduced to the audience in a flowing, yellow, floral dress. She loves modeling. She can rock a red lipstick like nobody's business. She's unabashedly girly.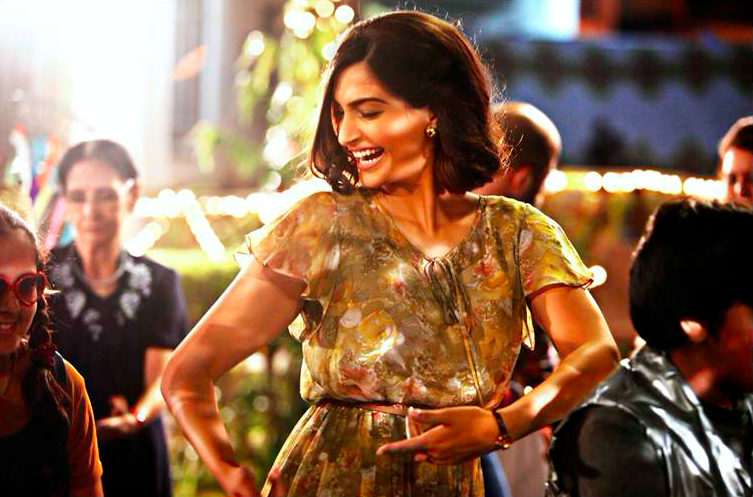 Yet, her femininity is nuanced: She isn't an expert at cooking and cleaning, but is nurturing nonetheless. She has an idealistic adoration for Rajesh Khanna romances, despite having survived an abusive marriage. She cries openly, even as she performs the role Bollywood has most emphatically coded as masculine: the protector.
Toward the end of Neerja, Shabana Azmi, Kapoor's mother in the film, delivers a stunning soliloquy about the masculinity written into protection within Indian culture. "We refer to boys as brave warriors," she says in far more beautiful Hindi. "Sisters tie rakhis on these warriors' wrists in return for protection. Nobody asks the sisters for protection."

Kapoor's Neerja joins Kangana Ranaut's Queen, Deepika Padukone's Piku, and Anushka Sharma's NH10 in a string of movies that stand out in Bollywood for one reason: in them, the female lead's authenticity and rationalism supercede her value as a physical object. In other words, although Ranaut, Padukone, and Sharma are all former models, these roles didn't once attempt to objectify them and cash in. It would've been so easy. Still, their physical appearances were incidental to their roles, rather than essential. On the contrary, the success of these movies is predicated on their leading ladies' talents alone.
Each film plays wildly with "girliness" and its conventions. Already, this has resulted in movie moments that will feel iconic for a long time. Think of Kangana Ranaut and Lisa Haydon's unforgettable Queen backseat burp-off. Think of Anushka Sharma lighting a cigarette alone after vanquishing a group of attackers in NH10. Add to this list Sonam Kapoor quivering, crumbling, singing "Mere Sapno Ki Rani" while a terrorist holds a gun to her head, horrifyingly mashing up her own girlhood dreams with the ultimate protector's nightmare.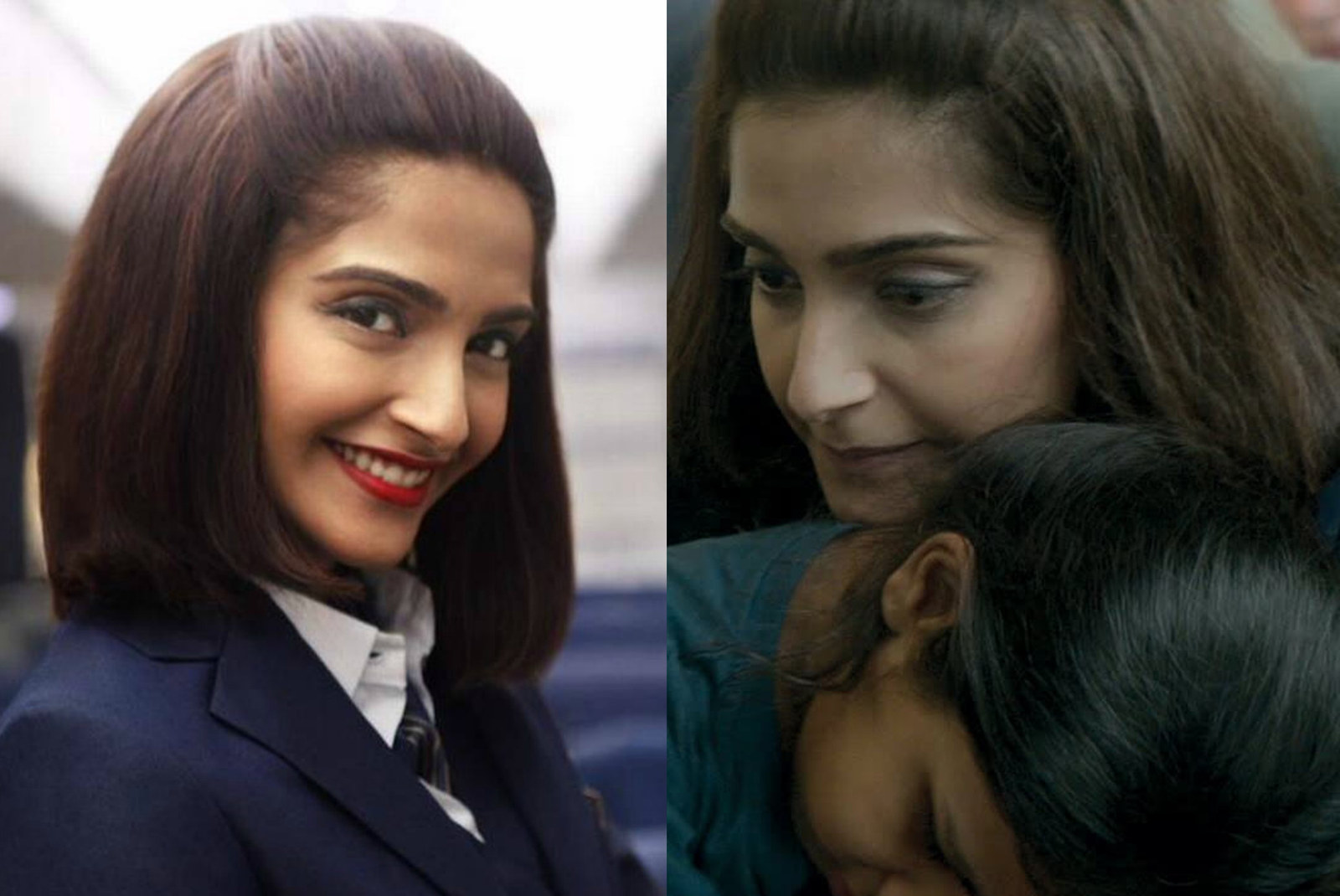 In Neerja, Queen, Piku, and NH10, there are telltale signs of their makers' basic respect for honest womanhood: the female lead's lipstick and kajal fade realistically over time, she dresses appropriately for her settings, she sacrifices glamour when reason frickin' demands it (unlike Bryce Dallas Howard's character in Jurassic World who sprints, leaps, and drives through a full-fledged dinosaur attack in stilettos which sprained my ankles just by looking at them).
This in itself is revolutionary for Bollywood. Above and beyond simply not objectifying women, these roles also provide independent motives, histories, and ambitions to them.
Munni, Sheila, Mary, hang up your sequins. Women may actually be able to get work in Bollywood while wearing real clothes.

Tomorrow's Khan, Khan, and Khan could imaginably be all-girl.
That said, ageism is real and has cut short more spectacular careers than these. Madhuri Dixit was a megastar until she abruptly stopped doing regular movies at 35, as with Karisma Kapoor at 29, Preity Zinta at 32, and Kajol at 27. This stands in stark contrast with the male Khan trifecta – Shah Rukh, Salman, and Aamir are all 50 years old and have been playing leading men in regular roles every single year since their debuts. Priyanka Chopra, whose career is in full throttle in multiple industries at 33, is a sign of good things to come. A sign that tomorrow's Khan, Khan, and Khan could imaginably be Padukone, Kapoor, Sharma, Chopra, and Ranaut.
With every Neerja, Bollywood's most successful women will grow disinterested in roles any less substantial. Padukone and Chopra are already demonstrating in Hollywood that when our industry fails to provide them with enough interesting opportunities, they'll have no problems flitting away to more rewarding pastures. And if they take their cues from Sonam Kapoor, they won't pause to stroke our egos and heed our feelings on their way up, up, and up.
Somehow, despite our not deserving them at all, we've been blessed with a crop of smart, ambitious, proud women at Bollywood's helm.
Tell Arnab, Rajdeep, and Barkha to drop everything and break this news: Sonam Kapoor is a feminist role-model. And Bollywood might finally be getting its shit together.