The 19 Most Important Things That Happened When Modi Went To Silicon Valley
"It's a great pleasure to be here in California. It is one of the last places in the world to see the sun set. But, it is here that new ideas see the first light of the day."
In case you missed it, Prime Minister Modi is back in the United States for the second time in his year and half of office (not bad for a dude who was denied entry for the prior ten years). This time, the PM's top priority was to head to the West Coast (#BestCoast) for a couple of days and to woo Silicon Valley. And boy did he woo 'em. Let us count the ways.
1.
He arrived in San Jose, CA on Saturday and was welcomed like a goddamn rockstar.
2.
He hosted a "Digital India" panel at which he gave a rousing speech about the power of technology and its essential role in Indian governance.
5.
Before rounding up all the CEOs of the world's biggest tech companies in one room to chill with him. #Casual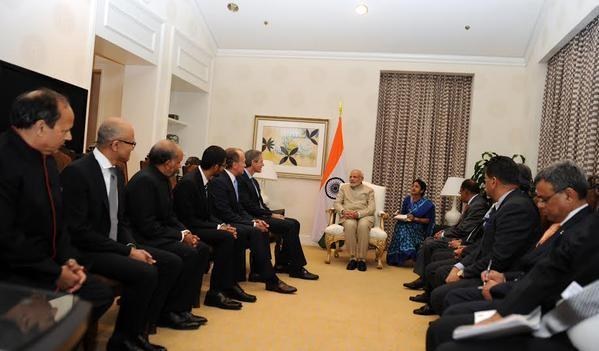 6.
He hung out with Tim Cook. (And hopefully pitched a Siri character who greets users with "Mitron.")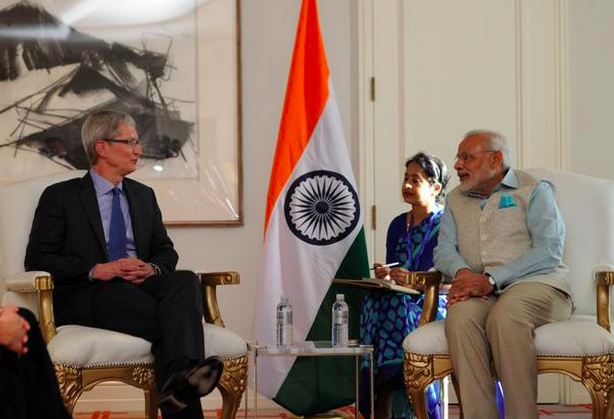 7.
And he got Elon Musk – yes ELON FRICKIN' MUSK – to take him on a casual office tour around Tesla.
8.
The next day he went to hang with his homies at Google.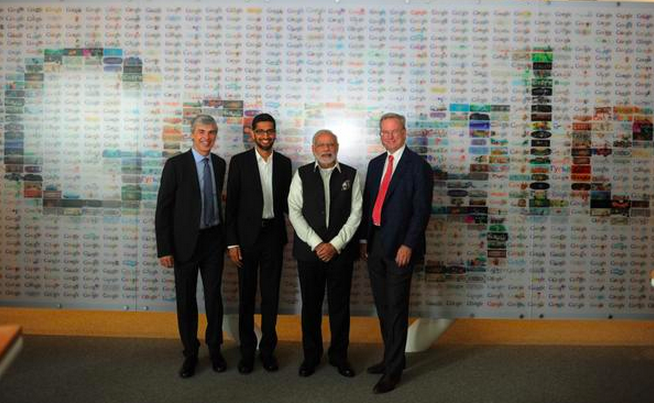 10.
Then he went to Facebook where he was greeted by one of the world's most badass women, Facebook COO Sheryl Sandberg.
11.
He then sat down for a town hall meeting with the ultimate Sharma Ji Ka Beta, Mark Zuckerberg.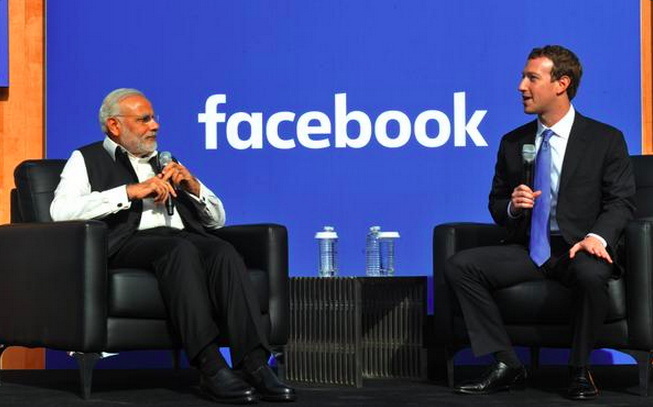 12.
Zuckerberg began the event by telling a story about how much India has meant to Facebook as a company.
"Early in our history when we had hit a rough patch and a lot of people wanted to buy Facebook, I went and saw one of my mentors, Steve Jobs. He told me that in order to reconnect with what I believed as the mission of the company, I should visit this temple he had gone to in India early on in his evolution of thinking about what he wanted Apple and his vision of the future to be. So I went and I travelled for almost a month and seeing the people, seeing how people connected, and having the opportunity to feel how much better the world could be if everyone had a stronger ability to connect reinforced for me what we were doing, and that is something I've always remembered over the last ten years."
13.
After the two of them had answered the audience's questions, Zuck threw Modi this one.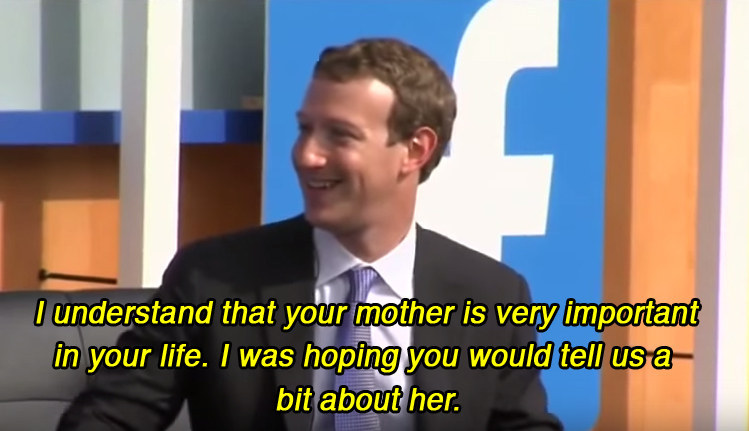 14.
Modi responded by congratulating Zuckerberg's parents on raising a son who connected the whole world. He then requested that they stand up to be applauded.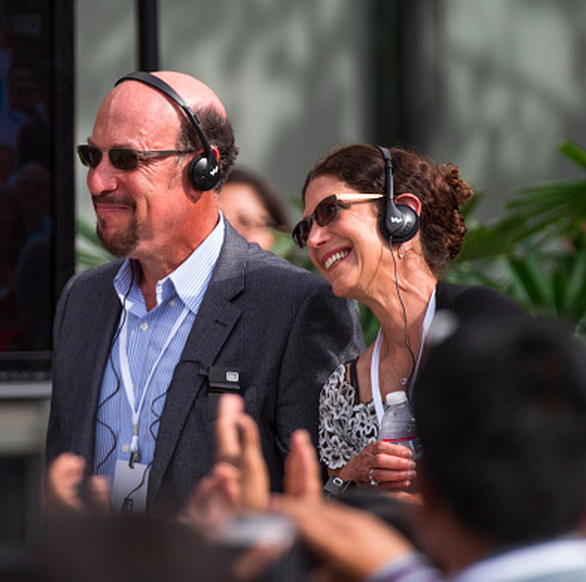 15.
And he went on to speak powerfully about the importance of his own – and everyone's – mothers.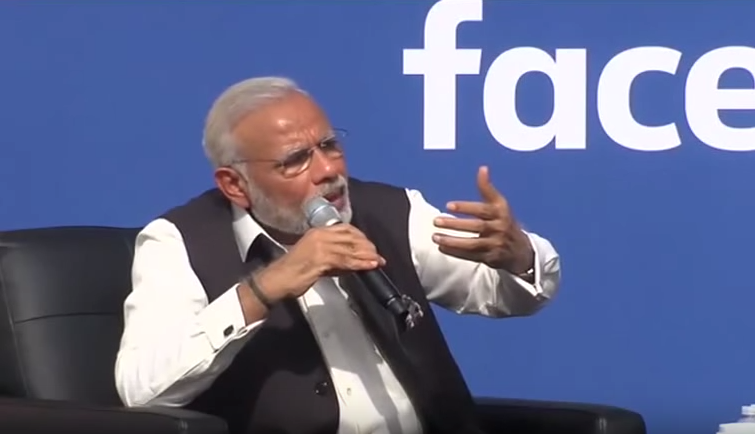 Tearing up, he said:
"When you ask anyone about their life, there are two things they always mention: the role of their teachers, and the role of their mother. I'm from a simple family, my mother and father had a big role in my life. I'm from a poor family. I used to sell tea on a railway station. Nobody could even imagine that the world's largest democracy would elect a tea seller. I first want to thank the Indians who turned such a simple man into a leader.

My father is no more. My mother is older than 90 years old. To this day, she does all her work herself. She's not educated but she watches TV and keeps up with the news. When I was young, she kept us afloat by going to our neighbours homes and washing their dishes, filling their water, doing manual labour. You can imagine how much difficulty and pain a mother took to raise her children. This isn't the case only for Narendra Modi. In India, there are hundreds of thousands of mothers just like mine, who have devoted their entire lives for their children's dreams.
Afterwards, Modi took a second to take this adorable photo with the Zuckerbergs.
16.
After Modi's visit to their HQ, Facebook began giving its users the option to overlay an Indian flag on their profile photos. No prizes for guessing which two users were first on the trend.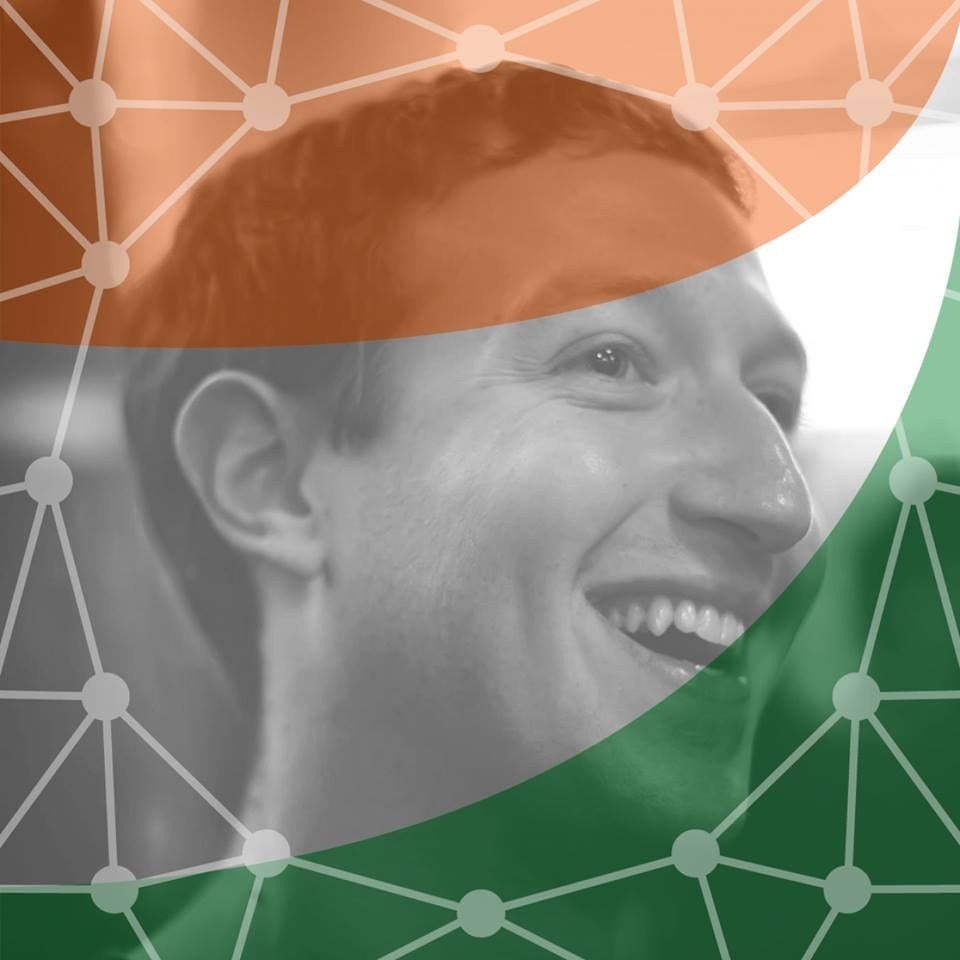 17.
He then left Facebook to go host an event called "Konnect" where Indian startups got to present their products to an American audience.
18.
And then hosted a roundtable with CEOs of top energy companies, to discuss the prospects of renewable energy in India.
19.
And finally, Modi gave a speech to an audience of 18,000 people chanting his name at San Jose's SAP center.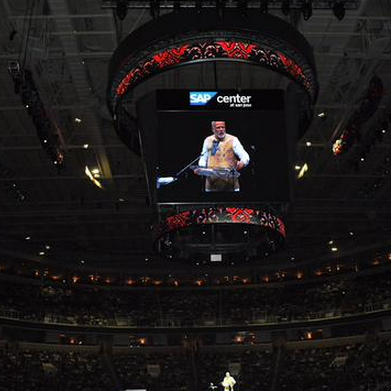 Not bad, Modi ji. Not bad at all.
Follow BuzzFeed India on Facebook.