Siddharth – who many know from his superstardom in Tamil and Telugu cinema, and others will recognise from Bollywood's Rang De Basanti – hadn't been home for six days. While back in Chennai, his house, three studios, an office, three cars, and countless possessions lay submerged, the actor traveled around Tamil Nadu, rallying volunteers and organising relief efforts.
For the six days after he left his home, Siddharth spoke to no press. His public communications took place on Twitter, where he offered help and he asked for it, with no media middleman. Yesterday, the actor broke his press silence when he met an NDTV reporter for a brief interview in Cuddalore.
He doesn't want any of us to talk about him right now. But he's making that really difficult.
"I didn't speak to any of the national channels for one principle reason: because there is no need to politicize this situation at all," he said.
Throughout the 11-minute interview, NDTV's reporter pressed Siddharth for personal anecdotes and, each time, the actor steered the conversation back to relief work.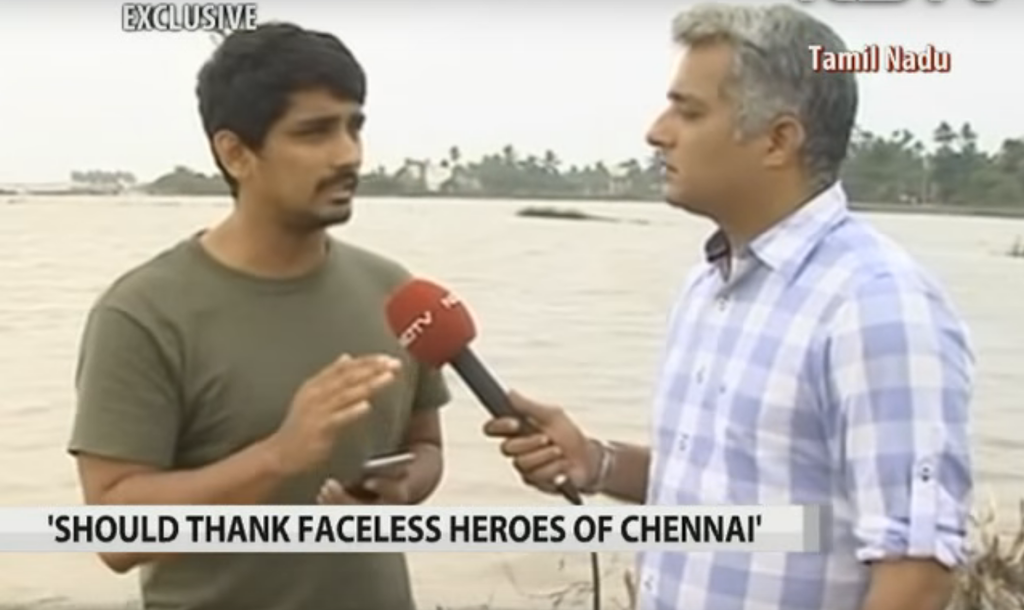 When asked about the night his home was destroyed, he responded, "that's a bit dramatic" and said he'd rather discuss "the ground realities". He went on to describe scenes from the 15 small villages he had visited for rehabilitation work in the prior 24 hours.
When asked about his personal decision to take on relief work, he said: "Maybe I just got freaked out that I lost my house for the first time in my entire life." Almost immediately, he steered again, saying, "I don't think that's a very pertinent situation for me to analyze right now." He shifted his focus to the boons and dangers of Twitter-powered relief work.
He's genuinely uninterested in talking about himself. He'd rather use his screen-time to create more awareness, to spread more best practices, to battle misinformation. He's too focussed on improving other's lives to fixate on the particulars of his own.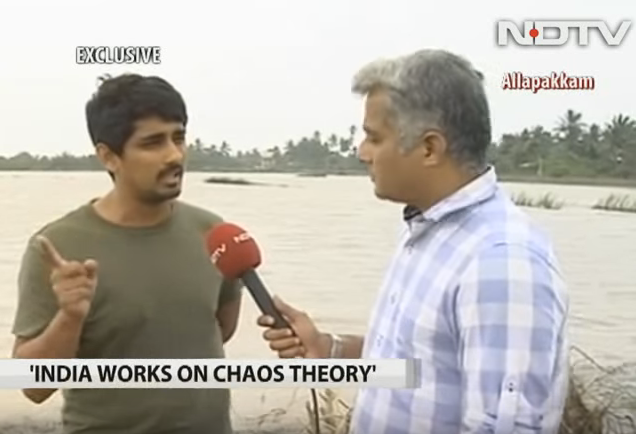 In the eight days since December 1, Siddharth has worked closely with radio jockey Balaji Patturaja to collect and oversee donations, provide emergency transportation, create awareness, and spearhead a large scale supplies collection and redistribution effort called #ChennaiMicro, for which they've gathered hundreds of volunteers. #ChennaiMicro has fed thousands of people.
But Siddharth doesn't believe they deserve any pats on the back for their work.
"It's not just two people. So this build up of heroism is a bit unwanted and it makes us uncomfortable."
In a catch-22 for his viewers, he's earned our praise while instructing us explicitly that praising him would be a damned waste of everyone's time. Siddharth makes us want to applaud him in the same breath with which he forbids it.
Instead, here are the messages he wants us to focus on.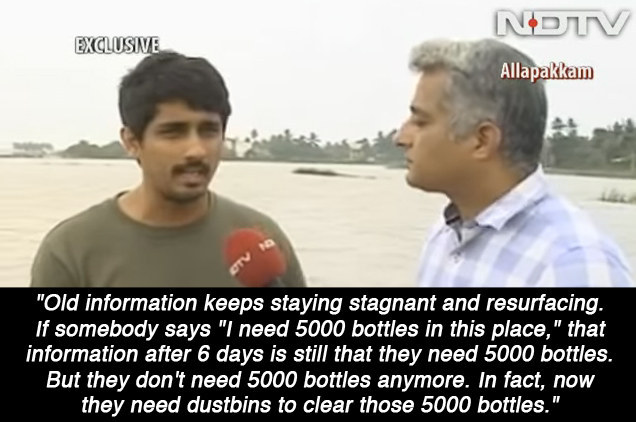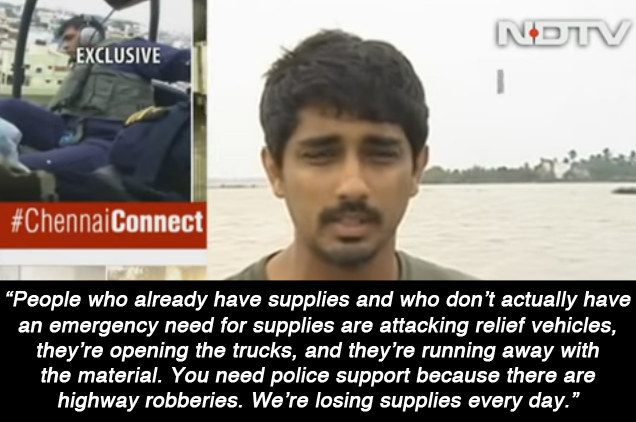 2. Be mindful of what kinds of supplies you're donating, and where they're actually necessary.
"Chennai, especially North Madras, is in a terrible state of mess and chaos. Places on OMR still have a lot of work that needs to be done. Those places still need emergency relief supplies." But in Cuddalore, he explains, 60% of homes have power and no water logging. "People in Cuddalore don't need bread packages. You give them bread packages, they're going to throw them away." Relief centers are overstocked, supplies are being thrown away, he says, and there's plenty of food for everyone who needs it. "You have a million sanitary napkins, but you don't have underwear for the napkins to be used in, so beltless sanitary napkins don't mean anything. It's a problem. We need to address those kinds of practical problems."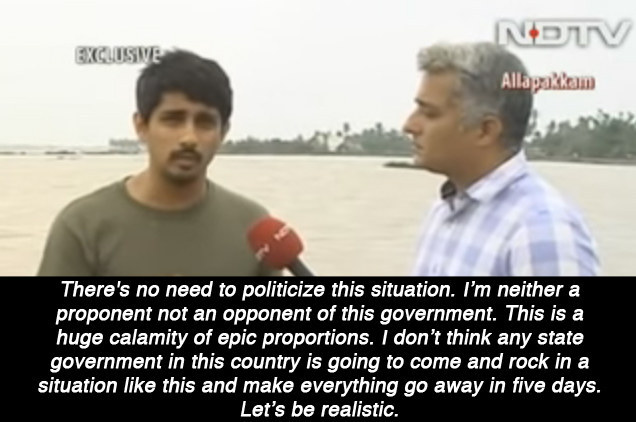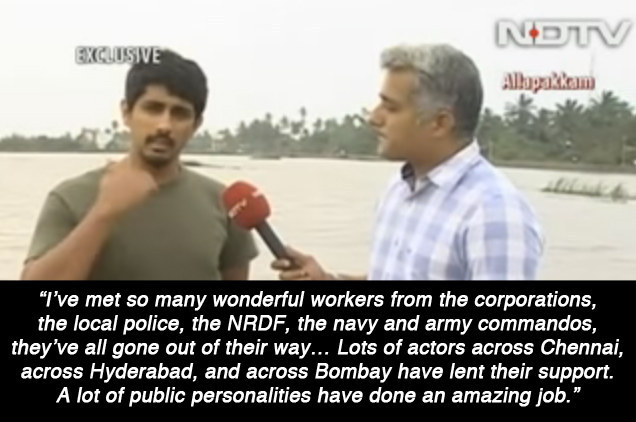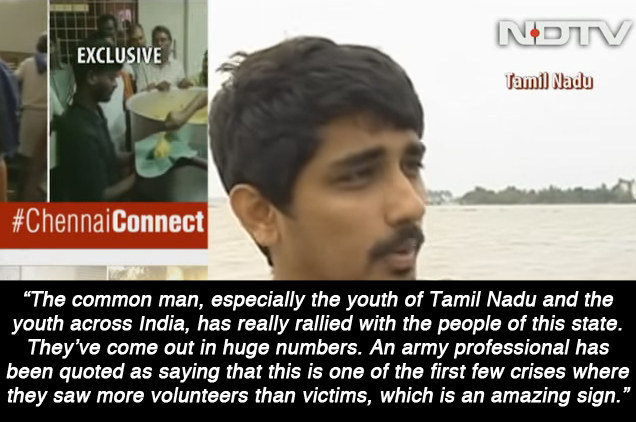 Having returned to Chennai, Siddharth not only has to restore his own home and life to normalcy, but also make decisions about a film of his that was slated to release in two weeks.
"I don't know if its releasing... All of my crew and all the friends I have are all working on relief work. Filmmakers, actors, technicians, assistants, employees, labour – everybody's working on the same thing."
Follow BuzzFeed India on Facebook: