1. Good morning, puddle of sweat in my bed.
2. I'm going to drown myself in ice immediately.
3. Can I stay in this cold shower forever.
4. Please don't make me leave.
5. OK, I JUST showered, how am I already covered in sweat.
6. I literally don't know if this towel is wiping off water or new sweat.
7. Oh god, I can't wear pants right now.
8. I will physically combust.
9. Why isn't it socially acceptable to be naked in public?
10. What clothes do I own that feel the most like being naked?
11. I need to carry a spare outfit to work anyway because I'll sweat through this one.
12. So nothing even matters.
13. I wonder if I'll even make it to work or if I'll die of heat stroke before then.
14. Fuck, everyone can see my pit stains.
15. So maybe I'll die of mortification instead.
16. Erm... Parts of my body are sweating that I didn't even know could sweat.
17. Is it acceptable to go stand in that cafe just to get a quick AC blast?
18. How long can I linger in front of this AC before I get kicked out?
19. * Wipes sweat off forehead *
20. Oh good I have a sweat moustache this is super fun.
21. OMFG this AC is literally ineffective right now.
22. EVERYONE CAN SEE MY PIT STAINS.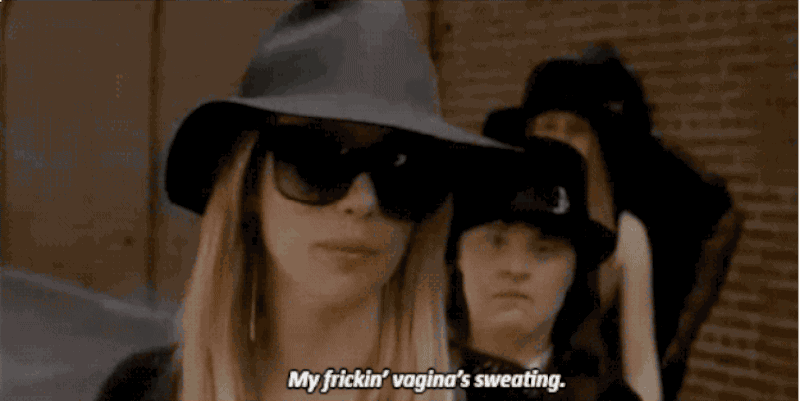 23. If we have rain days and snow days, why don't we have heat days.
24. Because this can't be safe.
25. I can feel my skin expanding from the sun.
26. OH MY GOD A BREEZE OH WOW SWEET RELIEF.
27. AHHHH YESSS GET THE BACK OF MY NECK, SWEET SALVATION BREEZE.
28. Fuck, it's done.
29. That literally lasted THREE SECONDS.
30. Aaaaand now it's hotter than before.
31. BREEZE? More like TEASE, amirite?
32. * Wipes sweat trickling down neck *
33. * Wipes sweat trickling rapidly toward unmentionables *
34. Thinking about abandoning shame and buying a hat with a fan attached.
35. Will anyone notice if I slowly start taking all my clothes off?
36. I'm about to sweat so much that I die of dehydration.
37. I wonder who'll come to my funeral.
38. It's too hot to stand outside for longer than 5 seconds so probably nobody.
39. And there probably won't even be a funeral because you can't BURY A PUDDLE.
40. UGH sitting down was a mistake, now I'm stuck to this seat forever.
41. Fucking under-thigh sweat with its fucking adhesive properties.
42. Remember when it was cold and I was all "CAN'T WAIT FOR SUMMER!!!"
43. I take it all back.
44. Fuck you, moustache sweat.
45. Fuck you, back sweat.
46. Fuck you, forehead sweat.
47. Fuck you, pit stains.
48. Fuck you, sun.
49. UGHHHHH sunglasses are slipping off my nose because of NOSE SWEAT.
50. FUCK YOU, NOSE SWEAT.
51. I wonder how much plane tickets to the North Pole cost.
52. Someone please buy me a cold beer and pour it slowly on my head.
53. R.I.P. me.
54. R.I.P. you.
55. R.I.P. all of us.