None
"How was Thailand?" They'll ask. "What was your favorite part? Tell me everything," they'll say. I've done this before.
Soon enough, I'll generalize my response enough to use it on everyone. It'll probably go something like "It was great, I learned a lot about myself and the world." Eventually, it may even turn into, "It was great, I loved it."
But here's the truth. The truth is that they will never be able to understand the details - the complexities, the confusion, suffering, fear, anger, frustration, homesickness, stress, uncertainty, moments of truth, hope, success, appreciation, freedom, growth, thankfulness, inspiration and love.
You see, I could tell people that I went to a Cambodian genocide museum and that it felt more intense than any holocaust one I've been to, but they would never understand the overwhelming sensation and uncontrollable tears that came to my eyes when I saw thousands of skulls lined up at that memorial. All I could do was repeat the words "I'm so sorry" in my head over and over again. They would never understand the sense of hopelessness I felt while driving back through the garbage-drenched streets of Phnom Penh, looking around at the desperate people as I realized that just 40 years ago, one third of their population was slaughtered, and that the world didn't even care.
I could tell people about the creepy things that happened to me, which led to insomnia, fear of the dark and homesickness, especially during my village stays. But they would never understand, because they can't picture what my bedroom looked like in its varying shadow formations throughout the endless hours of the night.
I could tell people about my experiences with bamboo rafting through a jungle, the nightlife in Vietnam and Cambodia, meditating for three days straight, partying with a Laotian family on a boat, working at a cement mine, getting Thai massages, bathing a pregnant elephant, taking a nice fall on a motorbike, interviewing an undercover agent or working at a desk next to the editor of a huge British magazine and getting published, but they would never understand, because how could they.
I could tell people about how I built a relationship with the chabad rabbi and his family, how they personally invited me to their home and how I met people at their events who I had mutual friends with back in the states, but most would never understand that connection.
I could tell people that a monk told me he felt "particularly strong energy" from me and needed me to meditate, but they would never understand that chilling sensation of feeling like a stranger knows you.
I could tell people about those I got to know on my trip, who are some of the most accepting and loving people I have ever met. I could tell them about the experiences we've all shared, the bond with other backpackers, hostel owners who treated me like family, the purse maker who loved my appreciation of her work so much, that she made me something from scratch, children who loved waving to me, the restaurant owner who said I reminded him of his daughter, tour guides who gave me the best laughs, Thai boys who asked for my picture, dogs that kept me very on guard, and rats that would sneak from under me on the streets at night, but it would never make sense to them.
I have 24 hours left in Chiang Mai.
I've already said goodbye to my favorite restaurants, the rabbi, the sunday night market, the fruit lady, the omelette lady, my bike and soon-to-be, my time here.
Yes, Im excited to come home and see everyone I love, but I'm overwhelmed, to say the least, because the world isn't what it was to me before this trip.
I could try to explain why that is, but they would never understand.
Tour boat in Vietnam
Elephant bathing
Kuang Si Falls in Luang Prabang, Laos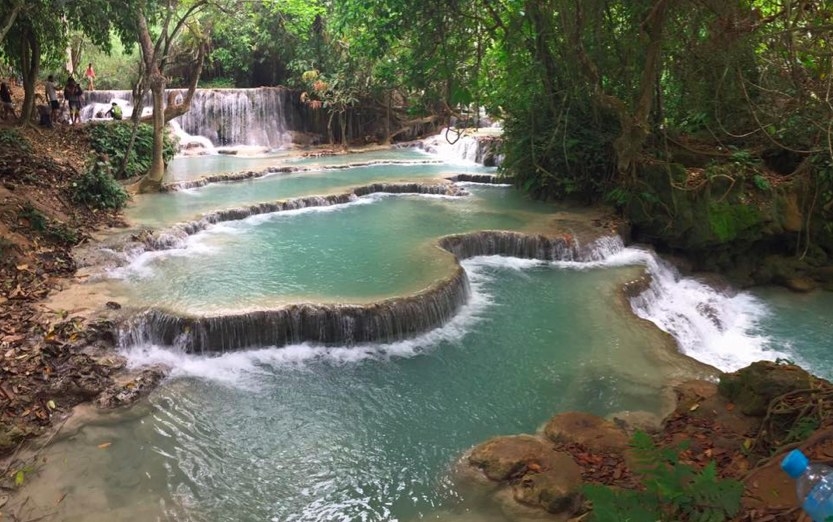 This post was created by a member of BuzzFeed Community, where anyone can post awesome lists and creations.
Learn more
or
post your buzz!
Looks like there are no comments yet.
Be the first to comment!