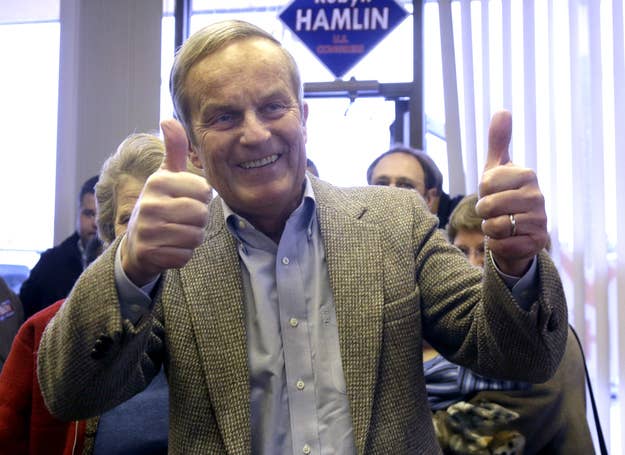 WASHINGTON, DC — Democrats in Missouri have many reasons to be confident that Sen. Claire McCaskill will best Rep. Todd Akin on Tuesday in what has become one of the most closely watched Senate races in the country.
McCaskill has consistently led most polls, for one, and her campaign has dramatically outspent Akin's.
But, on this Election Day, Democratic leaders are still biting their nails.
Some Democrats worry that poll respondents may not be admitting their intention of voting for Akin, due to embarrassment over his "legitimate rape" comments.
"People might be humiliated to admit that they'll vote for Todd Akin, but they'll close the curtain and do it," one Democratic source speculated. "It's hard to poll when you have such a radioactive situation, because some people aren't going to admit it."
The most recent public poll in Missouri, conducted by Democratic-leaning PPP Polls, showed McCaskill leading Akin by 4 points.
There is also slight concern that incumbent Gov. Jay Nixon's campaign, which has enjoyed considerable crossover support from Republicans, might be driving more Republican voters to the polls than would otherwise turn out.
"Nixon being on the ballot is a concern to Democrats, because he doesn't give a shit about anybody else," said another Democrat and former state lawmaker. "He's not going to share in the effort to get out the vote."
Even as he has led most polls comfortably — by double digits, in some cases — Nixon has not appeared at campaign events with McCaskill.
"What Claire needed Jay to do was put his arm around her — he wouldn't even go on stage with her," the Democrat continued. "If she was at an event, he would either leave before she got there, or he wouldn't go to the event."
McCaskill supporters also recognize that turnout in the state will be a key factor in whether she wins reelection, noting that a wider margin of victory for Romney or a low turnout overall could be bad omens.