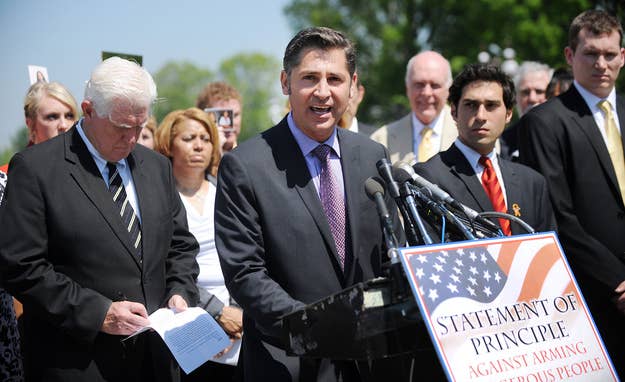 WASHINGTON — Family members of shooting victims — including the father of a boy murdered in Newtown, Conn. just four days ago — gathered at the Capitol on Tuesday to push for reform to gun laws.
The 40 people who gathered here had family members killed in mass shootings including those at Columbine High School, Virginia Tech University, and the movie theater in Aurora, Colo.
Among them was Andre Nikitchyuk, whose son survived the shooting last week at Sandy Hook Elementary when a teacher pulled him into a classroom and away from the spray of bullets. Nikitchyuk said the shooting has brought the issue of gun control into stark relief for him.
"Now I believe we need to all speak up," he said. Nikitchyuk, who immigrated 22 years ago to the United States, added, "We are America. We can do it."
Together, the group, along with Democratic Rep. David Cicilline, urged congressional lawmakers to consider reforms that would reduce the number of people who are shot and killed each year.
"The only place where this is a contentious political debate is this building right behind us," said Dan Gross, the president of the Brady Campaign to Prevent Gun Violence. "There's a disconnect."
Within the Capitol, lawmakers of both parties agreed Tuesday that the topic will merit discussion in the next Congress; however, Senate leaders would not offer details about what shape and direction the debate might take, and advocates of gun control are hoping to capitalize on intense public concern in the wake of Friday's massacre to move legislation quickly.
"We need to accept the reality that we're not doing enough to protect our citizens," said Senate Majority Leader Harry Reid, vaguely.
"As we continue to learn the facts, Congress will examine whether there is an appropriate and constitutional response that would better protect our citizens," Senate Minority Leader Mitch McConnell told reporters, although he declined to talk about his views on what appropriate reform to gun laws might look like.
Another Republican leader, Sen. Roy Blunt, also demurred when asked about his specific views on reform to gun laws, but he assured reporters that those details will be discussed — eventually.
"This is certainly not something that's going to be decided this week," Blunt said. "We're going to have a lot more discussion about it."
Democratic Sen. Dianne Feinstein has said she plans to propose a ban on assault weapons early next year.