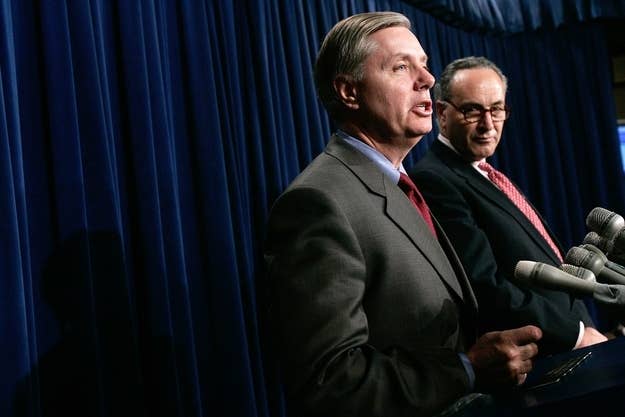 WASHINGTON — A bipartisan framework for immigration reform unveiled by a group of senators Monday does not include protections for LGBT immigrants — and lawmakers didn't want to talk about it.
When asked whether the issue had been discussed among the eight lawmakers who designed the plan, Sen. John McCain, one of the four Republican senators behind the proposal, declined to delve into specifics.
"We'll be working out those details," McCain said simply.
It's a discussion that will almost certainly take place at some stage in the debate over how best to reform the nation's immigration system.
On Monday, as the Senate's "Gang of Eight" unveiled its plan to beef up border security and offer amnesty to immigrants already in the country illegally, lawmakers in both chambers appeared poised to engage in a serious debate on immigration reform.
But, during a press conference that lasted for nearly an hour and featured five of those eight senators, the controversial topic of immigration protections for LGBT couples was not raised once.
The question of how to extend laws to apply to LGBT couples has recently doomed other prominent legislation.
Last year, LGBT protections were among the factors that led House Republicans to kill a reauthorization of the Violence Against Women Act — an outcome that likely remains fresh in the minds of lawmakers of both chambers.