Sandy Aid Rides Democratic Support To House Passage
GOP leaders bring the bill to a vote even as most Republican members oppose it. "It had to come up for a vote," Republican Rep. Fleming says.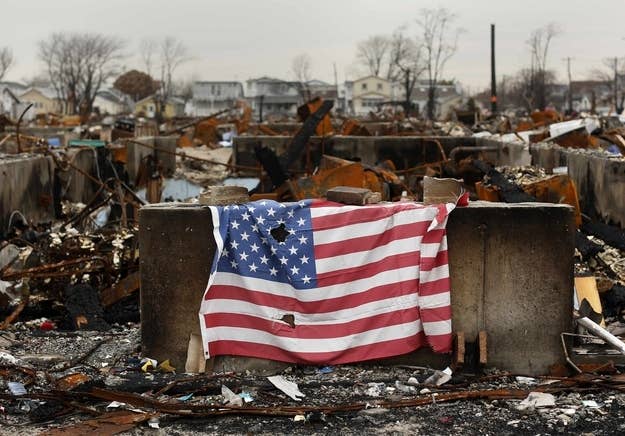 WASHINGTON — The House on Tuesday approved a final $50 billion in disaster relief to help the East Coast rebuild after Hurricane Sandy, more than eight weeks after the superstorm hit.
After the vote, lawmakers from New York and New Jersey made the rounds outside of the House chamber, shaking hands and offering mutual congratulations.
"Hey, we did it!" a grinning Rep. Michael Grimm said as he flashed a reporter two thumbs up.
In addition to the aid approved Tuesday, Congress has already approved $9.7 billion in relief for flood insurance, for a total of $59.7 billion.
Lawmakers from New York and New Jersey have lobbied publicly and relentlessly for the funding, which will supplement the Federal Emergency Management Agency relief already sent to the region; when the House dragged its feet, New Jersey Gov. Chris Christie issued a stern rebuke.
In spite of this pressure, it took 79 days to approve the relief funding. In the wake of comparable natural disasters, such as Hurricane Katrina, Congress has authorized supplemental aid in less than two weeks.
"Moving forward, let us pledge to never again allow politics to stand as a roadblock to relief for Americans in need," said Minority Leader Nancy Pelosi in a statement after the vote Tuesday. "Let us ensure that Congress will always honor its responsibility, in a timely fashion, to offer a helping hand to our fellow citizens in the wake of disaster."
The delay came largely due to objections by conservative Republicans to the extra spending as Congress grapples with how to reduce the federal deficit. Ultimately, 49 of 232 House Republicans supported the measure.
Notably, the vote defied the so-called "Hastert rule," an unwritten code often followed by Congressional leaders that requires them to have a majority of the governing party's support before bringing a bill to the floor.
Although he has not explicitly endorsed the rule, House Speaker John Boehner has adhered to it; the guideline was among the obstacles that slowed talks leading up to the fiscal cliff. But conservatives largely backed Boehner's decision to allow a vote on the relief funding.
"It had to come up for a vote, and we did what we could to trim it down to a responsible level," said Rep. John Fleming, a Republican of Louisiana. But, he added, "There are so many places that we could cut that we just don't have the courage as a body to do."
Although they brought the measure to a vote, Republican leaders did not offer wholesale support for the bill: Majority Leader Eric Cantor and Majority Whip Kevin McCarthy opposed the addition of $33 billion to the aid package, although both supported final passage for the package.
The bill will now move back to the Senate, where it will be finally approved.
Tuesday, Sens. Frank Lautenberg, Chuck Schumer, Robert Menendez and Kirsten Gillibrand, the senators from New York and New Jersey, said it was "great news for families, communities and small businesses in our region that the House — after weeks of delay — finally passed an emergency relief bill for Superstorm Sandy."
"Our region extends a helping hand any time another community suffers from a major disaster, and we're pleased that the House voted to provide this emergency relief for New Jersey and New York."