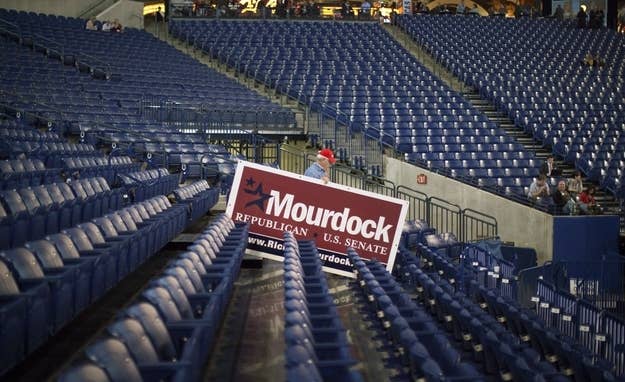 WASHINGTON, DC — After a night of dismal, discouraging electoral performances among their Senate candidates Tuesday night, top Republicans swiftly concluded that the time for a seismic change within the party has arrived.
"It's clear that with our losses in the presidential race and a number of key Senate races, we have a period of reflection and recalibration ahead for the Republican Party," Sen. John Cornyn, the head of the National Republican Senatorial Campaign Committee, said in a statement released in the early hours of Wednesday morning. "While some will want to blame one wing of the party over the other, the reality is candidates from all corners of our GOP lost tonight."
Tuesday night was a reckoning for Republicans, who entered into Election Day with high hopes to reclaim control of the Senate, the White House, or both. In the presidential race, President Barack Obama prevailed over Mitt Romney in nearly all contested states; and among the tossup Senate races this year, Republicans won only one — in Nevada, where the Republican candidate, Sen. Dean Heller, was an incumbent.
"Clearly we have work to do in the weeks and months ahead," Cornyn acknowledged.
The exact nature of that work, however, remained an open question Wednesday as reeling Republicans considered all manner of political soul-searching: reevaluating policy priorities, reaching out to minority groups, moving more to the center.
And in light of failed Senate bids by Rep. Todd Akin in Missouri and Richard Mourdock in Indiana, many Republicans suggested that Republican primaries be approached with more scrutiny by the party in order to prevent far-right candidates, or ill-equipped ones, from reaching the general election.
"I'm not saying they need to get involved in all primaries," one Republican operative said of the NRSC, "but that organization is there for a reason: to put out responsible candidates. And we're not doing that right now, because they got scared off by the Tea Party folks."
"I mean, just look at our candidates," the operative continued.
But Republicans should not necessarily interfere more in their party's primaries, another GOP operative said. In Indiana, for example, "they tried to and they got Mourdock. They tried to keep [outgoing Sen. Richard] Lugar."
The problem Republicans will need to solve, the second operative instead suggested, is considerably more foundational. "I think the American people have changed."
On Wednesday, Democratic Senatorial Campaign Committee Chairwoman Patty Murray said the decisive Senate victories for her party had "proved to Republicans that extremists are dooming their party to disaster."
"If Republicans want to follow the Tea Party off a political cliff, that's their prerogative," Murray said on a conference call with reporters. "But we will not let them take America off a cliff."
Indeed, many Republicans agreed that their party faced dire outcomes if it does not shift course.
"Whatever we're doing, it ain't working," said Rick Tyler, who worked as an adviser and spokesperson to Rep. Todd Akin during his campaign for the Senate.
"The Tea Party is not the problem. Conservatives are not the problem. Pro-lifers are not the problem," Tyler said of Republicans. "Messaging is their problem, and what the party stands for and believes in is their problem."
Another problem, Tyler said: Karl Rove's management of his super PAC, American Crossroads, which alone spent more than $100 million during this election cycle.
"You can't just run ads and do robocalls, and count that as contacting voters," Tyler said. He pointed to the result of the presidential contest Tuesday.
Because of the magnitude of funding Rove and Crossroads committed to win races that Republicans ultimately lost, Tyler added, the super PAC deserved more blame for Tuesday's outcomes than did the Republican Party itself.
"Rove spends more for Republican candidates than the NRSC and the NRCC. He's running things," Tyler said. He added, "Rove is definitely a problem."
Of the money invested by Crossroads versus the return, Tyler added, "It's either malpractice or it's corrupt."