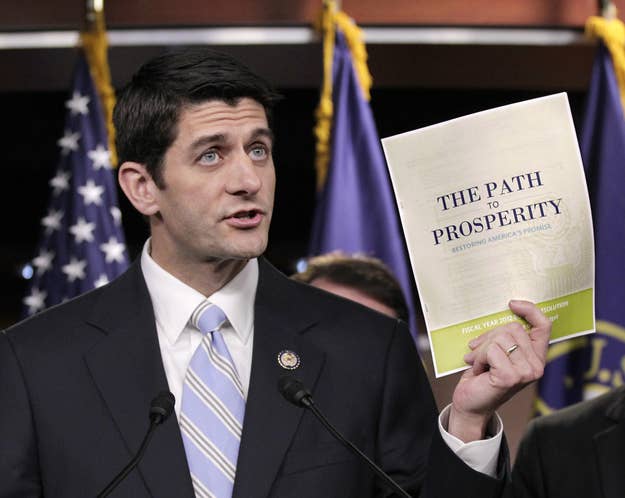 WASHINGTON — When Rep. Paul Ryan appeared on the House floor Thursday evening to ferry Republicans' sequester replacement bill to a mostly symbolic passage, it was the the most famous House Republican's first, brief moment in the spotlight during negotiations to avert the fiscal cliff.
On Monday evening, those negotiations were heating up anew: President Barack Obama and House Speaker John Boehner had met earlier at the White House, where Obama presented Boehner with his latest counteroffer.
But Ryan, the chair of the budget committee and the ideological compass for House Republicans on most fiscal matters, didn't want to talk about it.
"I'm not commenting on any of that stuff," he said as he exited the House chamber through a side door and slipped out of the Capitol.
During the summer of 2011, Ryan was a familiar face in opposition to raising the debt ceiling, not shy to echo the Republican position on television and in conversations with print reporters.
But this time around, in his first act since he spent months traversing the country as Mitt Romney's running mate, Ryan has been elusive and mum during an equally high-drama, high-stakes budget debate.
Rep. Chris Van Hollen, Ryan's Democratic foil on the budget committee, has kept up a regular schedule of appearances on panels and television, and House Minority Leader Nancy Pelosi has touted him as a regular participant in discussions with the White House on fiscal cliff matters.
Meanwhile, as House Speaker John Boehner has pushed his "plan B" this week to avert the fiscal cliff, Ryan has settled for quietly helping to shore up votes among his colleagues. In his capacity as budget chair, Ryan will manage the sequester replacement bill, a component of "plan B" — but he has refused to speak to any press about the fiscal cliff, and he has even kept quiet at closed-door Republican conference meetings since the election, multiple Republican sources confirmed.
On the record, Republicans have downplayed Ryan's diminished role.
"He's just a good member that offers his opinion," said Rep. Lynn Jenkins, the Republican conference vice chair, after a conference meeting Tuesday.
Indeed, Ryan's actions, or lack thereof, are indicative of a House Republican leadership that has become more disciplined since the debt ceiling debate, when ideological fractures within the conference gained traction as a public narrative.
This time, as fiscal cliff talks have unfolded, Boehner has taken the lead — and other Republicans have shown due deference, with Ryan avoiding outshining his leader while also, perhaps, avoiding putting his stamp on negotiations that seem headed for unsatisfying compromise.
"Ryan is closely consulted behind the scenes on the negotiations, but in order for a deal to get done, there can't be five different chefs in the kitchen," said a Republican aide. "House Republicans can more effectively get a deal that cuts spending and prevents Democrats from forcing the country off a cliff if we're negotiating with one voice."
Were Ryan to speak up now, the risk would not be to the trajectory of fiscal cliff negotiations alone, but also potentially to his own voice atop the budget committee, some Republicans speculated.
"In his role as chairman, he has to work with every eventuality," said a Republican member of Congress who is also a committee chair. "He can't lock himself in to any particular faction, because he's got to ultimately work with what comes of it."
The policy side of the discussion that plays out at the committee level appeals more to Ryan anyway, sources say — but, at the moment, House Republicans are engaged largely in tactical calculations and sabre-rattling.
"Paul doesn't tend to get involved in that," a former Republican aide said. "Paul gets involved in ideology."
At the same time, Ryan is likely endeavoring "to not drive any sort of wedge between the leaders and himself, and the leaders and members," the aide said.
"Paul will speak up when it's appropriate and when he's asked to."