Todd Akin Feels The Republican Love
Outside groups are suddenly flocking to the former pariah. But national groups are officially staying out.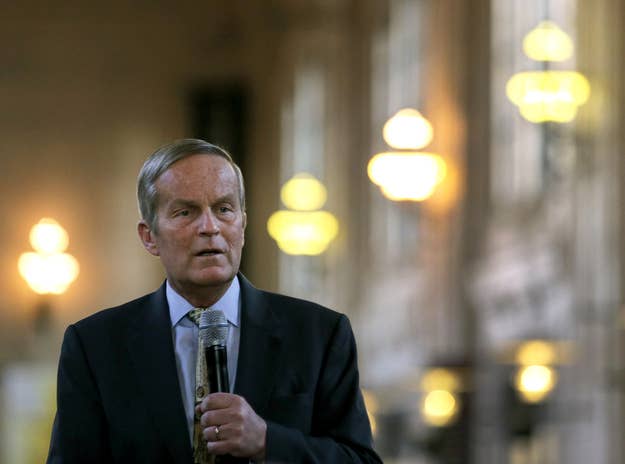 WASHINGTON, D.C. — They may have spurned him, pushed him to leave the race and lamented his tenacity, but Republicans are quickly returning to the Todd Akin fold in the waning days of his campaign against Sen. Claire McCaskill.
The latest sign of the sea change amongst Republicans: The Missouri Republican Party is shelling out money for television advertising for Akin, a last-minute effort to bolster his suddenly reenergized bid to unseat McCaskill.
Despite his inflammatory comments on rape and abortion, the wholesale abandonment of his campaign by national Republicans, and millions of Democratic dollars, some recent polls have shown Akin within clear striking distance of McCaskill.
He and his allies — begrudging as some might be — are hoping to take advantage.
Akin's campaign plans to spend roughly $750,000 across markets including Springfield, Joplin, and Columbia, MO, among other cities in its joint ad buy with the Missouri GOP. The Missouri Republican Party, which had more than $375,000 on hand for federal races as of Oct. 17, will foot the bill for roughly half of that ad buy.
According to a source within Akin's campaign, only about half of that money had been spent as of Wednesday.
Still, national Republicans are at least officially staying out of the race.
The National Republican Senatorial Committee appears to not be pitching in, keeping to its earlier pledge to sit out the race, according to multiple Missouri Republicans. The Missouri Republican Party and the NRSC both refused comment.
But Akin is suddenly flush with outside support.
The latest ad buy comes on the heels of a last-minute influx in spending by Akin's campaign, as well as an uptick in ads paid for by outside groups.
Spending by Akin's campaign on television advertising will reach roughly $1.75 million in the last week of the campaign — although only a fraction of that total had actually been spent as of Wednesday evening.
Some Democrats refuted the $1.75 million figure. One such source said the Akin campaign had placed an ad buy for the full $750,000 on Wednesday, but that the total trumpeted by Akin's campaign was an exaggeration.
"Remember that time they couldn't remember whether they paid for their ads?" said one Democratic source, referring to one point earlier in the election cycle when Akin's campaign did not pay for reserved television airtime.