Lawmakers Back Home Stay Mum On Immigration Reform
House Democrats and Republicans told their members to talk about the budget and spending cuts at home. Meanwhile, one of the most prominent legislative issues gets little attention.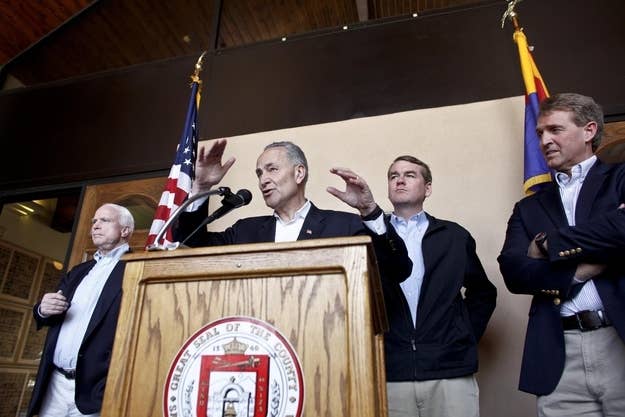 WASHINGTON — Immigration reform is among the most talked-about legislative issues of this Congress so far — but hardly any lawmakers are talking about it with their constituents during recess.
After Sens. Jeff Flake, Chuck Schumer, John McCain and Michael Bennet toured the Mexico-Arizona border Wednesday, Schumer declared at a news event that they are "90 percent there" on an immigration reform package.
But most other members of Congress have remained mum during the two-week recess on the issue of immigration, in part because party leaders did not make it a messaging priority in briefing packets distributed to offices prior to the break.
House Democrats received tips for talking about the House Republican budget; suggested community and press events, most of them related to the budget or sequestration; and even a sample op-ed about the budget and automatic across-the-board spending cuts.
Notably absent from these materials, as well as from those distributed to the House Republican conference, is any mention of immigration — likely to be the hot topic when Congress returns to session during the second week of April.
That hasn't stopped some members of Congress from organizing events on their own: Democratic Rep. Joe Crowley will appear at two immigration-related events next week, his office confirmed. Democatic Reps. Jim Himes, Jared Polis, Sandy Levin and Xavier Becerra also notified their caucus of plans to participate in similar events, although their offices did not independently confirm.