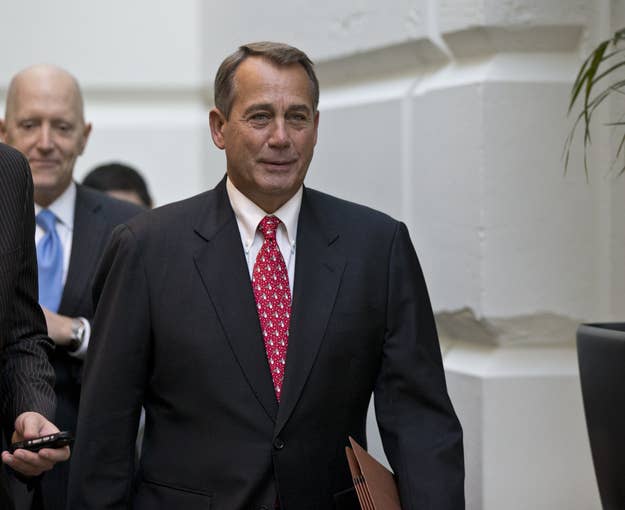 WASHINGTON — House Republican leaders are framing the extension of the Bush tax cuts for most brackets as a "net tax cut" as they face the double challenge of accepting such a compromise and selling it to their conference.
In a release Tuesday, Speaker John Boehner's office said his "plan B" to extend most tax cuts would "not raise taxes. It is a net tax cut that prevents a $4.6 trillion tax hike on Jan. 1."
Under the most recent Republican proposal, however, taxes would actually stay the same for most people, and go up on income exceeding $1 million. (President Barack Obama's latest offer would raise taxes on income exceeding $400,000.)
The full press release:

While Republicans continue to negotiate with the White House over a balanced agreement that averts the fiscal cliff by cutting spending and addressing our debt, Speaker John Boehner said the House is going to move simultaneously to "Plan B."

Here's what the House "Plan B" bill does – and doesn't – do. According to the House Ways & Means Committee, the House Plan B bill --

Does not raise taxes. It is a net tax cut that prevents a $4.6 trillion tax hike on January 1;

Permanently extends income tax rate cuts for Americans making less than $1 million, which protects 99.81 percent of all taxpayers;

Permanently extends the current estate and gift tax ($5 million at 35 percent and indexed for inflation);

Permanently extends section 179 expensing for small businesses ($250,000 and indexed for inflation);

Permanently stops the Alternative Minimum Tax (AMT) from hitting more middle class families;

Permanently extends parity for capital gains and dividend taxes, preventing dividend taxes from being taxed at the highest rates; and

Does not include anything on the debt limit or other non-tax policy items.

Remember, Speaker Boehner's rule on the debt limit still applies: spending cuts must exceed any debt limit increase.

It's important to have "a backup plan that makes sure that as few American taxpayers are affected by this increase as possible," said Speaker Boehner. That's exactly what "Plan B" will do.