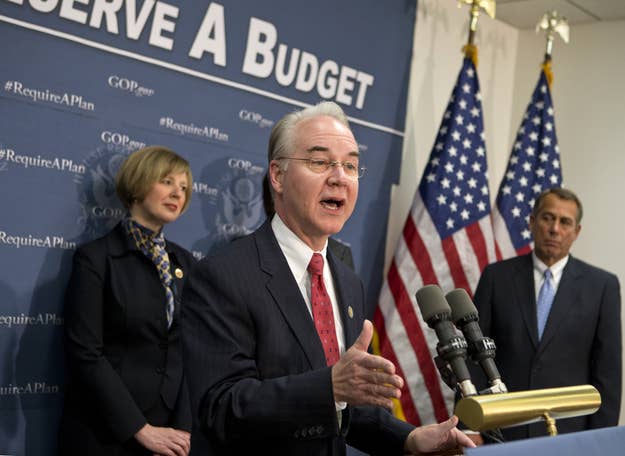 WASHINGTON — As Republican Rep. Tom Price continues to weigh whether he will run for Senate in Georgia, another Georgia Republican's decision might prove the tipping point.
Among Price's considerations is whether Karen Handel, a former Georgia secretary of state whom Price endorsed for governor in 2010, will seek the Senate seat.
"Karen would like to run and is making calls to lay the ground work for it," said Joel McElhannon, a prominent Georgia Republican strategist. "But they won't run against each other. She has lots of good options as well."
There has been some speculation that Handel could seek Price's seat in Congress should he run for Senate.
But so far, Handel is not acting like someone running for Congress.
On Monday night, Handel made the rounds with her husband at the annual Presidents Day Dinner held by Georgia Republicans, according to one Republican in attendance. And last week, a local news station interviewed Handel at a barbecue in Ellijay, Ga. — nearly 60 miles from Price's district.
Meanwhile, Price is keeping tight-lipped about his own plans.
"From what I have heard from these candidates and some close to them, Tom is still seriously considering it," said Joel McElhannon, a prominent Georgia Republican strategist. "He feels no pressure to make a quick announcement and is carefully considering it. He has lots of options."
As Handel and Price weigh bids, the Republican primary field is already beginning to take shape: Rep. Paul Broun announced early on that he would seek the Senate seat, and Rep. Phil Gingrey will officially declare his bid Wednesday.
A restless political class has stirred chatter that Price could forego running for the Senate in favor of staying in the House, where he holds a prominent position on the House Budget Committee.
But allies insist that his status is still fluid.
"He's indicated numerous times...that he intends to make a decision in May after the fiscal negotiations have wrapped up in the House," said one Price aide. "Any rumors to the contrary are just that."
Price met with the officials at the National Republican Senatorial Campaign committee last week, the aide confirmed, a reliable indicator that he remains serious.