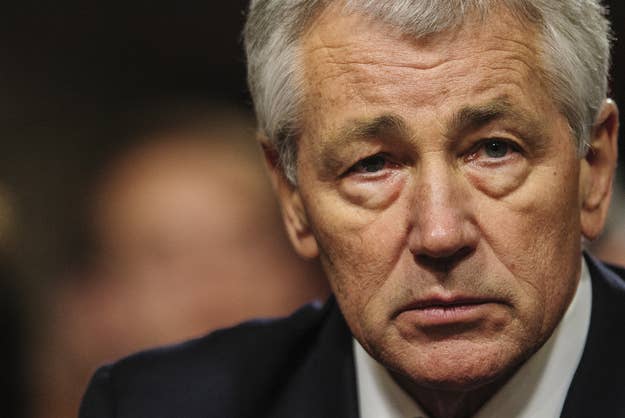 WASHINGTON — Chuck Hagel's chances of becoming the next Secretary of Defense might have diminished somewhat Thursday, after a choppy first half to his confirmation hearing emboldened Senate Republicans who think they may actually be able to prevent his confirmation.
"There's a possibility Republicans could block his nomination, especially after today's performance," a Senate Republican aide confirmed to BuzzFeed.
Leading up to the hearing, Hagel looked like a virtual lock to be confirmed despite some Republican opposition, as he made the rounds in meetings with lawmakers. And it remains unlikely that his opponents will gather enough to support to block him.
Indeed, more meetings are still to come, and a number of lawmakers are withholding their judgment until then. Republican Sen. Lamar Alexander said his decision "will depend upon the hearing today and my meeting with him next week."
But the fact that some Hagel's most ardent critics now feel momentum is on their side is a testament to just how poorly Hagel performed, fumbling answers to questions about Israel and Iran, and frustrating Republican Senators who might otherwise have given him a pass.
Sen. John McCain, whose questions about the Iraq surge Hagel refused to answer directly, said after the first half of the hearing that he did not yet know whether he will support Hagel — but McCain was unambiguously disappointed in Hagel's testimony.
"It certainly doesn't help when you refuse to answer questions," McCain said.
Republican Sen. Mike Johanns, who, like Hagel, hails from Nebraska, noted after the first half of the hearing that "there's still quite a bit of hearing left here, so we'll see." But, he said soberly, "There were some very, very difficult questions."