Capitol Visitors Stay Late Into Night To Take In Rand Paul Filibuster
"One of my favorite things about being in D.C. is being able to see things like this in person," one late-night audience member said.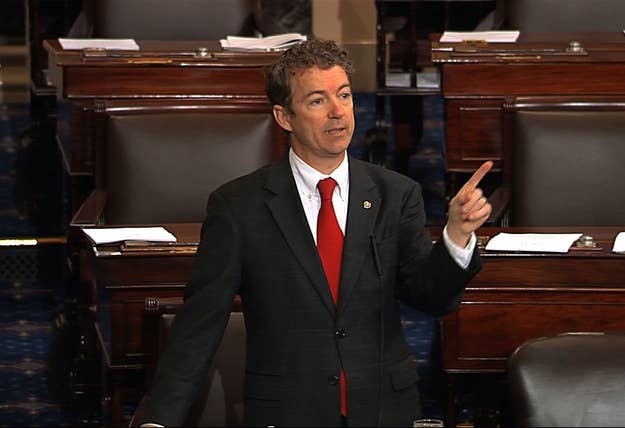 WASHINGTON — As Sen. Rand Paul ferried a filibuster from Wednesday night into the wee hours of Thursday morning, a few dozen committed members of the public took in the spectacle from the Senate gallery.
They came for fun and education, to satisfy curiosity or to witness some manner of history.
As the clock ticked toward midnight, roughly 12 hours after Paul first began expounding on the administration's policies regarding the use of unmanned drones on U.S. soil, a couple from Utah wandered the grounds of the Capitol, looking for the entrance to the Senate.
"We just thought it'd be fun to watch," they told this reporter, who pointed them in the right direction.
Theo Wallace, visiting D.C. from Duluth, Minn., for a leadership institute, was likewise curious, and so he found his way to the public gallery in the Senate with a group of friends. There aren't that many talking filibusters, after all, he noted.
"I wasn't a big Rand Paul fan before, but I really respect him after watching this," Wallace said.
After a day off from his internship due to the snowstorm that was predicted to hit D.C., but which never came to fruition, Robert Diaz was eager to watch the government in action — particularly having studied the very subject of drone use in one of his college classes.
"It was very interesting to actually be here in person to see what we talked about in class," Diaz said.
He watched the filibuster unfold from the Senate gallery with Amanda Almeda, who is also interning in Washington.
"One of my favorite things about being in D.C. is being able to see things like this in person," she said.
But, by just after midnight, even Diaz and Almeda had had enough: They exited the gallery to get a bit of sleep.