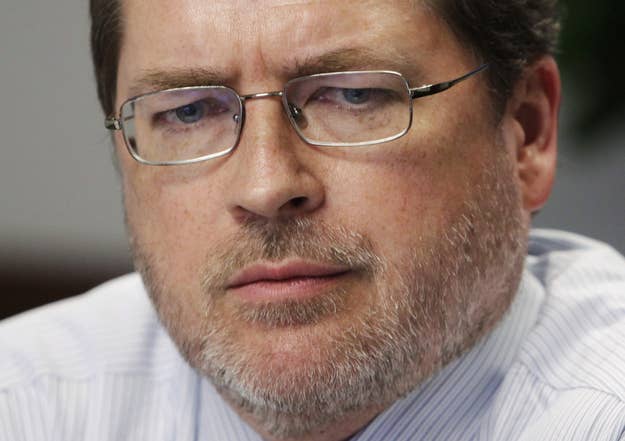 WASHINGTON — At the weekly off-the-record meeting of Grover Norquist's group Americans for Tax Reform on Wednesday, surrogates for House Speaker John Boehner and Majority Leader Eric Cantor pitched the fiscal cliff "plan B" that has left moderate and conservative Republicans divided.
"The reaction I heard was that these guys could sell ice to an Eskimo," said one prominent conservative, who spoke with multiple people who attended the meeting.
The pitch seems to have worked: At noon, shortly after its 10:30 a.m. meeting, ATR issued a press release supporting "plan B," which would raise taxes on income exceeding $1 million.
"Having finally seen actual legislation in writing, ATR is now able to make its determination about a legislative proposal related to the fiscal cliff," the statement read. "ATR will not consider a vote for this measure a violation of the Taxpayer Protection Pledge."
That declaration — and even House officials' appearance at the core conservative event — left conservative groups, which have staunchly opposed any tax increase as part of a compromise package to avert the fiscal cliff, stunned.
"Americans for Tax Reform's support of Speaker Boehner's Plan B finally reveals what many of us have known for some time – Grover Norquist and his organization are nothing but a front group for the Republican Party, and their agenda to protect the wealthy from paying their fair share of taxes," Frank Clemente, the campaign manager of Americans for Tax Fairness, said in a statement Thursday.
But the offices for Boehner and Cantor said that they attend Norquist's meetings regularly, and that speaking about "plan B" on Wednesday was not out of the ordinary.
"Not news," a spokesperson for Boehner wrote in an email, adding that Boehner's office has a presence at the meeting every week.
Meanwhile, Cantor's deputy chief of staff Neil Bradley has attended roughly three of the past six meetings.
"He goes to that meeting often," one Cantor aide said. "It wasn't to lobby, but to merely explain, as he does often, what's going on."
"Given Plan B is our focus this week, he addressed that," the aide added. "It's as simple as that."
Norquist and his spokesperson did not respond to requests for comment.