Akin Looks To Raise Money For Any, All Deadlines
Fundraising emails from Akin's campaign cite the end of the quarter as midnight on Saturday, but it's actually a day later. Oops.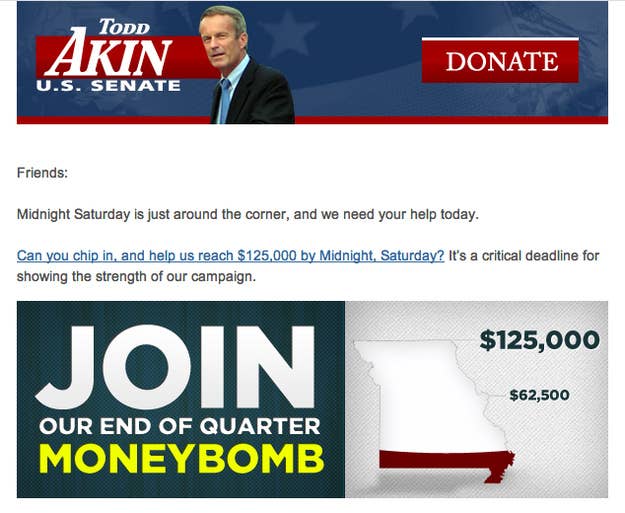 Aiming to channel momentum from a spate of Republican endorsements this week, Rep. Todd Akin is asking supporters to help him raise $125,000 for his U.S. Senate campaign before the end of the fundraising quarter—whenever that is.
"Midnight Saturday is just around the corner, and we need your help today," a campaign email, sent Thursday to supporters, reads.
The quarter actually ends at midnight on Sunday, Sept. 30.
Meanwhile, the Kansas City Star reported Thursday that Akin said his opponent, Sen. Claire McCaskill, acted more "ladylike" when she ran against former Sen. Jim Talent in 2006.
"I think we have a very clear path to victory, and apparently Claire McCaskill thinks we do, too, because she was very aggressive at the debate, which was quite different than it was when she ran against Jim Talent," the Star quoted Akin as saying. "She had a confidence and was much more ladylike (in 2006), but in the debate on Friday she came out swinging, and I think that's because she feels threatened."