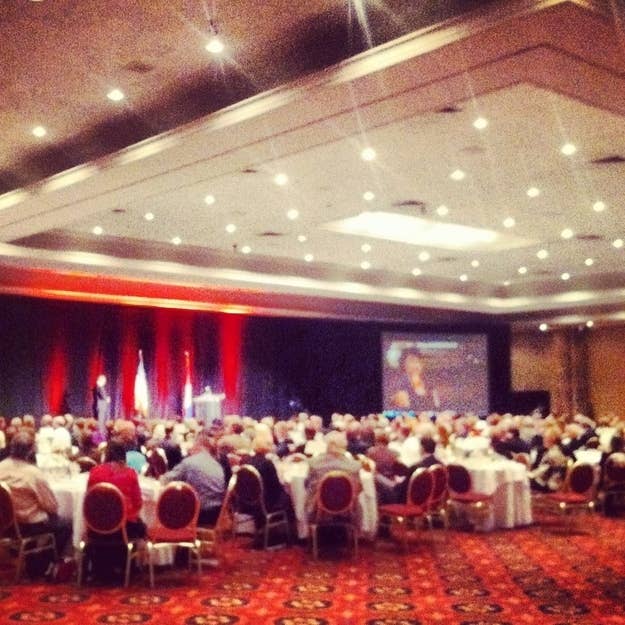 RAYTOWN, Mo. — Rep. Todd Akin's campaign is praying for a miracle.
Outspent by Sen. Claire McCaskill and abandoned by most of the Republican Party, the Akin campaign is unambiguously seeking to rally the conservative, religious right during the final weeks before the election.
This weekend, that dynamic played out in the Kansas City metropolitan area, where Akin hosted a closed-door fundraiser and attended church.
"Lord, he is on assignment directly for you," Pastor Sharon Allen said of Akin during her benediction at the fundraiser, held in a half-full Marriott ballroom Saturday evening in downtown Kansas City.
The dinner felt closer to a church service than a fundraiser for a U.S. Senate candidate. At the end of the evening, volunteers milled about the room with wicker baskets, soliciting donations.
Only the heads of tables had paid for their seats, according to guests at the event. In all, roughly 360 people filled 37 tables; two tables were empty. "We wanted fifty tables," one Akin aide said, "but it became clear that wasn't going to happen."
Jack Cashill, a Republican writer who has publicly theorized that Bill Ayers ghostwrote President Barack Obama's memoir, Dreams From My Father, emceed the event; Rep. J.C. Watts, an Oklahoma Republican, attended, as did Bill Randles, who unsuccessfully sought the Republican nomination for governor this year.
Among the supporters at the event, many expressed fear for the future of the Republican Party, which they perceive as listing to a dangerous degree, here and nationwide.
"The closer we get to losing our nation and our republic, the more vital his election is," said Jinny Walz, a Missouri native who lives now in Hutchinson, Kan., and attended Akin's fundraiser Saturday.
That the GOP had largely disowned Akin had only inspired Walz to support Akin more fervently. When asked whether she thought Akin had been treated unfairly by his party, she said, "Oh my goodness, that's why I'm here. I'm just sickened by it."
"They treat conservatives as they would prostitutes," said Walz, whose business card described her simply as a "Conservative." "They need them and they use them at night, for the vote, when no one's looking. Then, in the morning, after the election, they pretend they don't know us."
Todd Isaac Skelton, of Lebanon, Mo., who lost in a primary this year for a seat in the Missouri House of Representatives, agreed that his party's treatment of Akin has been "unfortunate."
"It almost looks like they would be all right with Claire McCaskill winning instead of Todd Akin," Skelton said.
Few people spoke explicitly about Akin's now-infamous remark that women's bodies can prevent pregnancy in the case of "legitimate rape"; most referred to the controversy simply as "this whole thing with Todd." But donors were quick to defend the candidate.
"Some rapes are very legitimate. Some are not," said Steven Athans, of Columbia, Mo. "He was just clarifying whether or not it was truly a rape. It was blown way out of propotion."
Athans, a field missionary who earns money working part-time at Macy's, insisted that whether Akin wins could decide the future of the Republican Party.
"I don't want to move to the center and leave my core behind," Athans said.
The next morning, Akin attended church as he does each week; on this Sunday, his campaign had organized a stop at First Baptist Church in Raytown, Mo., approximately 15 minutes south of Kansas City.
Down the road from the megachurch, a large Akin yard sign that was missing its "T" read, "odd Akin." But, inside of the church, there was respect for the candidate: When he was introduced near the end of the morning worship, the congregation of more than 1,000 people applauded; a few rose to their feet. Akin and his wife, Lulli, stood and waved.
After the service, as most congregants filed out, some introduced themselves to Akin. "We're praying for you," one woman said seriously. "We're praying for you hard." Others echoed that refrain.
Todd and Lulli Akin joined with a handful of congregants in a circle, bowed their heads, and prayed along with them.
At one point, as a man talked to Todd Akin about his interview with Sean Hannity, another man asked Lulli Akin about Todd Akin's remark about "legitimate rape." They'd leave that to other people to argue over, Lulli Akin said. "But plenty of women are for Todd," she added.
One of the Akins' daughters, Abigail Akin, looked on as her parents mingled.
Abigail Akin had helped to organize the fundraiser Saturday evening, and she said she was in the process of planning the campaign's election-night party. Although she has traveled somewhat with the campaign, she's had to cut back—she kept getting sick, she said.
"I don't know how they do it," she said, looking to her parents. "I really think it is the Lord."
As Todd Akin and his wife filed out of their pew to leave, he looked at me and stopped. He smiled.
"Thank you for coming," he said, touching my arm. "God bless you."