A Congressman's Push For Native American Protections In The Violence Against Women Act
Oklahoma's Rep. Tom Cole wouldn't take "no" for an answer.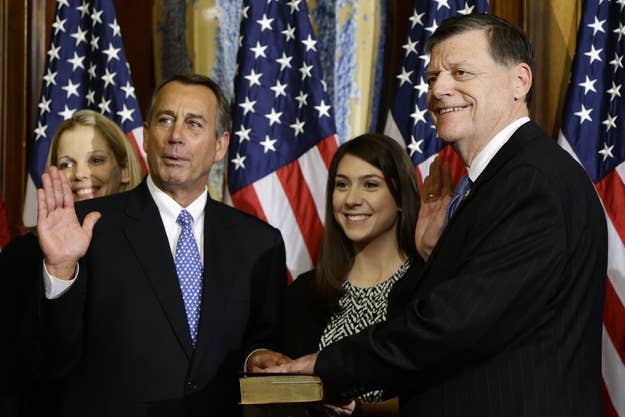 WASHINGTON — As Rep. Tom Cole encouraged his colleagues over the course of a few months to support protections for Native Americans in the Violence Against Women Act, he embraced a role as an educator on the issue.
Still, he was startled by how little some of his colleagues knew.
"I'm not naïve enough to think everyone understands and accepts tribal sovereignty," Cole said in an interview with BuzzFeed. "But there was a lot of misunderstanding, a lot of concern."
At times, the misunderstanding was extreme: "People were spouting obscure constitutional theory and had never dealt with Indian law in their life," Cole said.
As a member of the Chickasaw nation and one of only two Native Americans currently in Congress, Cole is accustomed to having to explain and represent this niche sector of America — and not only to his fellow members of Congress.
"There are a lot of stereotypes," Cole said. "As my mom used to say, 'We're the only people who are supposed to look like we did 100 years ago and act like we did 100 years ago, or else we're not real Indians.'"
When the Senate approved a reauthorization of the Violence Against Women Act that would enable Native Americans to try domestic violence cases in tribal courts, Cole jumped at the opportunity to expand current law.
It wasn't an easy sell.
Disagreements over that protection, as well as others for LGBT and undocumented immigrant women, had held up VAWA during the last Congress, where the measure died waiting to go to conference.
"I think (Senate) Democrats wanted the political issue," Cole said. "They used it skillfully."
Cole expected the issue would be perilous the second time around, but was encouraged by the unanimous support of tribes and tribal organizations for the provision.
"Shouldn't we listen to them?" he would ask Republican colleagues who were skeptical about the provision. "Sometimes, you have to rely on the expertise and judgment of people who deal with this on a daily basis."
When it looked like the House might take up its own bill without tribal provisions, Cole and Rep. Darrell Issa wrote a compromise measure that would have allowed non-Native Americans to opt out of trial by tribal courts. That proposal was never taken up.
Cole also met with House Majority Floor Leader Eric Cantor "four or five times, and probably talked about it more than that" to try to work out disagreements over the tribal provision.
"He gave it a lot of attention and a lot of staff time," Cole said. "I think it was a really genuine effort on his part to learn more about the problem and a genuine effort to provide tribes with tools to deal with it."
Nevertheless, after weeks of negotiations and in spite of Cole's best efforts, it became clear that the greater House Republican conference would not support the addition of tribal protections to VAWA — or any larger bill.
"We allowed our internal differences to keep us from coalescing at 218 on a perfectly good bill," Cole said.
At a whip meeting Tuesday night, where House Republicans discussed their options for more than an hour, cole spoke passionately about the tribal protections and insisted on them.
So House leaders decided to take an unusual step: Bring the Senate bill to the floor with only a minority of the Republican majority supporting it. Ultimately, even Cantor voted against it.
"Our leadership did the right thing," Cole said. "They could have blocked the Senate bill from coming to the floor, and they didn't."