This Iron Phone Throne Is The Perfect Gift For Any GoT Fan
Winter is coming, but is your phone gonna be ready?
by
,
,
Ever wanted your own Iron Throne? Now you can have a custom version for your phone—and you can charge it, too! Here's how: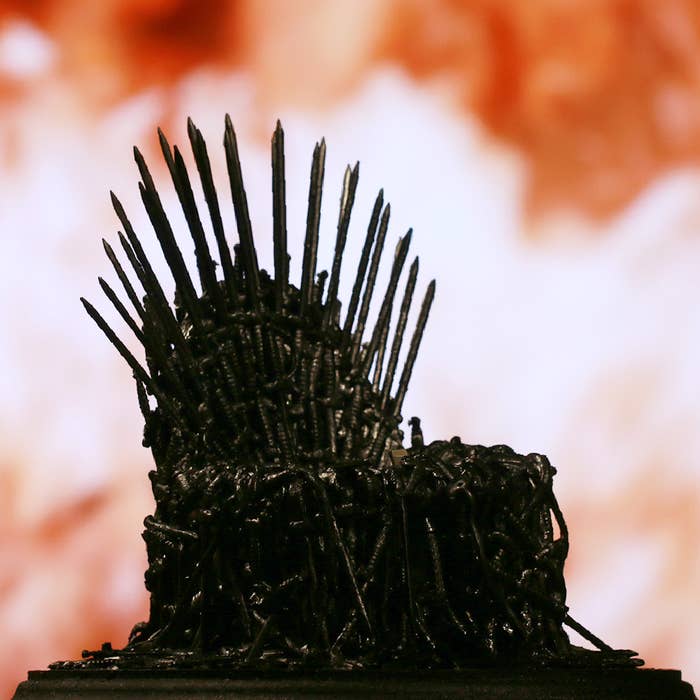 Supplies:
* Aluminum foil
* Oven bake clay
* Wood disk
* Hot glue
* Plastic toothpick swords
* Black spray paint
* Silver spray paint
* Epoxy putty
* Cell phone charge cable
* Acrylic paint
Instructions:
1. Use aluminum foil to create a rectangular base.
2. Shape more aluminum foil and attach it to your rectangular base to create the back of your chair.
3. Use blocks of oven bake clay to create the armrest of your chair.
4. Knead and roll out strips of oven bake clay to attach to the body of your chair. Attach strips of the oven bake clay to the front, side and backs of your chair. The strips should flow past the base of your chair. Trim off excess clay.
5. Place a large piece of clay at the back of the chair for support.
6. Place a pencil at the base of the chair and carefully push down the cair to create a tunnel for the charge cord.
7. Bake clay according to package instructions and let cool.
8. Glue the chair to a wooden base.
9. Carefully cut plastic toothpick swords.
10. Attach the swords to the chair with hot glue. The hot glue will soften the plastic sword. Avoid touching the hot glue.
11. Spray paint with a base layer of black spray paint.
12. Accent with silver spray paint, touch up with black spray paint.
13. Thread cell phone charge cable through the tunnel at the base of the chair.
14. Knead a small amount of epoxy putty and secure phone cable in place.
15. Touch up with more swords and acrylic paint.