Cheesy Meatball Pull-Apart Rolls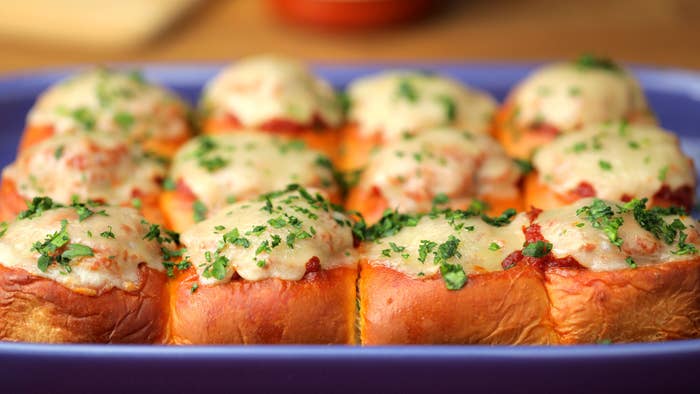 Ingredients:
Preparation:
1. Preheat oven to 375ºF (350ºF for convection ovens).
2. In a medium bowl, mix together bread crumbs and milk. Let sit for 5 minutes to allow crumbs to completely absorb liquid. Mix in egg, grated Parmesan, salt, pepper, and Italian seasoning. Once everything is well-combined, mix in ground beef.
3. Use oiled hands to roll meat to the size of a golf ball.
4. Heat a drizzle of olive oil in a saucepan over medium heat. Add meatballs and brown on all sides. Pour Rao's Homemade Marinara over the meatballs. Cover pan with a lid and simmer until meatballs are fully cooked through, about 12–14 minutes.
5. While meatballs are cooking, prep the Hawaiian sweet rolls. Place rolls on a sheet tray. Cut a circle out of the top of each roll, large enough for a meatball to fit in. (Do not separate the rolls; leave them connected so final product can be pulled apart).
6. Stir together garlic, melted butter, and a pinch of salt. Brush garlic butter all over the rolls, making sure to get butter inside each hole.
7. Bake rolls for 5 minutes or until bread becomes toasty.
8. Remove from oven and place a meatball inside each roll. Top each meatball with an extra spoonful of sauce and place a small round of provolone cheese on each.
9. Put back in the oven for 5 minutes or until cheese has melted.
10. Garnish with minced parsley.