What Twentysomething Women Say Vs. What Your Family Hears
BRING. ON. THE. UNSOLICITED. ADVICE.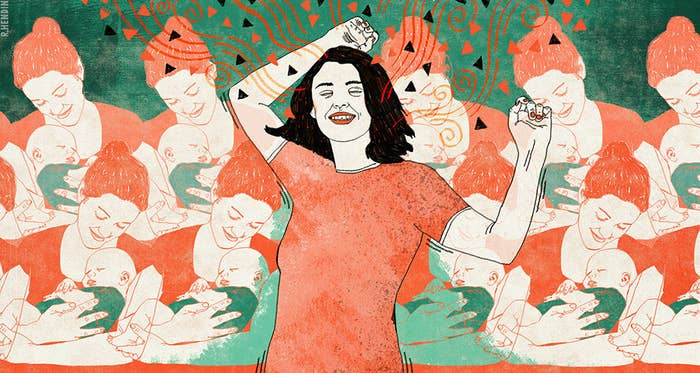 What you say: Can you pass me a roti?
What everyone hears: Please, please, can someone please give me some weight-loss tips? Everyone can CLEARLY see I'm looking "healthy" these days, right? Aunties, save me from myself. TELL ME ALL YOUR HOME REMEDIES TO BECOME THIN LIKE DEEPIKA PADUKONE. Come here, pinch my cheeks. Creepily whisper 'gol-gol' at me.

What you say: No, I'm not thinking about kids yet.

What everyone hears: I'm free to chat for hours about my body clock!

What you say: I got a job!

What everyone hears: Now that I've become a modern-type girl, I'll need you all to remind me at every opportunity that it's important to find a boy, settle down, and pop out some young'uns as ASAP as possible. I'm going to start coming home late, boozing, smoking, and probably even (gasp) developing professional ambition. Please let me know how you feel about my life choices via the family WhatsApp group.

What you say: I graduated!

What everyone hears: ATTENTION EVERYBODY! LOOK WHO'S MARRIAGEABLE! DEKHO, NAYA MAAL!
What you say: This is my friend Rahul.

What everyone hears: HINT HINT! NUDGE NUDGE! This is my husband-to-be, Rahul! Come on, come on, ask ALL the questions! I understand you'll need to know his educational qualifications, his family medical history, his caste, his kundli, the names of all his dogs to date, and a rundown of every mutual acquaintance our families have. Ask away.

What you say: Can I go on a trip with my friends?

What everyone hears: Mom, dad, please allow me to go on a wild out-of-station bender with the unambitious alcoholics that I call friends. Our itinerary includes drinking copiously in immodest clothing, gallivanting around dangerous foreign alleys with strangers, and doing all manner of illegal, addictive drugs.

What you say: I don't want to get married just yet…
What everyone hears: I don't EVER want to get married. Instead, I will be starring in 'Bring It On 6: Family Shame' as the lead. Co-stars will be secret boyfriends and a failed rishta with 'suitable, well-educated, smart, fair and handsome, holding top professional degree, looking after family business, from cultured family, 5'9", cultured boy'. All others interested in auditioning please contact at bezati_kar_di@familyhookups.com.

What you say: I'll be home late tonight, I have a meeting.

What everyone hears: Tell me all the facts and anecdotes you've got about unsafe roads, the traffic, that Uber sexual assault story. And yes, this is the perfect time to start a rabid debate about my career decisions. I'm not in the middle of anything. No, no. Carry on. Please.

What you say: This is my friend Ajay.
What everyone hears: Now is the PERFECT time to ask "Beta, what happened to Rahul?" Yes, ask away. Right here. In front of Ajay. No, this is not awkward. You're not at all the reason I'm single.

What you say: My friends are here to pick me up, I'm leaving, bye!
What everyone hears: I'm totally free to stand in the doorway and deal with your interrogation for 15 minutes.
What you say: *breathes*

What everyone hears: BRING 👏 ON 👏 THE 👏 UNSOLICITED 👏 ADVICE 👏 YAAAASSS, AUNTY, YAAASSSS 👏 GO! GO! GO! 👏 BODY CLOCK! 👏 HALDI! 👏 BIODATAS! 👏 WOOOO! 👏 SHAADI DOT COM! 👏 SKIN LIGHTENING! 👏 YAY!