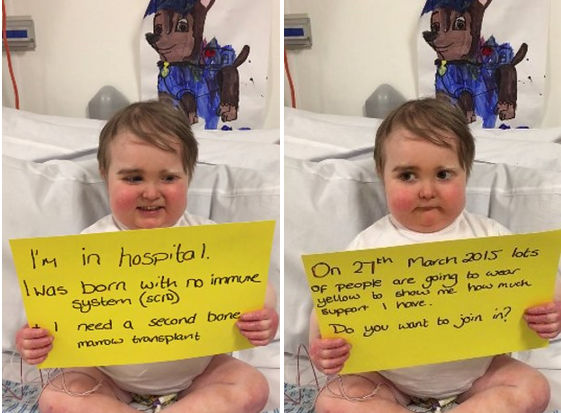 The story spread to every corner of the globe, and today thousands of people are wearing the sunny hue for the boy from Northamptonshire to raise awareness for his disease and remind him he's not alone.
Seth's dad, Nik, said earlier that they have a map in his son's hospital room where they're going to pin all the countries in the world that people have shared a picture from, and post some of the pictures on the walls.
But Nik and his wife, Leanne, weren't expecting this huge a response.
"We said we're going to hang them [photos] all up, but I think there's going to be a lot more pictures than we thought," Leanne told ABC News. "I think we'll need a football stadium."
Plenty of celebrities joined in, like Robin Roberts and Ashton Kutcher.
One of Seth's favorite cartoons, Paw Patrol, decked its pups out in yellow.
There were entire fire departments...
A band even wrote a song for Seth with the lyric, "We're all wearing yellow for you."
Sometime next week Seth is scheduled to have his gallbladder removed, due to taking antibiotics for years. If that's successful, he'll start chemotherapy in five weeks, then eight days later have his second bone marrow transplant.
The bone marrow will be donated by Seth's father.
Leanne said that after the transplant, Seth will likely be in the hospital for up to another year, but said he "deals with everything extremely well."
"When we went to the hospital, he said to me, 'I'm not going home for a long time Mummy, am I?' I said, 'No, you've got a lot to do here' and he comes to the conclusion that he's just accepted it," she told ABC News.
Of course, the brave little boy is also wearing yellow.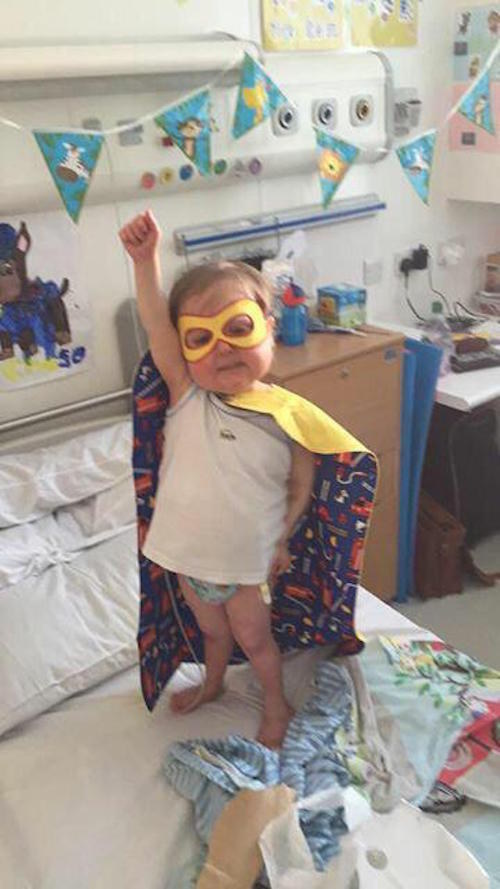 See more of people wearing yellow at wearyellowforseth.com, sponsored by the Bubble Foundation, Seth's charity that helps children without immune systems.