A video posted on Nov. 26 appearing to show a woman stealing a vegetable steamer out of the hands of a little boy has gone viral, getting hundreds of thousands of views.
The clip was posted by a user called BlackFriday Fight, who wrote, "Im posting anonymous because I don want 2b fired, but I work at this store in saginaw and this lady stole a veggie steamer from a KID on black friday! Shame."
Dozens of media outlets shared the video, calling it "outrageous" and "not a joke."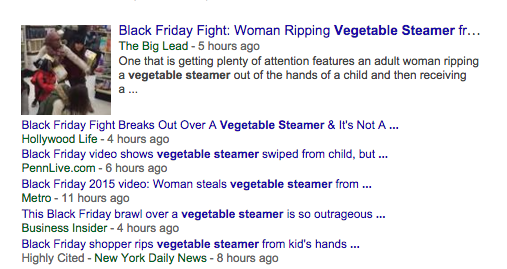 But it appears the video is likely staged, according to debunking website Snopes.
For starters, the video was posted on Nov. 26 — a day before Black Friday (though, conceivably, it could have been filmed at a store opened the night before).
But the brawl resulting from a sale on vegetable steamers is in itself questionable.
"We searched for major chain store deals on vegetable steamers in 2015, but were unable to locate any incredible deals matching vegetable steaming gadgets in any big box stores," Snopes reported.
Upon entering the store, the shoppers immediately and dramatically fall to the ground, seemingly for no reason:
But the woman and the child can be seen arriving at the scene from a completely different direction, already carrying the steamers in hand:
And why does the lady fight them for the steamers when there are untouched ones lying right nearby?!
Also, lol @ the woman yelling "YOU'RE OPRESSING ME!"
Many YouTube commenters pointed out the inconsistencies in the video.
Though that didn't stop a ton of websites from reporting it as a crazy slice of real-life antics.



While others pointed fingers at that late night host everyone is sick of getting hoaxed by.