So you're planning your perfect wedding, but your estranged parents are begging for an invite. What do you do?
Alyssa Pearce had just this situation, telling BuzzFeed News she suffered "physical, emotional, and sexual abuse at the hands of two people who were supposed to love and cherish me," and was then being "bullied" to invite them to her upcoming wedding.
The 23-year-old wrote about the situation in a Reddit post from five months ago that went viral this week.
And so she gave them what they wanted: an invite.
An invite to suck it, that is.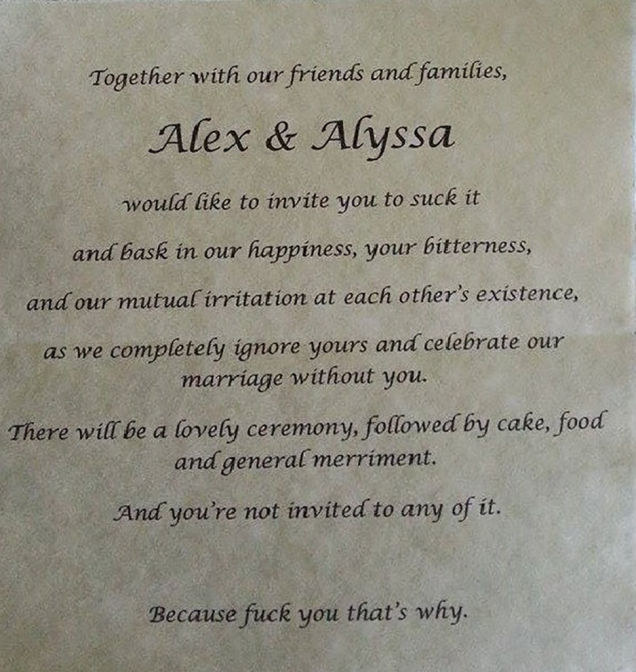 Pearce, who is getting a Ph.D. in applied linguistics, was inspired to write the invitation after a family member harassed her to invite her parents, and she said she "snapped."
"So I went home and wrote my parents the de-invitation. I opened up a Word document, found the nicest calligraphy font I could, loaded up the printer with some of the lovely parchment paper left over from the other invitations, and wrote," she said. "I then found a nice matching envelope, addressed it with a fancy gold pen, and posted it. I mean, if you're going to send someone a memorable 'stuff you,' you've really got to put in some effort. You may as well go all-out."
In an update on Reddit she added, "The aisle is only wide enough for one awesome person, so I'll be walking myself down."
👏👏👏👏👏👏👏👏👏