7 Surge Cocktails You Should Make Right Now
All your favorite drinks have been missing an essential, neon-green ingredient: SURGE.
by
,
,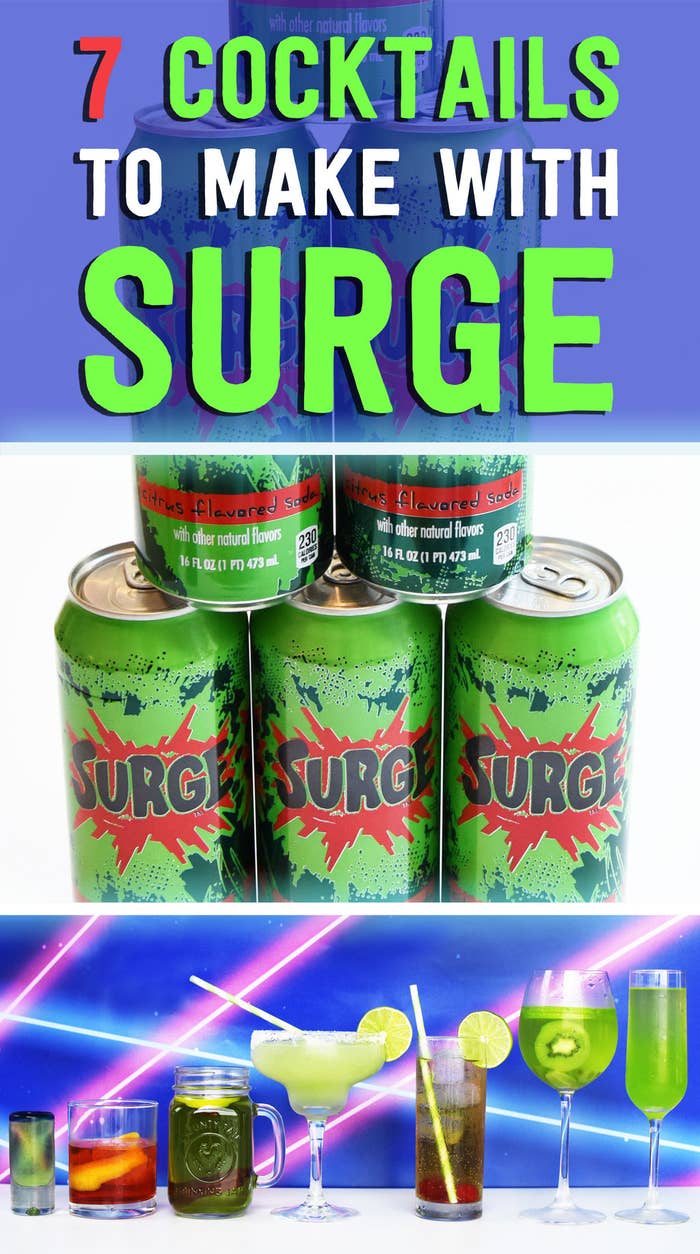 Surge has returned to us.
Earlier this fall, in response to impassioned pleas from their consumer base, Coca-Cola resurrected the beloved caffeinated citrus soda from its bubbly grave. The drink is now for sale exclusively on Amazon, where a bulk order of 48 tallboy cans will run you around $100 (as of press time). And boy, do people have feelings about it!
While Surge's phosphorescent green glow may remain undimmed, the young men and women who kept the flame of hope alive have changed in the decade-plus since it went off the market: We can now legally consume alcohol.
So what better way to celebrate the Return of Surge than with seven classic boozy beverages, now much improved by the fresh lemon-lime flavor of '90s nostalgia? (That was a rhetorical question, there is no better way.) Order yourself a few cases of soda and get mixing with these recipes.
1.
Make your next '90's-themed party memorable with a big, beautiful pitcher of Surge-spiked sangria: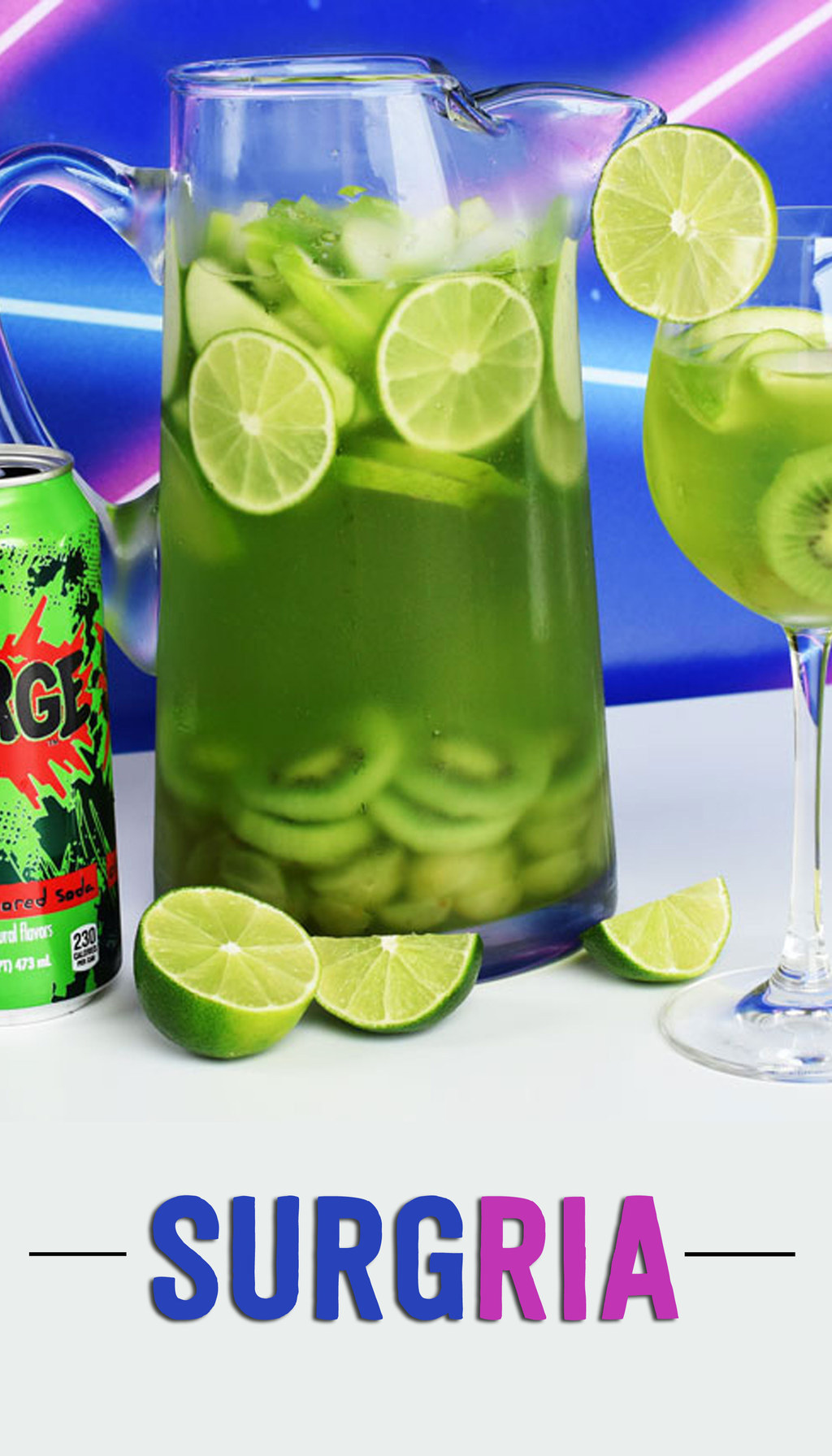 Serves 8
2 bottles Sauvignon Blanc or other dry white wine
¼ cup Cointreau or triple sec liqueur
2 green apples, cored and thinly sliced
2 kiwis, peeled and thinly sliced
2 limes, sliced into thin rounds
1 cup green grapes, halved
1 16-oz. can Surge
Mix together wine, Cointreau, and fruit in a large pitcher and chill for at least one hour. Just before serving, stir in the Surge. Serve over ice.
2.
Add sparkling wine to Surge for the perfect brunch accompaniment: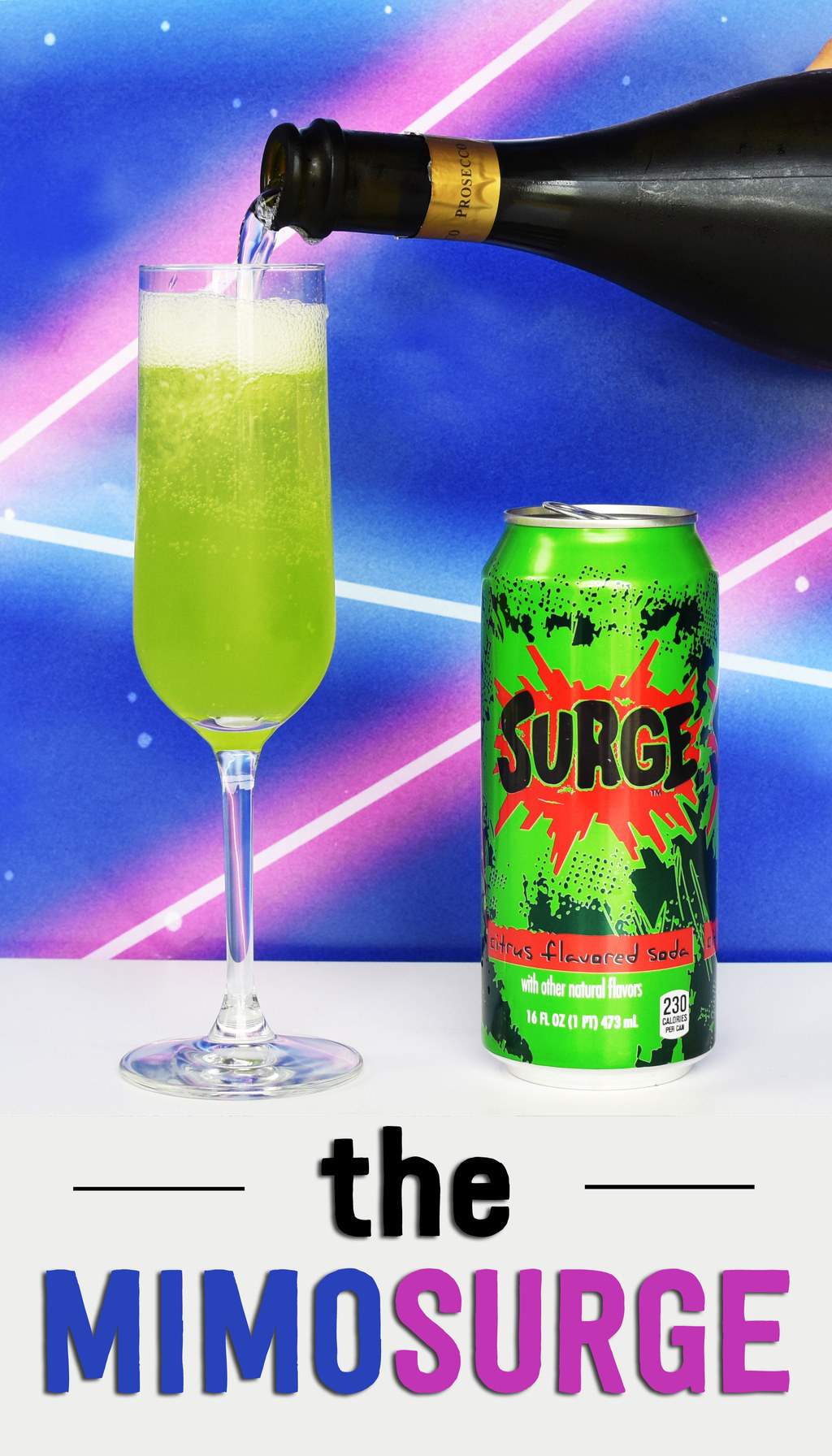 Serves 1
3 oz Surge
splash of orange juice
sparkling wine (Champagne, Prosecco or Cava)
Pour Surge into a Champagne flute and add a splash of orange juice. Top with sparkling wine.
3.
Take dad's new blender for a spin with this frosty Surge concoction: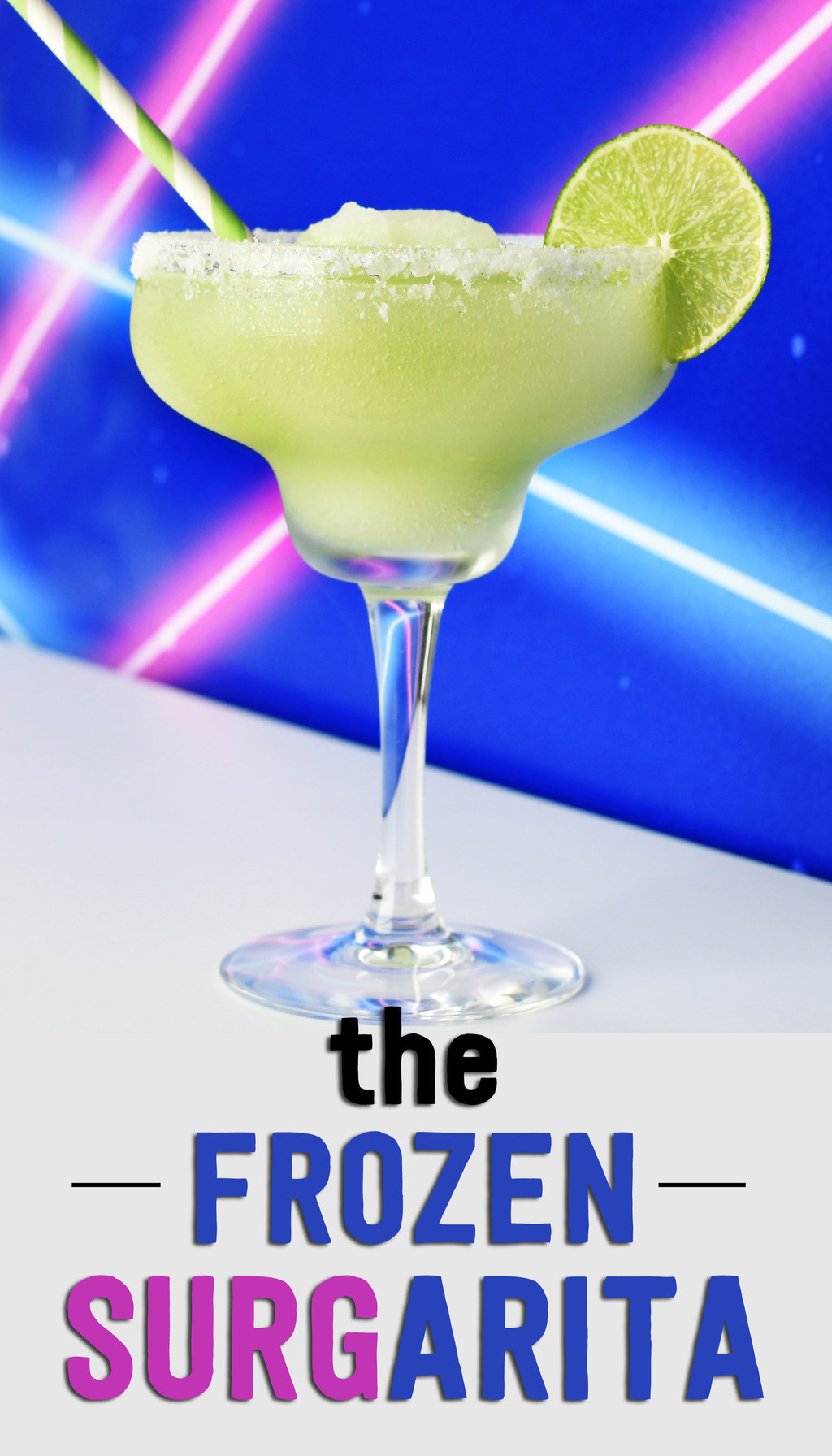 Serves 4
3/4 cup silver tequila
3/4 cup Surge
1/2 cup lime juice (from 4-5 limes)
1/4 cup Cointreau or triple sec liqueur
4 heaping cups ice cubes
1/4 cup Kosher salt or coarse sea salt
1 lime, cut into wedges
Put the salt in a saucer, rub a lime wedge around the rim of each margarita glass, and dip each glass in the salt. You may need to tilt and roll the glass to fully coat the rim.
Combine tequila, Surge, lime juice, Cointreau, and ice in a blender and blend on highest setting until the mixture is smooth. Divide between glasses and garnish with lime slices.
4.
Trick your unsuspecting cocktail-snob friends into drinking Surge...and LOVING it: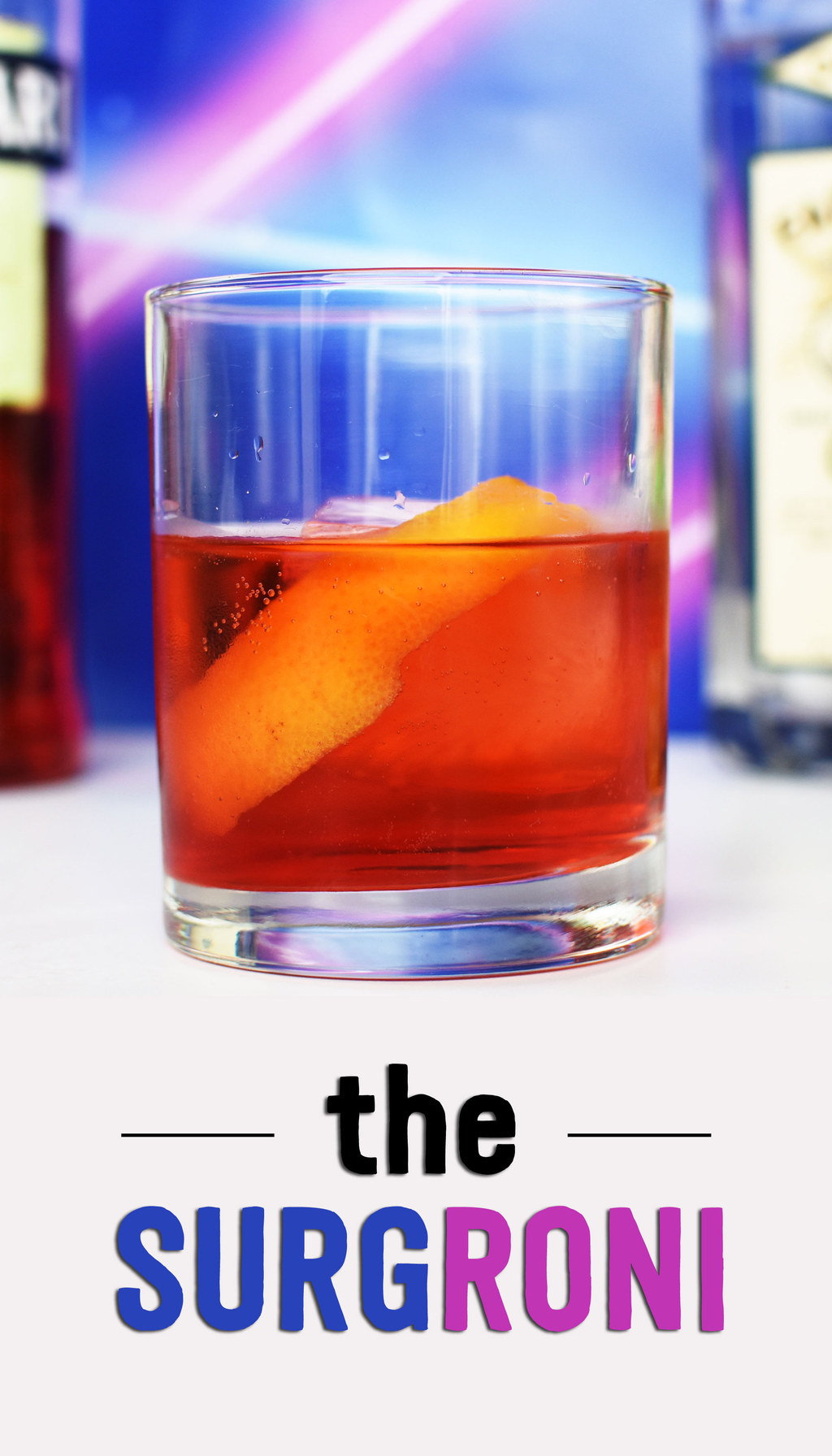 Serves 1
3 ounces Surge
1 1/2 ounces Campari
1 1/2 ounces gin
strip of orange peel
Add all ingredients to an old-fashioned glass with ice cubes and stir well. Twist orange peel to release oils and drop into the drink.
For a lighter variation, try 4 ounces Surge, 1 ounce Campari, and 1 ounce sweet vermouth.
5.
Let Surge get it on with some vodka and peach schnapps: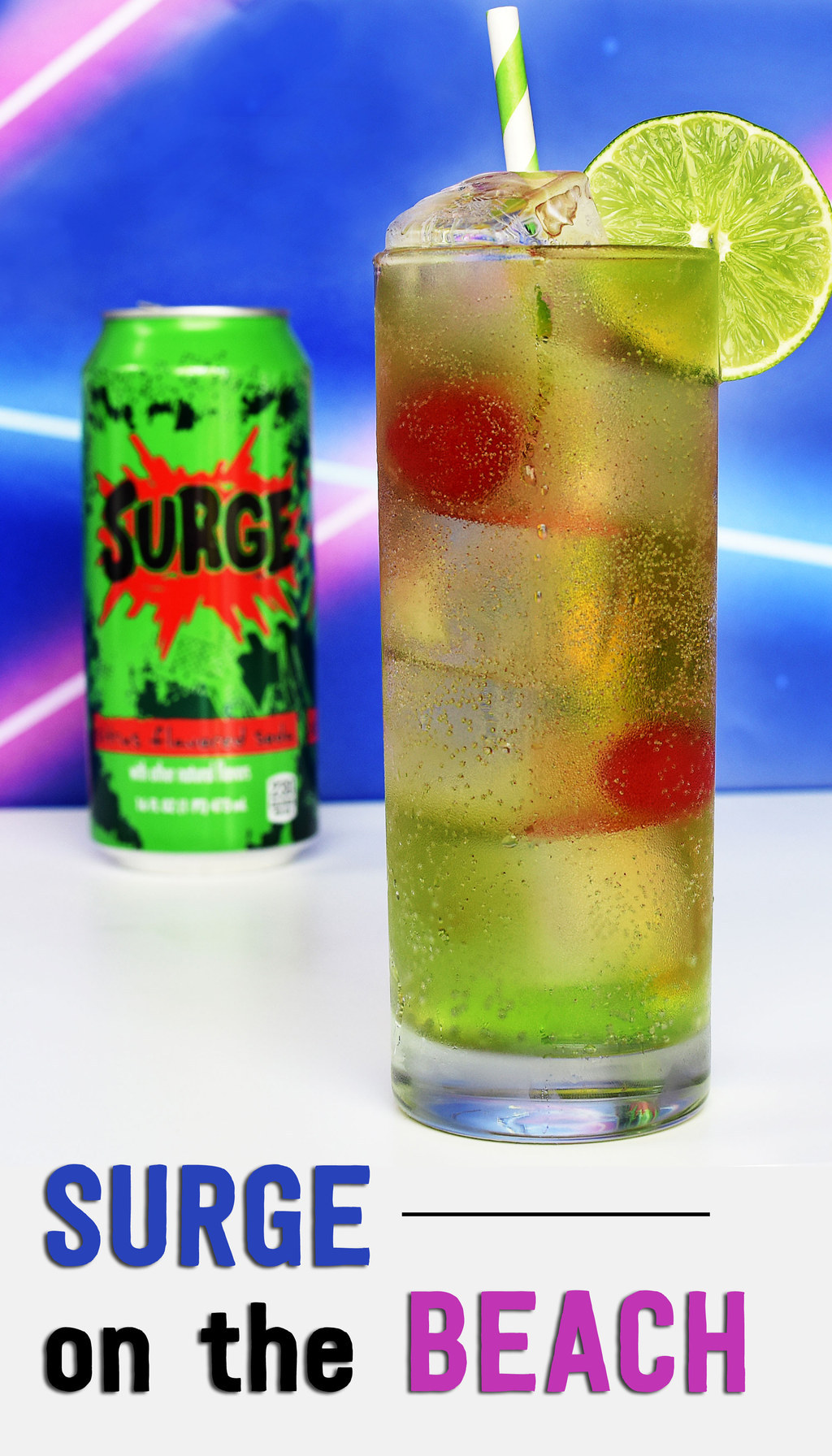 Serves 1
1 3/4 ounces vodka
1/4 ounce peach schnapps
4 ounces Surge
splash of cranberry juice
1 thinly sliced lime round
2 maraschino cherries
Measure vodka and schnapps into a highball glass filled with ice cubes and stir until chilled. Top with Surge and finish with a splash of cranberry juice. Garnish with lime slice and cherries.
A tip for the truly committed: Plain Surge is great, but sometimes you need something even more powerful. That's where Surge simple syrup — aka Surgle Syrup — comes in.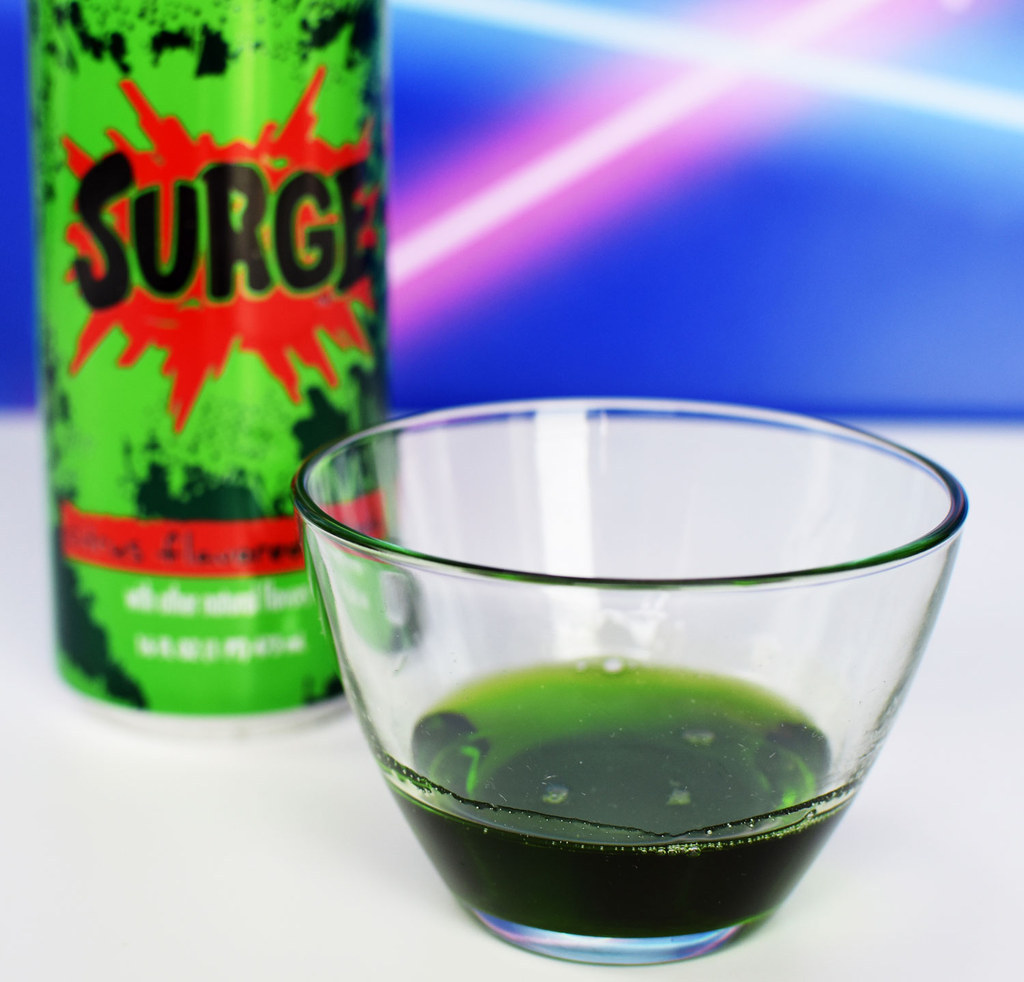 6.
Cure all ailments with a steaming hot mug of Surge-improved bourbon: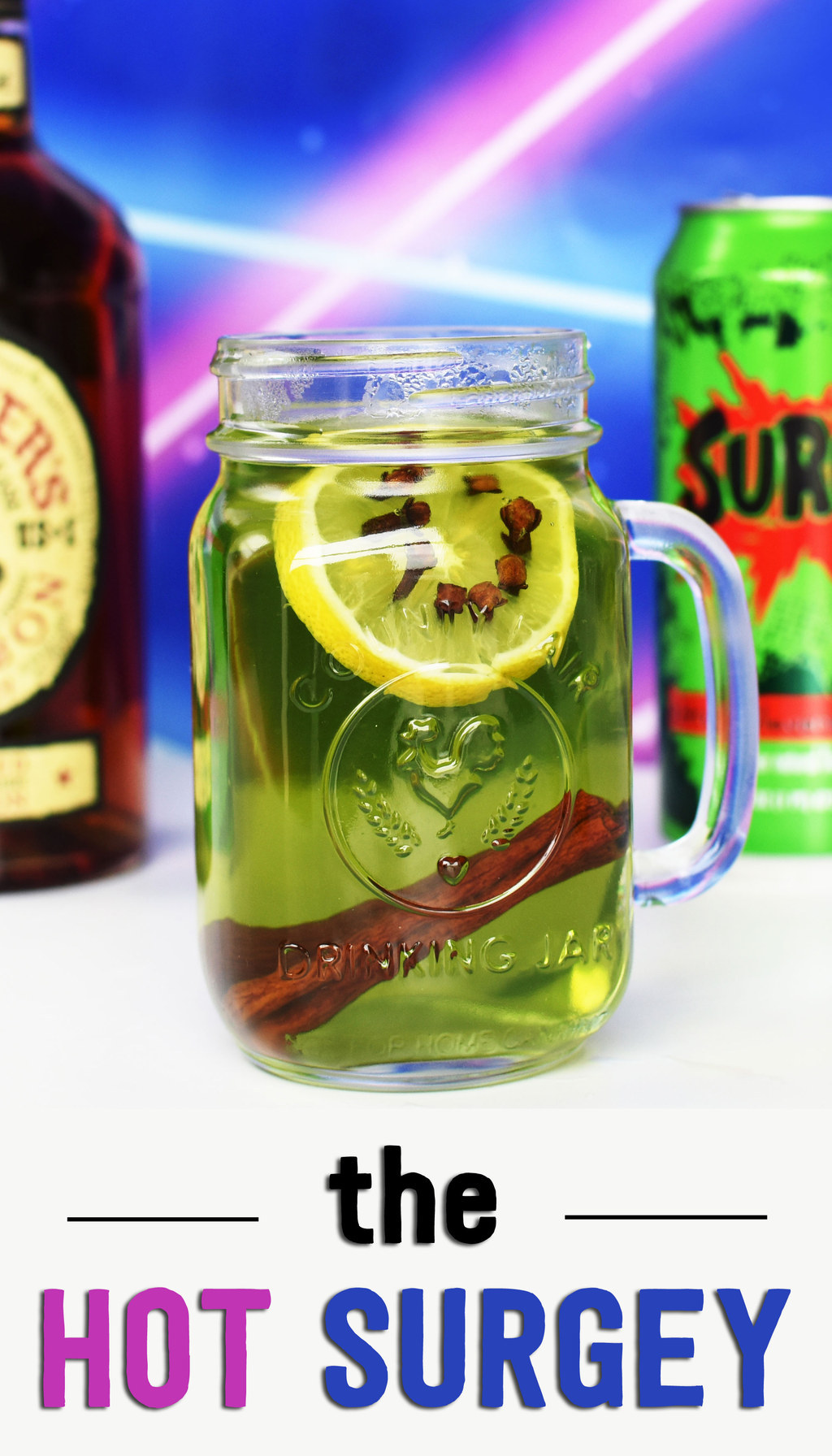 Serves 1
2 tablespoons Surgle Syrup (see recipe above)
1/4 cup bourbon
boiling water
lemon round
8 whole cloves (optional)
1 cinnamon stick
Stick the cloves into the lemon wheel in a circle pattern. Measure Surgle Syrup and bourbon into a large mug (ours was 16 ounces), then fill with boiling water. Stir well to dissolve syrup, then drop cinnamon stick and lemon slice into the drink.
7.
And to finish things off the right way, SHOTS: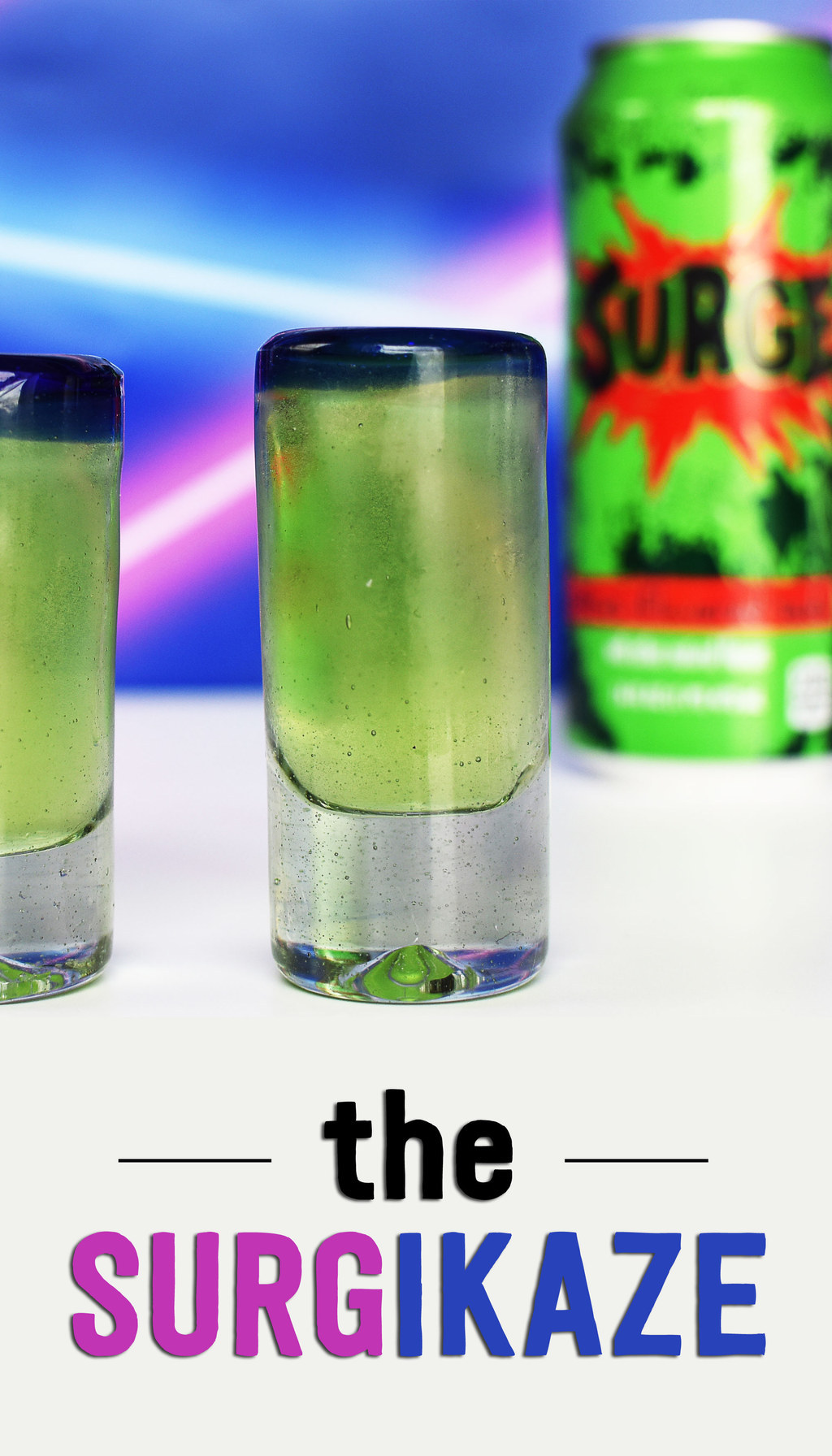 Serves 2
2 1/2 ounces vodka
1 ounce Surgle Syrup (see recipe above)
1/2 ounce Cointreau or triple sec liqueur
Combine all ingredients in a cocktail shaker filled with ice and shake well. Strain into two shot glasses.