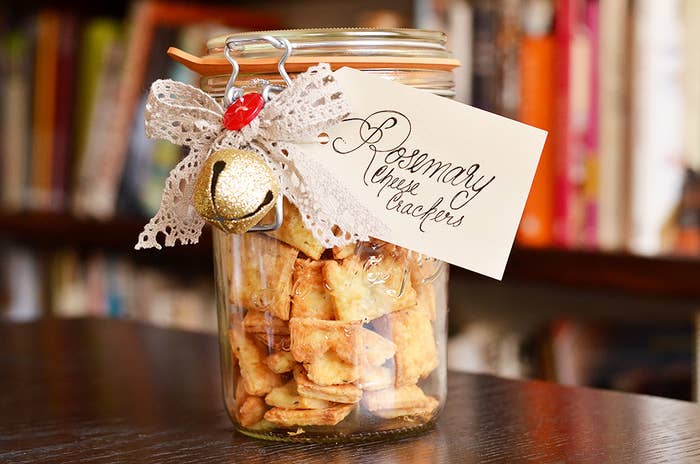 Rosemary Cheese Crackers
Adapted from Good. Food. Stories.
Makes about 70 crackers (about 3-4 cups, depending how thinly you roll the dough), enough to fill one 34-oz. jar (pictured here) with some left over for snacking, or two 25-oz jars.
INGREDIENTS
6 oz. extra sharp cheddar cheese, grated
2 oz. Parmesan cheese, grated
½ stick unsalted butter, at room temperature
1 teaspoon kosher salt
1 tablespoon minced fresh rosemary
1 cup unbleached all purpose flour
2 tablespoons ice water
Special equipment
Stand mixer with paddle attachment
Parchment paper
PREPARATION
1. Use a stand mixer with the paddle attachment to beat the grated cheeses, butter, salt, and rosemary on medium-to-high speed until the mixture is soft and completely blended. Add the flour, mixing on low speed to incorporate it. The dough should look like dry, pebbly pieces.
2. Once all the flour is blended in, drizzle ice water over the dough with the mixer at low speed, and mix until the dough comes together into one mass (it will be fairly stiff).
3. Divide the dough in half and pat into two round, flat disks. Wrap each dough portion in plastic and refrigerate for at least an hour.
4. Preheat oven to 375°F and line two baking sheets with parchment paper.
5. Take dough out of the fridge and, on a floured surface, roll each piece out as evenly as possible to about a 10"x12" rectangle, ⅛" inch thick or less. The thinner you roll, the more quickly the crackers will bake.
6. Use a sharp knife to slice the dough into equilateral 1" squares, or whatever shape you like; you can also use a small cookie cutter. Transfer the crackers to baking sheets with a spatula. Punch a small hole in the middle of each cracker with the end of a chopstick to keep them from puffing up during baking.
7. Bake for about 10-12 minutes, until the crackers puff and the edges begin to brown. Check often to make sure they don't burn, since the crackers' high fat content makes it easy for them to go over the edge very quickly.
8. Move the crackers to a cooling rack and let cool completely before storing in a sealed jar. They will keep for about a week, although they may become less crispy over time.