This Pretzel-Covered S'moresicle Is The Best Thing You'll Eat All Summer
Ice cream. Toasted marshmallows. Chocolate. Graham crackers. Pretzels. Eternal salty-sweet happiness.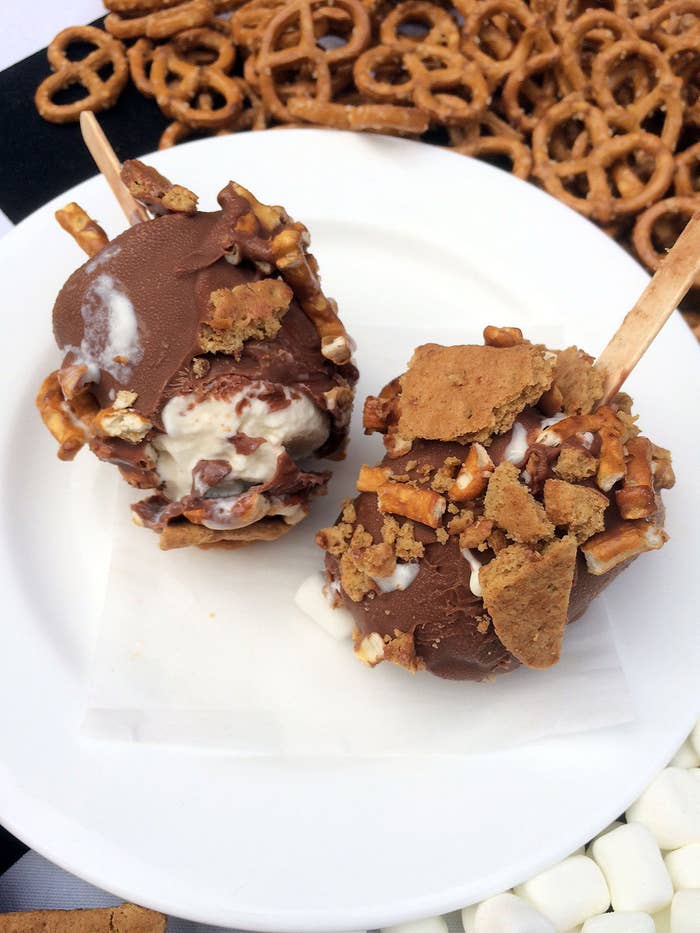 Salty Pretzel S'Moresicles
Serves 6
INGREDIENTS
1 pint (2 cups) vanilla ice cream, slightly softened in the fridge
3 oz. (1 1/2 cups) mini marshmallows
4 oz. good-quality milk chocolate or chocolate chips
2 tablespoons refined coconut oil
2 graham crackers
10 mini pretzel twists (enough for about 1/4 cup of crumbs)
SPECIAL EQUIPMENT
six 3-oz. paper Dixie cups or popsicles molds
wooden popsicle sticks
PREPARATION
Turn on your oven's broiler or preheat the oven to its highest temperature. Spread out the marshmallows evenly on a large baking sheet lined with aluminum foil. Once the oven is hot, slide the marshmallows in and broil or bake on the top rack for about 30-45 seconds, just until they get golden-brown and puffy.
Combine ice cream and toasted marshmallows in a blender or food processor and pulse just until thoroughly mixed, with no big chunks of marshmallow. You can also combine in a bowl and use an immersion blender.
If using popsicle molds, line the molds with plastic wrap before filling them. Divide the mixture evenly between Dixie cups or popsicle molds. Insert popsicle sticks into the center of each cup; if the ice cream has softened too much and sticks won't stay upright, let the pops freeze for 30-60 minutes before inserting them. Freeze for at least 6 hours, until solid.
When you put the pops in the freezer, microwave the chocolate and coconut oil in a heat-proof mug or glass (wide enough to dip pops into), stirring every 30 seconds, until smooth and fully melted. Let cool completely and keep at room temperature while the pops freeze.
Once the pops are frozen solid, crush graham crackers and pretzel twists into coarse crumbs and set out in a shallow dish. If the chocolate sauce has started to solidify, microwave for just a few seconds to re-melt it (but you don't want it to be warm). Stir to make sure it's smooth and fully blended.
Working with one pop at a time, carefully tear off the Dixie cup or plastic wrap. Dip the pop into the chocolate, twirling as you take it out to make sure the sauce is evenly distributed. Immediately, before the chocolate hardens, roll the pop in graham cracker and pretzel crumbs to evenly coat it. Eat right away or freeze on a tray for later.
This recipe is one of the delicious contestants in an epic three-day Mix & Mash-Up food tournament happening this week on Good Morning America.