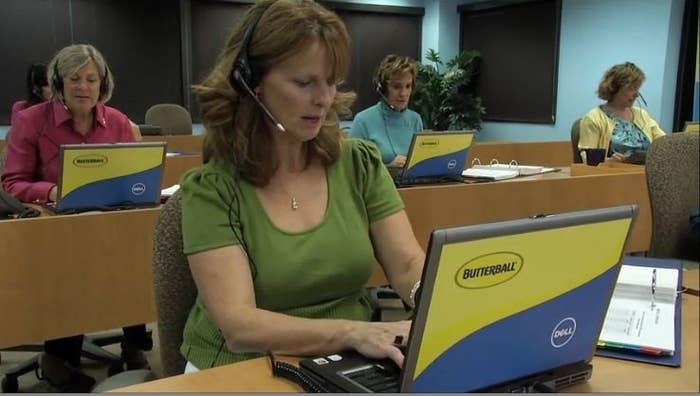 Come Thanksgiving Day, Butterball's Turkey Talk-Line will likely field more than 12,000 calls from panicked home cooks. The turkey experts who answer the calls will sit together in one large, loud room. And "the closer you get to Thanksgiving day, the more noise there is in here," says Talk-Line Director Mary Clingman.
But for the three decades that the Talk-Line has been around, the voices in that room have been exclusively female. "We have 60 people; they're all women at this point," Clingman says. Now Butterball is making a big fuss of hiring — via a Facebook contest — their first-ever male Talk-Line spokesman.
"Why we haven't done this before I don't know," Clingman says. "We've never had a man apply."
The "Man The Turkey Talk-Line" contest aims to get more men involved on both ends of the phone line by hiring someone who "might consider themselves the ultimate turkey champion" to give media interviews and receive training at the prestigious Butterball University.
"When we started back in 1981 about 9% of the callers were men," Clingman says. Today, that number of gentleman callers has risen to 25% — which, as she sees it, is an indication of men's increasing willingness to get in the kitchen.
Butterball accounts for 20% of all turkey production in the country and describes itself as "the largest vertically integrated turkey producer in the United States." The company's holiday hotline is an American institution, a wholesome and friendly public face that has likely helped keep it in Americans' good graces through revelations of disturbing animal cruelty in Butterball plants.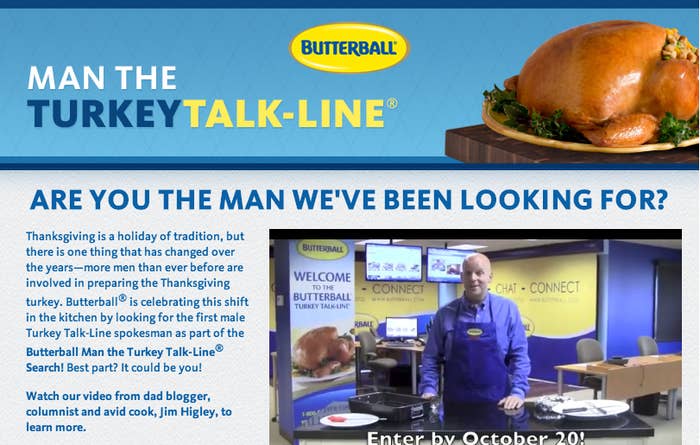 "Thanksgiving is a holiday of tradition," reads the contest's Facebook page. "But there is one thing that has changed over the years — more men than ever before are involved in preparing the Thanksgiving turkey."
So they're "celebrating that shift" by bringing in someone who can man (get it?) the phones on the big day.
"We think it's gonna be a great blend, and guys bring a unique perspective, maybe things we haven't even though about," says Clingman.
One can only imagine the unique masculine perspective Clingman is referring to: Tips for putting out the grease fire you started by deep-frying the turkey in your man-cave? Advice on how many kinds of small game you can fit inside a smoked turducken?
No, the big question Butterball isn't quite addressing is this: Why all the fuss, and why now? If you want to hire some men, hire them. Put them to work alongside the women who have been dispensing their turkey wisdom for 33 years, and then, if it really seems like the thing to do, pick one to be a spokesperson.
Bringing gender diversity to the hotline crew is well-intentioned, and certainly no one could fault a retailer for targeting a demographic that happens to make up 50% of the country. But the punny spin of this PR stunt projects a cheerful willingness to ignore the damaging power of traditional gender roles, and how successfully those expectations have held American women responsible for filling the mouths of their menfolk for hundreds of years. The contest also seems to suggest that only now, in 2013, have the men of America finally become willing to step up to the oven — which, as many of them could tell you, is hardly the case.
"Every year my husband's at home cooking the turkey," says Clingman. "And has done that for 20-some years."
facebook.com
International whippersnappers need not apply; the official rules state that the contest is only open to Americans 25 and over (with valid Facebook accounts).