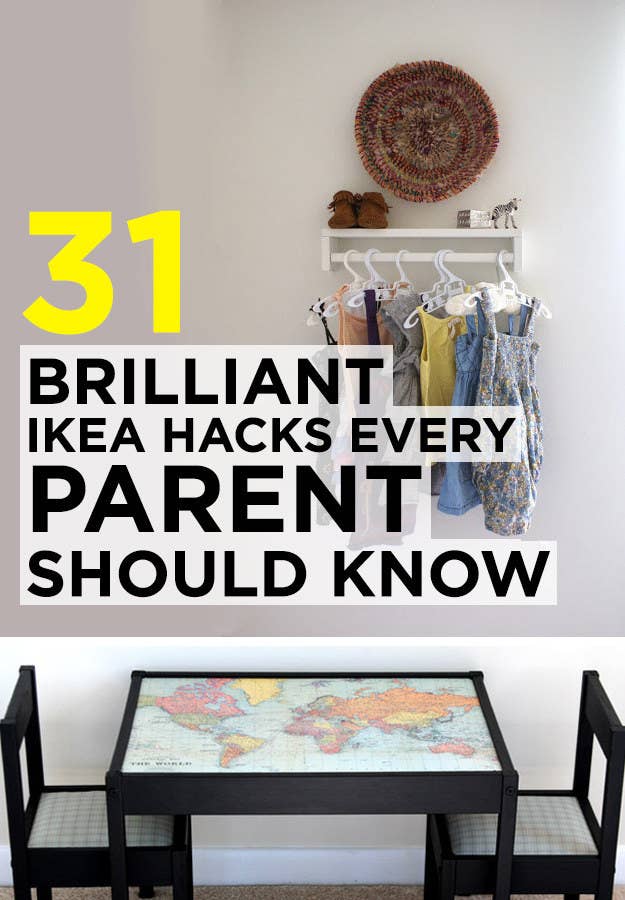 1.
Swap a crib for the bottom bed on the Ikea Mydal bunk bed. 2.
Use a spice rack as a clothing rack for baby clothes.
3.
Turn a Rast nightstand into a modern dollhouse. 4.
Organize your mudroom with Ikea bookcases. 5.
Make a Kura bed into a cozy reading nook. 6.
Use the Grundtal knife rack to organize small metal toys. 7.
Spruce up the Latt table with a world map. 9.
Give an Ikea changing table a colorful upgrade. 11.
Or give the Ikea play kitchen a modern makeover. 12.
Give simple shelves a celestial upgrade. 13.
Or get the look with napkin holders. 14.
Add a Billy bookshelf to the Gulliver crib. 15.
Add a chalkboard top to the Lack side table. 16.
Make the Lego table of your kids' dreams. 17.
Turn a coffee table into a toy workbench. 18.
Make your own light-up table. 19.
Turn a shoe rack into a play supermarket. 20.
Turn the iconic Strandmon chair into a rocker. 21.
Use masking tape and white paint to make an old Ikea dresser seriously stylish. 23.
Turn an Ikea crib into a co-sleeper. 24.
Turn the rolling Raskog cart into a homework station. 26.
Make over a Hemnes dresser to turn it into a beautiful piece for a nursery. 27.
Find the man in the moon in Ikea's Fado lamp.
28.
Organize art supplies in a utensil holder. 29.
Use Ikea wardrobe units to create built-ins around a window seat. 30.
Use an Ikea kitchen storage system to organize diapers. 31.
Use the Flort remote control caddy to organize your car. Want more great parenting tips? Sign up for the BuzzFeed Parents newsletter and you'll get them in your inbox twice a week!