Who Doesn't Love Avocado? Celebrate The World's Most Versatile Fruit With These 6 Creative Summer Recipes
Because it's the good kind of fat.
6 Creative Avocado Recipes For Summer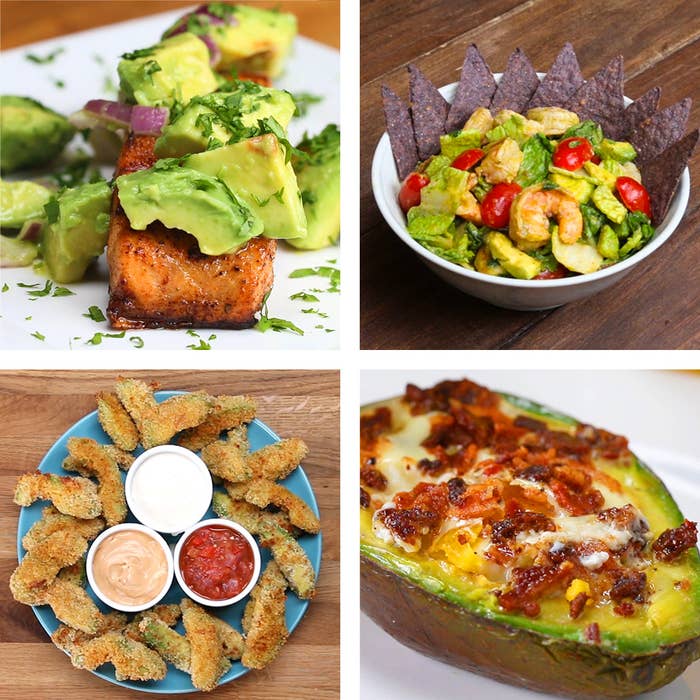 Avocado Fries
Servings: about 24 fries
INGREDIENTS
3 Avocados (slightly firm)
3 Eggs
1 cup flour
1 cup panko bread crumbs
1 tsp salt
1/2 tsp cayenne pepper (adjust to taste, or substitute with garlic powder)
Pepper
PREPARATION
1. Slice the avocados in half, and then slice lengthwise into wedges.
2. Mix the bread crumbs with the cayenne pepper and salt.
3. Roll the slices in flour, then in the whisked eggs, then in the breadcrumbs.
4. Place the slices on wax paper on a baking sheet. Spray well with cooking spray. Add a sprinkle of black pepper if desired.
5. Bake for approximately 12 minutes at 400˚F (200˚C). Flip alway through and re-spray. Enjoy with your favorite dipping sauce!
Grilled Salmon With Avocado Salsa
INGREDIENTS
For the salmon:
1 Tbsp. olive oil
1 tsp salt
1 tsp pepper
1 tsp paprika
4 salmon fillets
For the avocado salsa:
2 avocados
1/4 red onion
1 lime, juiced
1 Tbsp. olive oil
1 1/2 tsp salt
Optional:
Chopped cilantro (for garnish)
PREPARATION
1. In a large bowl, mix oil, salt, pepper, and paprika. Coat the salmon fillets with the marinade and refrigerate for 30 minutes.
2. Grill the salmon on high heat for two minutes each side.
3. In a separate bowl, lightly toss avocados, 1/4 red onion, the juice from one lime, 1 Tbsp. olive oil and salt to taste.
4. Spoon avocado salsa on top of the cooked salmon. Top with finely cut cilantro and enjoy!
Mint Chip Avocado Ice Cream
INGREDIENTS
2 large, ripe avocados, cubed
3 tablespoons dark chocolate cocoa powder
½ cup dark chocolate, melted
¼ cup almond milk
2 tablespoons maple syrup
1 teaspoon vanilla extract
Pinch of salt
PREPARATION
1. Add the avocados to a blender or food processor, along with the cocoa powder, melted chocolate, almond milk, maple syrup, vanilla extract and salt.
2. Blend until smooth, scraping down sides as necessary.
3. Serve immediately, or chilled.
4. Enjoy!
Baked Avocado Eggs 4 Ways
INGREDIENTS
2 avocados
4 eggs
Salt, to taste
Pepper, to taste
Topping options:
Bacon bits
Cherry tomatoes, quartered
Basil, chopped
Cheddar cheese, shredded
Chives, chopped
PREPARATION
1. Preheat oven to 400°F (200°C).
2. Slice the avocados in half and remove the pits.
3. Place the avocado halves on a baking sheet and scoop out some of the flesh to make a bigger hole.
4. Crack one egg into each hole and season with salt and pepper.
5. Top with toppings of choice and bake for 15 minutes or until yolk reaches desired consistency.
6. Sprinkle with fresh herbs and enjoy!
Quick and Easy Tomato Avocado Melt
Servings: 1
INGREDIENTS
1 English Muffin
2 slices Mozzarella
1 Roma Tomato
1 ripe avocado
Season with salt, pepper, and/or cayenne pepper to taste.
PREPARATION
1. Split English Muffin in half and place them face up on a baking sheet.
2. Place sliced avocado, sliced tomato, and two slices of Mozzarella cheese on top.
3. Season with cayenne pepper to taste.
4. Broil until cheese is melted and starts to brown.
5. Season each melt with salt and pepper to taste.
Chicken Avocado Pizza
Servings: 1 Pizza
INGREDIENTS
Garlic Sauce:
- 1/2 cup Olive Oil
- Minced Garlic, 4 cloves
- 1 tsp Salt
- 1 tsp Black pepper
- 1 tsp Oregano
- 1 tsp Chili Flakes
Pizza:
- 1 Pizza Crust
- 2 Things of Fresh Mozzarella
- 2 cups Chicken Breast
- 1/2 cup Onion, diced
- 3 Avocados
- 7-10 Grape Tomatoes
PREPARATION
For the Garlic Sauce:
In a small/medium jar, mix olive oil, minced garlic, salt, black pepper, oregano, and chili flakes together, shake it well, and save it in refrigerator for later (For leftover garlic sauce, refrigerate it and it lasts for up to one week).
For the Pizza:
Pre-heat the oven at 425ºF (220°C).
1. In a flat baking pan, roll out the pre-made pizza crust, if it's needed, use a rolling pan to make the crust equally flat on the pan.
2. Oil spray the curst surface, then place down sliced fresh mozzarella, sliced chicken breasts (cooked) and sprinkle diced onions.
3. Bake it in the oven for 25-30 minutes until the cheese melts and the crust become golden brown.
4. Take the pizza out and place down sliced avocados, and some grape tomatoes.
5. Serve it right away.
Shrimp And Avocado Taco Salad
INGREDIENTS
1 pound jumbo shrimp
3 limes
Salt and pepper, to taste
1 head of romaine lettuce, chopped
1/2 cup cherry or grape tomatoes, halved
1/3 cup cilantro leaves, roughly chopped
2 avocados, chopped
4 Tbsp. olive oil
1 Tbsp. honey
1/2 tsp chili powder
Blue corn tortilla chips

PREPARATION
1. In a medium bowl, toss shrimp with salt, pepper, and juice from one lime.
2. Sauté shrimp around 1-2 minutes each side, until the shrimp is pink and cooked through. Avoid overcrowding the pan, so you may need to sauté the shrimp in batches. Set aside.
3. Place chopped lettuce, tomatoes, cilantro, avocados, and shrimp in a large salad bowl.
4. In a small bowl, mix olive oil, juice from 2 limes, honey, chili powder, salt and pepper to form the dressing.
5. Toss salad with dressing. Add tortilla chips to the sides of the bowls and enjoy!