5 Delicious Summertime Fruit Cocktails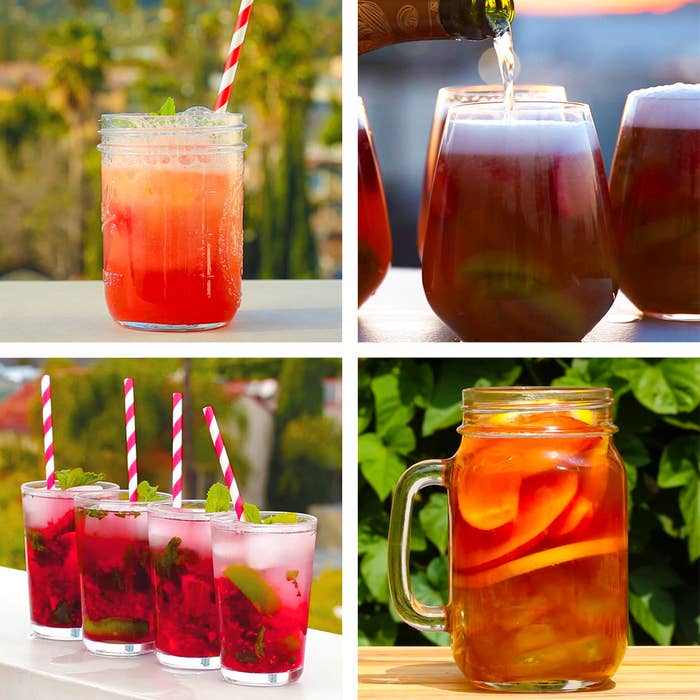 Raspberry Mojito Punch
Serving: 1
INGREDIENTS
1/2 lime, cut into wedges
5-6 raspberries (a nice handful of 'em)
1 spoonful of sugar
10-12 mint leaves (a good bunch)
2 ounces white rum
Club soda
PREPARATION
1. Throw the lime wedges, raspberries, mint, and sugar into a glass. 2. Using a muddler or wooden spoon, press down on the ingredients to mush them all together and get all of the juice out of the lime wedges.
3. Add ice and pour in rum (you can just eyeball the amount, if you don't have something handy to measure) and then top the glass off with club soda.
4. If you want it a little more or less sweet, you can always add slightly more or slightly less sugar. It's also delicious with less rum, or no rum at all. Play around with the recipe and find the right ratio for you and your friends.
Peach Iced Tea Whiskey
INGREDIENTS
Tea:
8 cups boiling water
7-8 black tea bags
1 1/2 cups whiskey
Peach Simple Syrup:
2-3 fresh peaches, diced
1 cup sugar
1 cup water
1 lemon, juiced
Garnish:
1-2 peaches, sliced
1 lemon, sliced
Mint sprigs
PREPARATION
1. In a large pitcher, pour hot water over tea bags, letting steep 5 minutes.
2. Bring syrup ingredients to boil, then reduce heat to medium.
3. Strain syrup through a fine strainer to remove fruit pieces.
4. Add syrup and whiskey to tea, then chill until ready to serve.
5. Serve over ice, with sliced peaches, sliced lemons, and a mint sprig.
Boozy Sherbet Punch
INGREDIENTS
Rainbow sherbet
Fresh raspberries
6 oz (half can) fruit punch concentrate, thawed
6 oz (half can) pink/raspberry lemonade concentrate, thawed
1 cup vodka
5 cups ginger ale, chilled
1 bottle champagne, chilled
Fresh mint (optional)
PREPARATION
Using cupcake liners in a muffin tin, fill each with four to five raspberries and top with a scoop of rainbow sherbet. Freeze until ready to serve (best if frozen for at least two hours).
In a large pitcher, mix together the juice concentrates, raspberries, and vodka. Just before serving, mix in the ginger ale.
To serve: Remove a sherbet scoop from the cupcake liner and place in a large mug. Fill halfway with punch and finish with champagne. Garnish with fresh mint. Enjoy!
Berry Vodka Sunrise
Servings: 10
INGREDIENTS
3 cups vodka
3 cups orange juice
3 cups sparkling water
1 ½ cups mixed berries
1 ½ cups tart cherry juice
1 ½ cups maraschino cherry liquid (¼ cup grenadine will work as a substitute)
Fresh orange slices and maraschino cherries to garnish
PREPARATION
1. Combine vodka, orange juice, and sparkling water in a pitcher.
2. Stir in the fresh oranges and set aside.
3. Puree mixed berries, tart cherry juice, and maraschino cherry liquid in a blender or food processor.
4. Strain the purée through a sieve into a separate pitcher.
5. When ready to serve, pour orange vodka mixture into a glass of ice, leaving some room.
6. Top off the drink with the berry liquid and watch it settle to the bottom.
7. Garnish with an orange and maraschino cherry.
Strawberry Kiwi Sangria
INGREDIENTS
1 lb strawberries
1 lb kiwis
1 cup light rum
1 bottle white wine (such as sauvignon blanc)
1 bottle sparkling wine, chilled (such as cava)
1 cup sugar
1 cup water
3 oranges
A pitcher or other large container
PREPARATION
1. Hull the strawberries and cut them in half. Peel the kiwis and cut them into slices.
2. Combine half of the halved strawberries, the sugar, and the water in a saucepan, and turn the heat up to medium. Bring the mixture to a boil and then let simmer, stirring occasionally, for 10 minutes or until the strawberries seem like they're about to fall apart.
3. Let cool for a few minutes, and then, using a mesh sieve, strain the strawberry goodness into a bowl.
4. Use a spoon to press the strawberries up against the mesh so you get every last beautiful drop of strawberry syrup.
5. Place the syrup in the refrigerator to cool a bit.
6. Combine the kiwi slices and the remaining strawberries in a pitcher, and add the rum, white wine, strawberry syrup, and the juice of three oranges (in a pinch, you could also sub a few splashes of bottled orange juice, or even lemonade, for the fresh orange juice). Give it all a good stir and then pop the pitcher in the refrigerator for at least four hours to let all of the flavors come together.
7. When you're ready to serve, add around three-quarters of the chilled sparkling wine to the pitcher.
8. Pour into glasses and spoon in fruit, topping off each glass with a bit of the remaining champagne so it's nice and bubbly when you hand the glass to a friend.